Tags
Abbey Cooks Entertain, afternoon tea, Downton Abbey, Downton Abbey casting news, Downton Abbey entertaining, Downton Abbey Food, Downton Abbey viewing party, Edwardian recipes, food history, healthy madeira cake, light madeira cake recipe, Madeira cake
Welcome Downton Abbey fans. We are all now in Downton Downtime.  UK fans just finished a lovely meal of Season 3, and now waiting for the dessert course:  the Christmas Special.  Meanwhile,  North Americans are still waiting to be seated for the Season 3 service.  Appetizers in the form of a special recap episode (Downton Abbey Revisited) will be offered on PBS on November 25th.
Each Tuesday I dish on Downton Abbey and other topical issues one might discuss at tea, served up with a recipe with history. You may find my Online Guide to Afternoon Tea helpful in understanding traditions and recipes to serve at your own tea party. Today's treat is Madeira Cake. 
Anyone can be a Downton Abbey Cook
A heart felt thank you for sharing my passion for Downton Abbey, history and food. Connect with me on Twitter, Facebook, Pinterest and YouTube through the links.  Keep sending me pics and I will post them here.
VPT's Experience Inspired by Downton Abbey: Jan. 5/6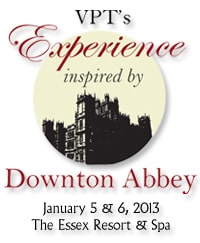 Vermont Public Television is hosting a Downton inspired culinary weekend January 5th/6th to launch Season 3 at the renowned Essex Resort. Lord D and I look forward to this wonderful event of fabulous Downton food and festivity, with a Saturday night screening of S3E1 on a large screen. Tickets are now on sale.
NEW:  Check out the  British Tea Reception menu.  I am truly honored that chefs have chosen to serving my own smoked salmon pinwheels.
Corporate Sponsers:  If your corporation would like to help support this event through sponsorship contact Michael D Ellenbogen at michael@eonscreative.com, 802-768-8498.
Coming in December:  Abbey Cooks Entertain
I have been working part time on an ecookbook, a collection of recipes to share with Downton Abbey fans.  It is a labour of love which I hope will inspire you  to become the head cook in your own Abbey.  Your comments have inspired me to share the best foods of that era which we still eat today, making adjustments to make them healthier, but still just as tasty.
The book will have lots of pictures of Downton era foods organized by specific types of Downton entertaining:  brunch, afternoon tea, garden parties, dinner parties, cocktails, holidays, and weddings.  Plans are to launch the book in December on Amazon.
Dishing Downton
Season Three has now ended, and we look forward to the Christmas episode and what might be in store for Season 4.   I have been trying to behave by not give away too many spoilers, or passing along gossip, as Hugh Bonneville keeps reminding me you can't  believe everything you read.
Christmas Episode confirmed:  ITV has confirmed the Christmas episode will air in the UK at 9 pm on December 25th.
Downton Abbey Revisted on Nov. 25:  PBS will be showing a special Season 1 and 2 recap on Thanksgiving weekend in the US.
Multicultural Downton: Julian Fellowes spoke recently about adding new characters which would have represented the ethnic background of the era, very much like Mr. Amanjit on Upstairs Downstairs.
The Chronicles of Downton Abbey: A New Era coming to America:  Jessica Fellowes' new book is all about Season 3 so US release was been delayed.  The copy I had on back order appears to be on its way from my good friends at Amazon, so perhaps the flood gates have opened in time for Christmas.
Season 3 is now Available on DVD:  I don't think you will have success in America ordering the DVD since PBS has a strong hold on the distribution in US, but UK fans can now own their own set of Masterpiece Classic: Downton Abbey Season 3 DVD (Original U.K. Version).
Amazon Prime Instant Downloads: Amazon now has a great download product which allows to download and watch all the episodes on your TV, computer, or tablet. It is great for traveling. Downton Abbey: Episode 1 [HD].  they even have th
Season 4 on the Horizon?  I have seen a few articles talking about the probability of Season 4, perhaps running parallel to contract negotiations with the lead actors.
Light Madeira Cake
Edwardians were mad about Madeira, a fortified Portuguese wine which is made in the Madeira Islands.  They drank Madeira as an aperitif and with dessert.  The loved it so much they created a dense sponge cake, originally made to accompany a nice glass of Madeira. So, no the cake does not actually have Madeira in it, it does not come from the Madiera Islands,  and it can be eaten at tea without the glass.
My version has lightened up the cake substituting applesauce for most of the butter, and added a bit of yoghurt.  It makes for a dense cake.
Makes 12 slices
3/4 cups applesauce
1/2 cup unsalted butter, softened
1 cup caster sugar (sugar substitute)
1  tsp. vanilla extract
3 eggs
2 tbsp.  nonfat plain yoghurt
2 cups unbleached all purpose plain flour
1 tsp. baking powder
¼ tsp. baking soda
1 lemon, zested and juiced
Method
Preheat oven to 350°F.  Grease a 7 inch round cake pan or 9" loaf pan and line with parchment paper. It is OK to use a 8″ or 9″ US standard pan; the cake just won't be as high. For individual tea servings you can also pour the batter into mini bundt cake pans.
Cream the butter with the sugar, applesauce and vanilla extract until pale and fluffy, then gradually beat in the eggs.
Sift together flour, baking powder, baking soda.  Gently fold into the wet mixture, add the yoghurt, then the lemon juice and zest.
Turn into the prepared tin of your choicw, and sprinkle an additional 2 tbsp. sugar on top of the cake.  To help rid large bubbles in your cake, slap the pan on your counter a number of times to allow the bubbles to escape.  Bake for 45 minutes to an hour.  It is normal to have cracks in your loaf.
Let the cake cool completely before removing from the pan or it may fall.   Decorate with icing sugar and lemon peel.  Serve with a glass of madeira or with friends at tea.
Own your Own
Check out Downton on Amazon Prime:  you can instantly download and view all Downton Abbey episodes:
Tools of the Trade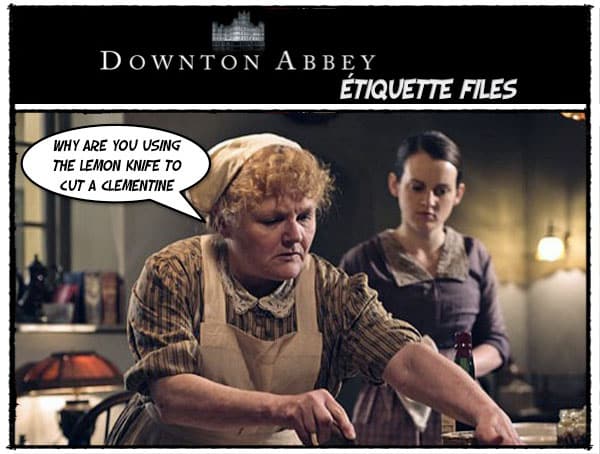 Cooks, like other professionals, have their tools and as Mrs. Patmore says "it is a poor workman who blames his tools".  You can  make do with the basics, but as you gain confidence and love for cooking, you should start to recognize items to help you cook.  Mrs. Patmore didn't electronic gadgets to cook with so be assured you can make do without the expensive gizmos.  This section helps you identify some equipment that I use.  If you wish you can order directly from Cooking.com or Amazon, both reputable stores I have used in the past.
Many "Downton" cakes come in various sizes more common in the UK than in the US so investing in a variety of pans is a good idea.
I use my mini bundt pans to create individual desserts or to serve two.