Welcome Downton Abbey fans.  The countdown to Christmas is upon us when socializing switches into high gear. Why not start a new tradition and invite your friends for a relaxing afternoon tea?
Each Tuesday I dish on Downton Abbey and other topical issues one might discuss at tea, served up with a recipe with history. You may find my Online Guide to Afternoon Tea helpful in understanding traditions and recipes to serve at your own tea party.  Today's treat is fruitcake.  Make it now to be ready to enjoy at your Christmas tea with friends and family.
VPT's Experience Inspired by Downton Abbey: Jan. 5/6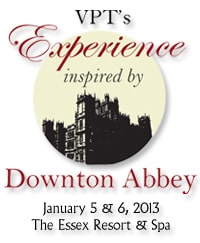 Vermont Public Television is hosting a Downton inspired culinary weekend January 5th/6th to launch Season 3 at the renowned Essex Resort. Lord D and I look forward to this wonderful event of fabulous Downton food and festivity, with a Saturday night screening of S3E1 on a large screen. Tickets are now on sale.
NEW: Check out VPT on  Facebook and their  Blog to keep up to date on this event.  Fabulous food will be eaten, and fashion prizes eaten.
Check out the  British Tea Reception menu.  I am truly honored that chefs have chosen to serve my own smoked salmon pinwheels.
Corporate Sponsers:  If your corporation would like to help support this event through sponsorship contact Michael D Ellenbogen at michael@eonscreative.com, 802-768-8498.
Abbey Cooks Entertain
I have been working part time on an ecookbook, a collection of recipes to share with fans of Downton Abbey and other period dramas.  It is a labour of love which I hope will inspire you  to become head cook in your own Abbey.  Your comments have inspired me to share the best foods of that era which we still eat today, making adjustments to make them healthier, but just as tasty.
The book has lots of pictures of Downton era foods organized by specific types of entertaining in your own Abbey:  brunch, afternoon tea, servants hall, garden parties, dinner parties, cocktails, and holidays.  We launched in December and the book is available for download on this site, as well as through Amazon and Kobo.
Dishing Downton
Season Three has now ended in the UK, and we look forward to the Christmas episode and what might be in store for Season 4.   I have been trying to behave by not give away too many spoilers, or passing along gossip, as Hugh Bonneville keeps reminding me you can't believe everything you read.
Associated Press has reported that Downton has been confirmed for Season 4.

Rumour has it that Dan Stevens won't be returning for Season 4 now that he has moved to New York and enjoying his performance on Broadway.  Not yet reported from a "reputable source",  so imagine this might be part of current contract negotiations.

the Rise and Fall of Fruitcake

Fruitcake can be traced back to the Middle Ages when dried fruits became more widely available in Europe, with regional variations evolving.  Still, dried fruits were expensive to buy, and time consuming for home cooks to make themselves, so the tradition of making fruitcakes for special occasions such as weddings and holidays gained in popularity in the 18th and 19th centuries.

Fast forward to today and fruitcakes have developed a notorious reputation as being the most re-gifted item at Christmas. Johnny Carson once quipped that there is only one fruitcake in the world which gets passed from person to person.  This is likely a result of the introduction of mass produced cakes in the early 20th century which took all the love out of the process, and just a lack of knowledge as to how to make a great moist cake.
How to Make Great Fruitcake
To help you make a great fruitcake, I have engaged the talents of Jeanette Bugler, a European trained pastry chef who operates Jeanette's Cakes here in Ontario.  We have met her before at Downton Abbey Cooks; she hosted a lovely tea in her home a few months ago.  She not only makes beautiful custom wedding and other celebration cakes, she holds decorating classes for kids and adults alike to share her love of cake.
Jeanette's Tips for Great Fruit Cake
The best fruitcake should mature for at least a month, two months is even better.
Fruitcake should have square shoulders, sides and a slightly rounded top
The top should be glossy and have a rich colour
When cut, the cut should be clean, not crumbly
The cake should have a delicious aroma and a rich flavour
The cake should be moist but not soggy
The fruit should be evenly distributed
The corners should not be dry and the top should be evenly baked.
Jeanette's Fabulous Fruitcake
This recipe will make one large loaf.  Lots of currants and only a few red cherries, which I have been a fan of. Lord D loves this fruitcake so my only challenge is  keeping Lord D from sampling the cake as it matures.
 Ingredients
1 cup sultanas
1 cup seedless raisins
3½ cups currants
½ cup candied red cherries
½ cup candied orange peel
½ cup ground almonds
1 ½ cups unbleached all-purpose flour
1 tsp. ground cinnamon
1 tsp. mixed spice
1 cup unsalted butter (at room temperature)
1 cup brown sugar
3 large eggs at room temperature
1 tbsp. molasses
1/3 cup Brandy or dark Rum for soaking the fruit
Method
Rinse the fruit, strain and let dry.  Add the brandy, mix well and soak for at least 2 days.
Preheat oven to 325°F.  Prepare a 8 1/2″ loaf pan and cut lengths of corrugated cardboard to tie around the pan and to make a lid.
Cream the sugar, butter and molasses together in a large bowl.  Add the eggs in about 5 – 6 stages. Scrape down the sides after each addition. If the batter starts to curdle, add a little flour until it looks smooth again.
Mix the flour, almonds, and spices together and fold into the wet ingredients.  Add the fruit and fold into the mixture, being careful not to break the fruit (namely the cherries).
Put the batter into your loaf pan and smooth the top out. Don't place bowl scrapings on top or the top of the cake will not have any fruit. Level the top of the cake with a spatula, pushing any protruding fruit under.
Once the mixture is in the pan, place it in the centre of a baking sheet.  Tie a length of corrugated cardboard around the pan with kitchen twine.  The height of the cardboard should be at least one inch taller than the baking pan. Lay another piece of cardboard on top.  Place the tray with the cake pan covered in cardboard in the preheated oven.
Turn the heat of the oven down to 300°F. The loaf will take around 2 1/4 hours to bake.  About 45 minutes before the cake is ready remove the card from the top of the cake and finish baking.
Remove the cake from the oven and allow it to rest for about 3 hours.
Spray or brush some alcohol on the surface of the cake, this will speed up the maturing process.
Storing and caring for your cake:
Brush the top with Brandy/Rum and wrap up in foil, keep in a cool, dark pace (not in the fridge).
The flavours start to develop more as the cake matures.  The texture will also begin to change from crumbly to soft and more moist over time.
Brush the cake once a week with Brandy/Rum. Brandy is of course the more traditional way. The flavours start penetrating the cake and you will be rewarded with a delicious cake at Christmas time.
Tools of the Trade
Cooks, like other professionals, have their tools and as Mrs. Patmore says "it is a bad workman who blames his tools".  You can  make do with the basics, but as you gain confidence and love for cooking, you should start to recognize items to help you cook.  Mrs. Patmore didn't electronic gadgets to cook with so be assured you can make do without the expensive gizmos.
This section helps you identify some equipment that I use.  If you wish you can order directly from Cooking.com, Epicure or Amazon, all reputable stores I have used in the past.
A non stick loaf pan makes clean up a breeze and you may wish to have a few pans on hand to make multiple fruitcakes at once.