Well in spite of Spring being ever so close but still out of reach in this part of the world, and Downton Abbey fading into memory, today is a good day since it is my birthday. My milestone birthday was last year so this year is a return to a low key affair of dinner out with Lord D at our favorite seafood restaurant, and a month full of coffee and lunching with friends I haven't seen in a long while, particularly those who are also March babies.
And what would a birthday be without some reflection?  Of course I think that only happens as you age, as I remember  I would dread my mother asking me every year about any words of wisdom I had with the passage of time.  I was young and looking forward, not so much behind.  Then miraculously your perspective changes and yes, parents seem to gain wisdom as we get older.
It has been an amazing year.  I am still astonished at the impact Downton Abbey has had on my life, and Lord D will be the first to confirm I am not a sentimental person.   I started this blog last January, and it was just a few days after my birthday that the huge publisher Penguin USA in New York and a smaller publisher approached me to write books for them.  That was the gem of the idea of what I was going to do with my Downton downtime after S2 ended.  I listened to my heart and to those of  you who came to me with your questions about what foods to serve to friends who also loved Downton Abbey.  That was not the type of books that the publishers wanted me to write so I ventured out on my own.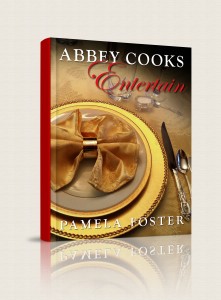 My background is in corporate marketing so I had enough confidence to understand the process of self-publishing. Writing a cookbook would be much easier than another type of book, or so I thought.  I have gained a greater respect for book publishers in the process because it is a tough grind, and the odds of becoming rich from writing a book are pretty slim, so you should be doing it because you love it or have something to say.
Luckily I had experience writing technical manuals in my career and a willing husband (who was involved in one of Canada's first culinary magazines) to taste all that great food.  It is very methodical work. Since my father and husband had heart issues, offering healthy versions of the period recipes was important to me.  As a marketer, I knew that appearance were as important as content, so I sourced a talented graphic designer who specialized in full-color photo cookbooks. My experience in social media is likely why you are reading these words right now: I used my talents in this area for my own pet project.
If you decide to use your Downton downtime to self-publish any type of book, it requires endurance, much like how I have trained and run marathons. Lots of steps, hard work, roadblocks; you have to love and believe in what you are doing if you hope to reach the finish line.
And when you are finally finished, you start another little race to get the book into people's hands.  Another learning curve.  I keep adding to my Press Page, astonished by the response of the press, from the Washington Post to Canada's National Morning Show.  I interviewed with a Danish magazine last week who had heard about me from an article in a Bangkok paper.  The world is a small and wondrous place.  All because people love Downton Abbey, and I have helped them connect to it in a small way through food, glorious food.
For fellow Downton fans: whether you write, or read, or craft in your Downton Downtime take comfort that the show will be back for another season. But do take time to acknowledge that this little show has enriched our lives in ways we don't understand.  For Lord D, he is quite content to be addressed as Lord D around our house, but is happy that a show that promotes manners, and decorum have found a place on TV.
Beef Consommé Bordeaux
This week I have the pleasure of hosting a sold out cooking class at the Relish Cooking Studio in Waterloo. Our first dish is this lovely consommé.  A whimsical little cloud floats on top, perchance to dream about Season 4.
Serves 4
Ingredients
4 cups clear beef stock or consommé
1 cinnamon stick
1 cup dry red wine, (i.e. bourdeaux)
1 cup boiling water
2 eggs, separated
salt and freshly ground pepper to taste
cayenne pepper, pinch
chives,  to garnish
Method
Heat broth in a large saucepan with the cinnamon stick to boiling, reduce and simmer for 5 minutes. 

Add red wine and boiling water and simmer for another 5 minutes. Remove cinnamon stick. 

Lightly beat egg yolks in a small bowl.

In a separate bowl beat the egg whites until stiff which will be added as a garnish.

Temper the yolks by adding a little broth to the eggs yolks to warm, mixing well, then pour the yolks slowly into broth, stirring constantly. Season with salt, pepper and cayenne. 

Ladle immediately into warmed bouillon cups. Float a dollop of beaten egg white on each serving, and sprinkle with chopped chives.