Tags
Abbey Cooks Entertain, Breakfast, Downton Abbey, Downton Abbey casting news, Downton Abbey Food, Downton Abbey recipes, Downton Abbey Tea Party, Edwardian cooking, Edwardian recipes, food history, Healthy Cooking, rhubarb blueberry gems
It is getting closer to the lazy days of summer, but for now we are still contending with May showers spilling into June.  As I was setting up for the large charity tennis tournament our firm co-hosted on Sunday,  I imagined lords and ladies gathering on grand grass courts on lovely country estates like Downton as part of their own charity garden party (S1).  Tennis is such a timeless sport.
As you may know, Tea Tuesday is a weekly tradition I started, dishing about Downton Abbey, featuring a new "Downton" era recipe. Refer to my Online Guide to Afternoon Tea, helpful in understanding traditions and recipes to help you host your own tea party with family and friends.
Since my garden is still oveflowing with fresh rhubarb, today's treat is Rhubarb Blueberry gems (muffins).  As you may recall from earlier posts, gems were the little pans that little cakes were baked in.
Downton Dish
Summer is close at hand so you may already have other distractions to keep your Downton cravings at bay.  Here is some news to help carry you through Downton Downtime until we meet again for Season 4:
Knitting through Downton downtime
I have fond memories of a period long, long ago.  It was January, 2013 and Downton fans throughout the U.S. were eagerly awaiting Season 3.  I was in Burlington, Vermont to help launch Season 3 with PBS Vermont. I met many lovely people there, all with their own Downton stories of inspiration.  While, I am inspired by food, and can cook, others love fashion and can knit.  Emily has created some wonderful pieces which she has up for sale on Etsy.  Check them out and get your own inspiration:
Abbey Cooks Entertain: Entertain this Summer Downton Style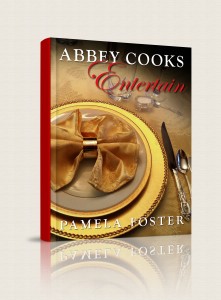 With 220 Downton era recipes, you will want to get this book for recipes for the famous Downton dishes from Season 1-3. I also presented a whole chapter on Garden Parties. Experimenting with ices (ice creams and frozen yoghurts) was my favorite part.
This 432 page ebook sells for only $7.95. Book sales help offset my costs in food, equipment and time to keep bringing you new dishes each week. You can only get a signed copy here on my site. If you don't have an eReader I would suggest the PDF version which allows you to print recipes as you go, if you wish.
Why not try a Downton Abbey Tea Party as a fundraiser in your community? Check out this great party in Burnaby, BC.  Find recipes on the recipe index above.
healthy Rhubarb Blueberry Gems (muffins)
Back in the period when baking was done in hearth ovens, it would take a long time to bake a cake, and the final product would often be burned. In the UK, muffin tins, also called gem pans, were named after The Gem Company which made them popular around the turn of the 20th century.
Move over strawberries, blueberries make a great match for rhubarb.  I make a fresh batch of gems for my commute into the City every day (pretending I am on the train to London), and I add a scoop of protein powder, adding a little more liquid if I need to.  Great start to my day.
Makes 12 muffins
2 cups whole wheat flour

1 1/2 cups medium or large flake oats

1/2 cup sugar (or sugar substitute)

1/2 cup brown sugar

2 tsp. baking powder

1 tsp. baking soda

1/2 tsp. salt

1 egg

1 cup buttermilk  (milk with 1 tbsp. lemon juice added)

1/2 cup unsweetened applesauce

1 cup diced rhubarb (thin stalks if you have them)

1 cup blueberries (fresh or frozen)

1/2 cup of nuts if you so desire
Method
1. Preheat oven to 350F, and prepare 12 muffin pans by lightly greasing with oil or nonfat spray.  Non fat muffins stick to paper liners so they are not a good choice for these types of muffins.
2. Mix flour, oats, sugars, baking powder, baking soda, salt in a large bowl.  Make a well in the middle.
3. In another bowl, mix together the egg, buttermilk, and applesauce. Pour into dry ingredients and stir until just combined. Stir in fruit.
4. Use an icecream scoop to measure into the muffin tins and bake for 25 – 30 minutes until a toothpick comes out clean.