Tags
Abbey Cooks Entertain, afternoon tea, Caramount Inn & Spa, Courting Cake, Downton Abbey, Downton Abbey casting news, Downton Abbey Summer Reading, Lancashire Courting Cake, Marshmallow Room, Paul Giamatti joins Downton Cast, Prince Edward County
I have been waiting for summer to arrive since last fall, and finally it is here.  This week I will be leaving for our annual family fishing trip to the West Coast which I have written about more than once.  I will be offline for a week or two. Sadly our travel plans through the Rockies might be changed with the flood damage to the Calgary area.  Equally disappointing will be  a smaller version of the world famous Calgary Stampede as flood waters have completed covered the grounds.  My mom thoroughly enjoys putting her horse on display in the horse barns every year.  Our thoughts and prayers are with those whose homes have been ravaged by nature.
As you may know, Tea Tuesday is a weekly tradition I started, dishing about Downton Abbey, featuring a new "Downton" era recipe. Refer to my Online Guide to Afternoon Tea, helpful in understanding traditions and recipes to help you host your own tea party with family and friends.
This week's treat, Courting Cake, is inspired by our son Master Stephen and his girlfriend Lady Emma, who stopped by this weekend on their way to spend a year in Australia together.

Downton Dish
Now that summer has arrived there is much to do to keep you distracted to keep your Downton cravings at bay. While it was a slow week, a juicy tidbit about casting of Cora's brother emerged.
Abbey Cooks Entertain: Garden Party Season is Upon Us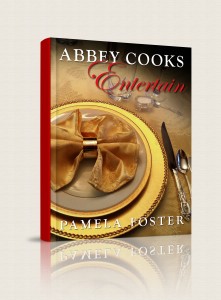 With 220 Downton era recipes, you will want to get this book for recipes for the famous Downton dishes from Season 1-3. I also presented a whole chapter on Garden Parties. Experimenting with ices (ice creams and frozen yoghurts) was my favorite part.
This 432 page ebook sells for only $7.95. Book sales help offset my costs in food, equipment and time to keep bringing you new dishes each week. You can only get a signed copy here on my site. If you don't have an eReader I would suggest the PDF version which allows you to print recipes as you go, if you wish.
Mini Break to Prince Edward County
This past week Lord D and I enjoyed a pleasurable mini break to Prince Edward County, a thriving tourist area of food and wine.  This area is historic home to Lord D's relatives, a collective group known as Empire Loyalists.  United Empire Loyalists were those settled in the thirteen colonies at the outbreak of the American Revolution, who remained loyal to the British Crown and took up the Royal Standard, and who settled in what is now Canada at the end of the war.
We stayed at the historic Claramount Inn and Spa in Picton and took advantage of both.  We would love help host a Downton event there in the future and planted a few seeds with the event team in that regard.
While steeped in British roots, it is an area with many wineries and few tea shops,  but we did find the quaint Marshmallow Room in Bloomfield where you could get a great cuppa, raisin scone and other tea treats, and devonshire cream.  Yes, they even had home made marshmallows.
Lancashire Courting Cake
Summer is finally here and time for lighter desserts and tea tray delights filled with berries.  When you have picked through your best strawberries from the strawberry farm, save some of the bruised ones to slice for this great dessert with a wonderful history.
A test of their baking skill, young lasses of Lancashire baked this cake for their betrothed as a gesture of  love, care and friendship, as part of courtship, I suppose to "seal the deal".  A courting cake was presented to William and Kate before their nuptials.  As it turns out our son Stephen is more likely to bake this cake for Emma than the other way around. But then again many things have changed.
This traditional recipe uses equal quantities of butter and sugar, so  Courting Cake is denser than Victoria Sponge which has more flour, but lighter than shortcake.  In winter, cooks actually did make a shortcake version and filled the cake with berry compote instead of fresh fruit.  If you wante to make individual servings,
Serves 10 to 12
Ingredients
1 cup unsalted butter, room temperature
1 cup caster sugar*
4 eggs
3 tsp. pure vanilla extract
2 3/4 cups unbleached all purpose flour
4 tsp. baking powder
1 tsp. salt
1/4 cup milk
*if you don't have caster sugar simply pulse regular sugar in your food processor and then measure.
Filling
whipped cream or for a low fat version, use non fat greek yoghurt, sweetened with honey or buy it flavoured
icing sugar
2 – 4 cups sliced over ripe strawberries (depending on how many layers you make)
Method
Preheat oven to 350°F.
Prepare 2 or 3 cake pans by lining the bottoms with parchment paper.
Cream butter and sugar until light and fluffy. Taking time at this stage will result in a much lighter cake.
Beat in eggs 1 at a time. Beat in 2 teaspoons vanilla.
Sift flour, baking powder,  salt into medium bowl. Fold into butter mixture.
Gently mix in milk to make a dropping consistency.
Divide batter into your prepared pans.  To remove extra air bubbles give your pans a good whack on your counter before putting into the oven.
Bake cake for 25- 30 minutes, or light brown and firm to the touch.  Let cool completely on wire racks.
If you have made two layers and have lots of berries, you can carefully slice each layer in half horizontally with a long serrated knife so you have four layers.
Otherwise, just place one layer on a decorative plate, layer with sweetened whipped cream (or flavoured non fat yoghurt) and sliced strawberries.
Top with the next layer and repeat until complete. Some prefer to place the final layer with the cut side up to make it more flat, but topping covers all sins.
Dust with powdered sugar. Arrange more berries atop cake.
Refrigerate the cake for at least an hour before serving to let the flavours blend.