Tags
afternoon tea, baking salmon with chamomile tea, Downton Abbey, Downton Abbey casting news, Downton Abbey Cookbook, Downton Abbey recipes, Edwardian cooking, fish farms, food history, fundraising over tea, Prince Rupert Environmental Society, Royal birth, salmon, Save our Salmon, The Salmon Recipes cookbook
Happy days as anglophiles around the world celebrate a royal birth with scones and clotted cream and pots of tea. Today is also a special day for Lord D and myself as we celebrate another year of wedded bliss.
I am safely back at home after an eventful visit with my family out in Western Canada.   While the memories and bug bites will fade, there is much fish in our freezer to remind me of our fishing adventures.  Not too many women would bring a box of fish as carry on luggage, but cooks will go to great lengths to bring home the best for their families and friends, and colleagues.  I had some of the salmon smoked for me at Billingsgate (in Calgary) while it was still fresh, and already shared a taste with my work colleagues (served up with bagels and cream cheese).  Nothing beats wild salmon.  Read on to learn more about efforts to protect the wild fish of the West Coast.
As you may know, Tea Tuesday is a weekly tradition I started, dishing about Downon Abbey, featuring a new "Downton" era recipe. Refer to my Online Guide to Afternoon Tea, helpful in understanding traditions and recipes to help you host your own tea party with family and friends. During Downton Downtime I only post once a week so not all the dishes here will be served at tea, but we can still put the kettle on and share Downton gossip over a nice cup of tea.
Today's savoury dish is Camomile Tea Salmon.  A wonderful recipe from The Salmon Recipes, a cookbook I discovered on our fishing adventure to Prince Rupert.
Downton Dish
Now that summer has arrived there is much to do to keep you distracted to keep your Downton cravings at bay. If you haven't seen all seasons (1-3) beware of spoilers below.
Abbey Cooks Entertain: Celebrate the Royal Birth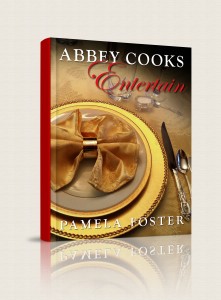 With 220 traditional English recipes with a modern twist, this is a great book to prepare dishes for many options for celebrating the arrival of the new prince with upstairs meals, downstairs pub food, garden parties and Afternoon Tea.
This 432 page ebook sells for only $7.95. Book sales help offset my costs in food, equipment and time to keep bringing you new dishes each week. You can only get a signed copy here on my site. If you don't have an eReader I would suggest the PDF version which allows you to print recipes as you go, if you wish.
Fundraiser Event: many local museums and churches are drawing upon the popularity of Downton Abbey by hosting an afternoon tea or garden party as a successful fundraisers. When I visited my home town this month I met with ladies from my home church to help organize an afternoon tea to celebrate their 100th anniversary.  Drop me a line and I will send you the same idea sheet I shared with my church.
Ask me for a complimentary copy of my book to for great recipe ideas to help ensure your event is a success. I only ask that you provide me with pictures and a description to share here to inspire others.
Saving our Salmon
Prince Rupert is located on the northern coast of British Columbia.  It is not far from Alaska, and if you have taken an Alaskan cruise, your ship may have actually stopped in  in Prince Rupert for the day. As you recall it was founded by Charles Hays whose death on Titanic resulted in Lord Grantham's financial demise:  Charles also headed the Grand Trunk Railway.
A lovely little community connected to the ocean.  As I mentioned above I discovered this cookbook–edited by Luanne Roth–when we were buying our fishing licenses at Bobs on the Rocks, a local institution.  This great book prepared by the Prince Rupert Environmental Society provides unexpectedly wonderful recipes for salmon and white fish from cooks who draw their meals from the sea on a weekly, even daily basis.  The book is also sprinkled with lovely anecdotes about the communities connection to the sea.
The 2006 documentary Call From the Coast (you can download a copy) reveals the negative impact fish farms have on wild salmon. There is even a cameo by Jim Robertson, our family friend and charter operator (Hot Spot Charters) who spoke on behalf of the sport fishing charters in the area.  We actually stopped to visit the Tobboggan Creek Fish Hatchery in Smithers where salmon are incubated to be released. The area won their battle to keep fish farms out of the Skeena estuary, and now raising the alarm over plans to pipe toxic bitumen from Alberta tar sands to then supertanker it out from Kitimat or Prince Rupert.
Sales of this cookbook help the community in their efforts to protect their coastal water and wild fish.  Click to learn more about the organization.
Chamomile Tea Salmon
The photo of this recipe graces the cover of The Salmon Recipes, a perfectly suited recipe for a Downton dinner, incorporating chamomile tea and lavender for a delicately flavoured dish.  We have prepared a fish dish with lavender before, using halibut.  The lovely flavour adds a decidedly English touch to celebrate the birth of the new Prince.  This recipe was graciously provided by Chef Jimmy King who is a private chef catering to a select Crawley type clientele.
Serves 4 – 6
Ingredients
4 – 6 pounds salmon fillet
3 tablespoons loose leaf chamomile tea
3 tablespoons honey (lavender if you can find it)
1 lemon, juiced
1 lemon, sliced
4 garlic cloves, finely chopped
2 tablespoons piedmont chili pepper or paprika
3 tablespoons olive oil
1 tablespoon lavender
2 tablespoons fresh flat leaf parsley, chopped
sea salt and crushed pepper to taste
Method
Clean and debone salmon.
Steep tea in 1 cup of boiling water for 10 minutes and set aside.
In a large shallow dish, prepare the salmon by dusting with paprika, sprinkling with salt and pepper and the garlic. Drizzle with the honey, rub in the olive oil and lemon juice to combine the flavours.  Let sit for 20 minutes.
Preheat oven to 400F.
Transfer the salmon to a baking sheet, lined with parchment paper, skin side down.  Bake the salmon for 10 minutes or until the flesh flakes lightly.  Cover with tin foil and let the salmon rest 5 minutes.
Garnish with lemon slices, lavender, and parsley.  Pour the condensed tea around the fish as it's sauce.
Remove the skin, and cut into six ounce portions and serve.