Tags
Abbey Cooks Entertain, afternoon tea, Downton Abbey, Downton Abbey casting news, Downton Abbey Cookbook, Downton Abbey entertaining, Downton Abbey Food, Downton Abbey Party Food, Downton Abbey recipes, Downton Abbey Season 4 spoilers, Edwardian cooking, Empress Hotel Afternoon Tea in Victoria, food history, Mrs. Beeton, plum crumble
Canadians are back today after celebrating a long weekend with family and friends.  A civic holiday, it is known by different names across each provinces, but the tradition was started in 1869 by the Toronto City Council in honour of Lord Simcoe, the first Lieutenant Governor of Upper Canada and the man who initiated the abolishment of slavery in Canada.
Lord D and I spent the morning exploring the countryside just a few minutes from our home, which included a visit to Springridge Farm, a great country farm where you can buy the latest crop off the field (raspberries, corn), enjoy a BBQ or baked goods, and this week a jar of their Prince George jam in honor of the new young prince.
As you may know, Tea Tuesday is a weekly tradition I started, celebrating the era of "Downton Abbey", the popular TV show, featuring a new "Downton" era recipe.  Refer to my Online Guide to Afternoon Tea, helpful in understanding the traditions and dishes served at tea.
Today's dish is Plum Crumble, a sweet or tart dish (depending on the amount of sugar you use), with an English style topping of flour, butter and ground almonds.
Downton Dish
This is the time of year when we should all be booking fall holidays to the UK as Downton launches Season 4 in mid September while we wait until January for our turn.  In the meantime, here are some distractions to keep your Downton cravings at bay. If you haven't seen all seasons (1-3) beware of spoilers below.
Abbey Cooks Entertain: Celebrate the Royal Birth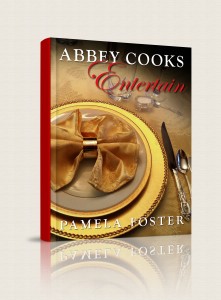 With 220 traditional English recipes with a modern twist, this is a great book to prepare dishes for many options for celebrating the arrival of the new prince with upstairs meals, downstairs pub food, garden parties and Afternoon Tea.
This 432 page ebook sells for only $7.95. Book sales help offset my costs in food, equipment and time to keep bringing you new dishes each week. You can only get a signed copy here on my site. If you don't have an eReader I would suggest the PDF version which allows you to print recipes as you go, if you wish.
'Tis the Season for Fresh Fruits and Vegetables
Summer is the time of the year  which promises a great bounty from gardens and orchards.  We now live in a world where we can get produce year round, but there is nothing quite like the taste of fruits and vegetables grown locally.  I love visiting farmers markets in the summer time, and often you end up bringing home  more than you can possibly eat.  You can make jam (link to some of my strawberry recipes) or enjoy them now in your summer desserts.
I have not been shy about my admiration of Mrs. Beeton, the original kitchen diva whose book Mrs Beeton's Book of Household Managementwas a staple in every Victorian household.  I have written a few pieces about her (the goddess, celebrating her birthday, video about her work) and her amazing ability to touch a whole generation of housewives when she herself did not cook.  A testament to great marketing as she preached the economy of operating a household, buying produce when it was in season, how to cook and how to preserve for the winter.
Mrs. Beeton's Plum Crumble
The challenge with some recipes from the Victorian era is that we don't have the same tastes, so often need modernize them to make them more enjoyable.  Gerard Baker, a talented cook, food historian and BBC personality has written a wonderful book, Mrs Beeton How to Cook: 220 Classic Recipes for the Modern Kitchen updating some of Mrs. Beeton's best recipes.   Most "plum" recipes in the Victorian and Edwardian era don't even have plums in them.  Rather they often call for currants and raisins. Gerard includes this plum crumble recipe, replacing Mrs. Beeton's original breadcrumb topping for a more modern English topping of flour and ground almonds.   I have adapted this recipe from his book when Lord D came home with more fresh Ontario plums than we could eat before spoiling.
Ingredients
1 1/2 pounds of ripe plums, pitted and quartered
1 cup of caster sugar or sugar substitute (more as required)
1 cup unbleached all purpose flour
1 1/4 tsp. of baking powder
1/2 cup unsalted butter
1/4 cup caster sugar
Method
Preheat the oven to 350F and prepare a shallow baking dish by greasing.

Place the quartered plums into the baking dish and add the sugar to coat.  I happen to love sour desserts,  Lord D not so much so taste for the sweetness level you prefer.
To make the topping, place the dry ingredients into a bowl, and grate in the butter into the mixture and rub into the mixture until evenly distributed.
Spread the crumble evenly over the plums, then lightly smooth.
Bake for 45 minutes until bubbly and the top is golden.
Serve with frozen yoghurt or custard.
Get the Book