Tags
Abbey Cooks Entertain, afternoon tea, Downton Abbey, Downton Abbey casting news, Downton Abbey Cookbook, Downton Abbey entertaining, Downton Abbey recipes, Downton Abbey Season 4, Downton Abbey Season 4 spoilers, Downton Abbey viewing party, food history, saskatoon pie, Saskatoons, serviceberries, serviceberry pie, Tesco vs. P&O Cruises
No sooner than the cooler weather had me pulling out my light sweaters, we experienced a resurgence of summer wither in our part of the world.  I won't be fooled, though, summer will be ending soon, for me marked by all the back to school sales.
We did enjoy a wonderful summer day this weekend though,  celebrating a family member's birthday who turned 4. I am so blessed to have married into a family of great cooks who share a passion for food.  Nephew Lord C, did not disappoint in providing an amazing, yet light feast.  One day I hope to convince him to co-author a cookbook on Italian cuisine.  He could pass as relative of the red haired Mario Batali and is so incredibly talented and passionate about food.
As you may know, Tea Tuesday is a weekly tradition I started, celebrating the era of "Downton Abbey", the popular TV show, featuring a new "Downton" era recipe.  Refer to my Online Guide to Afternoon Tea, helpful in understanding the traditions and dishes served at tea.
You can't beat pie made with fresh berries. While Lady Mary might turn her nose up at it, there would be many takers downstairs in the servant's hall.  Today we make serviceberry pie. You may know serviceberries as Saskatoons as they are called in Canada.
Downton Dish
Downton launches Season 4 next month in the UK, but not until January (see the countdown clock above) in the US and Canada.  In the meantime, here are some distractions to keep your Downton cravings at bay. If you haven't seen all seasons (1-3) beware of spoilers below.
Abbey Cooks Entertain: Garden Party Season ending soon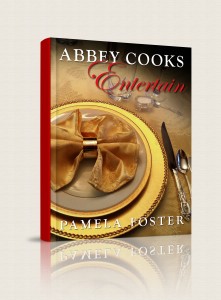 With 220 traditional English recipes with a modern twist, this is a great book to prepare dishes for many options for celebrating the arrival of the new prince in the last few weeks of garden party season.
This 432 page ebook sells for only $7.95. Book sales help offset my costs in food, equipment and time to keep bringing you new dishes each week. You can only get a signed copy here on my site. If you don't have an eReader I would suggest the PDF version which allows you to print recipes as you go, if you wish.
The Humble Serviceberry
Serviceberries are a member of the Amelanchier family and are found across North America, but also in Europe and Asia.  The can be found in the wild, but often are planted as ornamentals for their masses of showy, white flowers in early spring and colorful fall foliage, but more importantly for foodies like me for their edible fruit. Also known as Juneberry, saskatoon, sarvis or sarvistree, shadblow, shadbush, and mountain blueberry. The blueberry-like fruit may be eaten fresh, baked in pies or other desserts, canned, or made into wine, jams, or preserves.
When I was visiting my family out west last month, my Dad announced that the berries were ready for picking at a local farm.  My parents have been cultivating a crop for a few years, but alas the birds get to most of the berries first.  My dad and I set out to Berg's Berries to take in some of the harvest.  You pay by the bucket load and since they don't weigh you on the way out, my Dad thinks it is a pretty good bargain. So off we went for some Daddy-Daughter bonding to pick and eat berries together on a quiet weekend morning.  We didn't have time to make jam, but I made some pies for us to enjoy now, and froze the rest for my parents to enjoy later.
Serviceberry Pie
Ester Berg of Berg's Berries in Southern Alberta was happy to share her pie recipe with me.  Since my pie pastry recipe yields 5 pies, I had both enough berries and pastry dough to try out a few recipes.
The challenge with serviceberries that while they look like blueberries, they have a much thicker skin.  Confession time:  I never really liked my mom's recipe so I was eager to try Ester Berg's version as a comparison.  In our family taste test Ester's recipe won.  The trick is to cook the berries and provide a thickening agent so the pie holds together.
Makes 1 large pie, 4 – 5 mini pies, or 24 tarts
Ingredients
1 cup water
1 1/2 tbsp. fresh lemon juice
3 cups serviceberries, washed
1/4 tsp. almond extract
3 tablespoons of cornstarch
1/3 cup sugar (or sugar substitute)
1/3 cup additional water
pie pastry: link to my pastry recipe
Method
In a medium saucepan, heat 1 cup of water with the lemon juice until boiling. Add the berries, and bring back to the boil.  Reduce heat to medium and cook the berries for 10 minutes.
In small mixing bowl, combine the cornstarch and sugar.  Add the 1/3 cup of water and mix until there are no lumps.
Add the mixture to the berries and cook until thickened.
Remove from heat and cool.
Prepare the pie pastry.
Roll dough to create the bottom crust.   I find this pie does not need blind baking (pre baking the crust to prevent it from becoming soggy), but you may if it makes you happy.
Add the filling.  Brush water along the edge of pie to help the top seal, and add the top crust.  Lightly sugar if you want.
Bake for 10 minutes at 425F and then turn to 350F and bake for an additional 30 minutes.