Tags
Abbey Cooks Entertain, afternoon tea, Behind the Scenes of Downton Abbey, Downton Abbey, Downton Abbey casting news, Downton Abbey Cookbook, Downton Abbey Emmy Nominations, Downton Abbey entertaining, Edwardian recipes, Healthy Cooking, healthy desserts, how to make low fat ice creams, low fat ice cream, peaches and lavender ice cream
Downton fans across North America are in a funk as we try to be gracious about the Downton launch on ITV next Sunday, while we have to wait for January on PBS.  On the upside we can still look forward to Sept. 22 as the date of the Primetime Emmy Awards.  Downton has garned 12 nominations, including Best Drama.

As you may know, Tea Tuesday is a weekly tradition I started, celebrating the era of "Downton Abbey", the popular TV show, featuring a new "Downton" era recipe.  Refer to my Online Guide to Afternoon Tea, helpful in understanding the traditions and dishes served at tea.  Each week we take time to take a break to talk Downton and share a recipe which might have been enjoyed upstairs or down.
Today we enjoy the more fruits of the harvest and squeak a few more weeks out of summer with peach and lavender ice cream.  Definately an upstairs dessert.
Downton Dish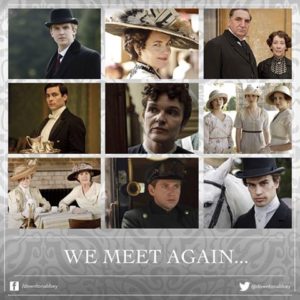 Unfortunately PBS will not be broadcasting S4 of our beloved show until January (see the countdown clock above) in the US and Canada.  But you can get reacquainted with  If you haven't seen all seasons (1-3) beware of spoilers below.
Abbey Cooks Entertain: For a Downton-Themed Emmy Party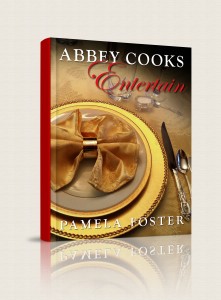 With 220 traditional Downton era recipes with a modern twist, this is a great book to have on hand when planning a Downton cocktail party with fellow fans.
This 432 page ebook sells for only $7.95. Book sales help offset my costs in food, equipment and time to keep bringing you new dishes each week. You can only get a signed copy here on my site. If you don't have an eReader I would suggest the PDF version which allows you to print recipes as you go, if you wish.
Light Peaches and Lavender Ice Cream
Last week we made lavender tea and lavender tea cakes. I also had some peaches from the market so made a batch of ice cream to enjoy before we say goodbye to summer in this part of the world.
Serves 4
Ingredients
6 peaches
1 tbsp. honey
1 tsp. dried lavender buds
2 cups milk
1 cup fat free evaporated milk
¼ cup honey
Method
Preheat the oven to 400°F.
Cut the peaches in half and remove the pits. Place in large roasting pan, cut side up. Drizzle with the honey and lavender. Roast until golden brown and soft, about 30 minutes. Let cool completely and peel the skins off the peaches and roughly mash.
Meanwhile, in a large saucepan set over medium heat, combine the milk, evaporated milk and honey, stirring until the mixture just comes to a boil. Remove from the heat and let cool completely. Refrigerate until cold.
When both fruit and ice cream base have chilled, mix together and freeze for 20 minutes or according to your ice cream maker manufacturer's instructions.
Best enjoyed right out your ice cream maker, but you can freeze and let thaw slightly to regain the great creamy consistency.
Tips on Making Lower Fat Frozen Desserts
Most of the recipes I provide on this site have been lightened to some extent, and in the case of ice creams, use milk or yoghurt in place of cream and eggs.
If you have a family recipe you want to make healthier here are a few tricks which help keep the same creamy consistency:
• Add 1–2 tbsp. cornstarch for every quart of mixture; it serves as a thickening
agent;
• Add 1–2 puréed frozen bananas; it will help provide a creamy texture;
• Replace the cream with fat free evaporated or coconut milk; it will help provide
a creamy consistency;
• Drop in 2–3 tbsp. of vodka or other alcohol into your mixture; it has a lower
freezing point will helps prevents ice crystals from forming.
Books
Gain unprecedented behind-the-scenes access to Downton Abbey in this official Season 4 tie-in book, complete with never-before-seen photos giving fans insight into the making of the runaway hit.