A few days have now passed since Sunday's double whammy. I am still processing the events. UK Downton fans had high hopes for S4E1, US fans for Emmy wins. There was sadness on both sides of the pond came away sad.  UK fans needed time to grieve for Matthew so big splash to kick off S4. As for the Emmys, US fans experienced a different type of sadness: no major win. There is fierce competition out there, but  Downton can still hold its head high that its quality programming can be watched by all members of the family, and the food certainly is much better. The only Emmy Downton did capture was for music, of that everyone can agree.
Today's treat is lemon tart. For US fans the sour taste pairs well with not seeing S4E1, and no major Emmys for the show.   For UK fans, it is the perfect accompaniment according to Tesco Finest*, the new Downton Abbey Sponsor on ITV. Their banner ads even say so.
Downton Dish
UK fans sighed with relief that our beloved show is back on the air.  How will Mary carry on without Matthew?  We will also soon find out through our PBS affiliate, but not until January (see the countdown clock above).  If you live outside the UK you can still get reacquainted with past episodes.  If you haven't seen all seasons (1-3) beware of spoilers below.
The Emmys
What I will Say about Season 4
Since my audience spans the globe I will be watching along with  the UK fans, but promise not to divulge major spoilers before January.  I did keep quiet last year (although it was really hard) so I think I can be trusted.
There are a few things I will say about Season 4E1:
The Tesco commercials were awesome.  Actually any product sold with an English accent is awesome.  My favorite.  Husband: "where is the Stilton?" Wife: "it has gone to a better place".
The first episode starts in darkness and gradually moves into the light.
Another electric gadget arrives in the Downton kitchen to make life easier for the  kitchen staff.  Mrs. Patmore is not keen, Daisy is all over it like mashed potatoes.
Abbey Cooks Entertain: Cause Season 4 is (Almost) Here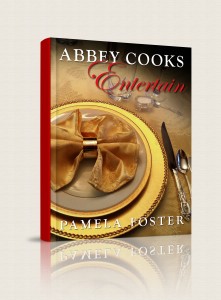 With 220 traditional Downton era recipes with a modern twist, this is a great book to have on hand when planning a Downton cocktail party with fellow fans. This 432 page ebook sells for only $7.95. Book sales help offset my costs in food, equipment and time to keep bringing you new dishes each week. You can only get a signed copy here on my site. If you don't have an eReader I would suggest the PDF version which allows you to print recipes as you go, if you wish.
Lemon Tart
Tesco  banner Ad: "Lights Dimmed, Sicilian Lemon Tart sliced…and breath bated….Downton".  This is a great dish served up while watching an episode of Downton, apparently, so who is to argue?
Ingredients
Short crust pastry recipe (below)
2 eggs
3 egg whites
1 cup sugar
2 tsp. lemon zest
1/2 cup lemon juice
Icing sugar, for dusting
Method
Make the crust ahead of time and refrigerate.
Preheat to 375°F. Grease a 10- or 11-inch removable-bottom tart pan
Lightly flour a large sheet of parchment paper and roll out the dough to approx. 12 inch circle. Transfer to the pan and press the sides into the ridges. Run the rolling pin over the top of your pan to create a crisp edge.
Blind bake the crust by placing a parchment paper over the pan, and then fill with pie weights, dry beans or rice.  Place the tart pan on a baking sheet and bake in the preheated oven for 10 to 12 minutes. Remove the paper and pie weights.
Whisk eggs, egg whites and sugar in a medium sized bowl until smooth. Whisk in lemon zest and lemon juice. Pour the filling into the partially baked crust.
Bake (still using the baking sheet) in the upper third of the oven until the crust is golden and the filling is set, about 20 minutes.
Cool on a wire rack for at least 10 minutes before removing the from the tart pan.
Dust with confectioners' sugar. Serve warm or at room temperature.
Short Crust Pastry
Makes 1 crust
Ingredients
1¼ cups unbleached all purpose flour
¼ cup sugar (or sugar substitute)
½ cup unsalted butter (cut into small pieces)
1 egg yolk
2 tbsp. heavy cream
Method

In a large bowl add the flour and sugar and rub in the butter to resemble fine crumbs. Add the egg yolk and cream and form the paste into a ball.
Wrap in plastic wrap and refrigerate for at least 30 minutes before using.
Tools you can use
Books
Gain unprecedented behind-the-scenes access to Downton Abbey in this official Season 4 tie-in book, complete with never-before-seen photos giving fans insight into the making of the runaway hit.