It is October.  Some of the trees in our neighborhood have already given into the inevitable and shed their leaves in one fell swoop, while others are beginning to change from green to red and gold.  While I grumble about winter, I do enjoy the glorious display of trees in technicolor splendor.  As a cook, I also love the transition from light supper meals to the heartier dishes when root vegetables are in their glory.
A few weeks ago, I helped answer the question of what to do when your Lord brings home a bushel of tomatoes.  This week's challenge is what to do with the 20 pounds of carrots that begged him to bring home.  Lord D makes a mean pork roast, so some of the carrots were roasted. Others were made into my favorite low fat carrot cake, topped with carrot curls.  But when you have a large amount of carrots, nothing does the trick like today's dish, carrot ginger soup.  Just like watching Downton Abbey, it is satisfying  mix of upstairs and down.
Downton Dish
UK fans are settling into Season 4 and see that life really does carry on at Downton without Matthew.  We will also soon find out through our PBS affiliate, but not until January (see the countdown clock above).  If you live outside the UK you can still get reacquainted with past episodes.  If you haven't seen all seasons (1-4) beware of spoilers below.
What I will Say about Season 4
Since Downton fans span the globe I will be watching along with  the UK fans, but promise not to divulge major spoilers before January.  I did keep quiet last year (although it was really hard) so I think I can be trusted.
There are a few things I will say about Season 4E2:
Downton Abbey returns its focus on how to save the beloved country home.
Lady Mary realizes life goes on and she is given a new purpose in life.
Rose is as impulsive as in Season 3.
Mrs. Patmore had a great pearl of wisdom: "nothing is so easily changed as a young man's heart."
Abbey Cooks Entertain: Cause Season 4 is (Almost) Here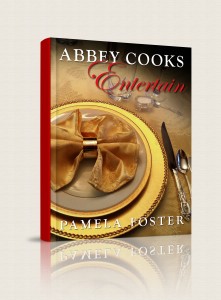 With 220 traditional Downton era recipes with a modern twist, this is a great book to have on hand when planning a Downton cocktail party with fellow fans. This 432 page ebook sells for only $7.95. Book sales help offset my costs in food, equipment and time to keep bringing you new dishes each week. You can only get a signed copy here on my site. If you don't have an eReader I would suggest the PDF version which allows you to print recipes as you go, if you wish.
Classic Carrot Ginger Soup
Carrot soup is one of those classics dishes which is simple in terms of its main ingredients.  But add ginger and then pureeing takes it from the servant's hall to the upstairs dining room. Guilt free, there is little fat in this recipe.
Ingredients
Serves 4
2 tbsp. canola oil or olive oil
1 small yellow onion, coarsely chopped
3 tbsp. fresh ginger, peeled and coarsely chopped
2 lbs. carrots, roughly chopped
5 cups low sodium chicken or vegetable stock (more to thin)
1 cup fresh orange juice
Pinch of ground nutmeg
Coarse (kosher) salt and freshly ground black pepper *
low fat plain yoghurt to garnish
chives to garnish
Method
Heat the oil in a dutch oven over medium heat. Cook the onion and ginger for about five minutes until the flavours have been released.
Add the carrots, stock, and orange juice.  Increase the heat, bringing to a boil, then reduce the heat to simmer, covering the pot.
Cook until the carrots are tender, about 45 minutes.
In the Downton kitchen the soup would have been pressed through a sieve to break up the solids, but we have the convenience of immersion blenders to puree the soup right in the pot.  If you don't have an immersion blender you can use a blender or food processor.
Season with nutmeg and salt and pepper.  If the soup is too thick, add some additional stock to thin and reheat.
You can serve the soup hot or cold; garnish the soup with a spoonful of yoghurt and nutmeg before serving.
Tools you Can Use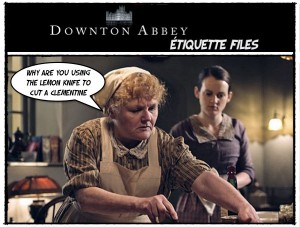 Cooks, like other professionals, have their tools and as Mrs. Patmore says "it is a poor workman who blames his tools".  You can  make do with the basics, but as you gain confidence and love for cooking, you should start to recognize items to help you cook.  Mrs. Patmore didn't have electronic gadgets to cook with so be assured you can make do without the expensive gizmos.  This section helps you identify some equipment that I use.  If you wish you can order directly from Cooking.com or Amazon.com, both reputable stores I have used in the past.
Immersion Blenders: Forget the new mixer, Daisy would have gone bonkers for the immersion blender which makes it easy to puree soups.  My favorite combo comes with a whisk and mini food processor.