Tags
Abbey Cooks Entertain, afternoon tea, Downton Abbey, Downton Abbey casting news, Downton Abbey Cookbook, Downton Abbey recipes, food history, guilt free pumpkin tarts, low fat pumpkin bread, low fat pumpkin recipes, make your own pumpkin puree, pumpkin bran bread, Pumpkin puree, pumpkin recipes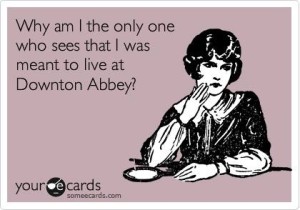 While our American neighbors  celebrated Columbus Day yesterday, Canadians were elbow deep in turkey and all the fixins. Nephew Lord C and his mom Lady J did not fail to disappoint at our family gathering this year with a 20 pound free range turkey and a whopping 8 sides.  With a tribute to the US, we did have a taste of lasagna as a starter. Food coma.
While US Thanksgiving is the jumping off point for the holiday season, our Canadian Thanksgiving triggers pumpkin season for me. Today's treat is pumpkin bread, a low fat quick bread which fills your home with the smell of those lovely pumpkin spices.
Canadian Thanksgiving Launches Pumpkin Season
The Dowager might quip "What is Thanksgiving?" since the UK doesn't celebrate a one day feast; instead there is month of Harvest Festival events.
The Canadian Thanksgiving holiday was officially proclaimed by  Parliament in 1879 and draws upon three traditions: European harvest celebrations; the first North American Thanksgiving (1578) observed by Martin Frobisher in the Arctic Circle; and the Pilgrims' 1621 first celebration in Massachusetts.  In 1957, the date was set for Second Monday in October, and of course Americans know that US Thanksgiving is the held the 4th Thursday in November.
You know Fall is here when pumpkins line the outside of your grocer, and huge displays of canned pumpkin appear out of nowhere.  Pumpkin appears on every coffee shop menu: from pumpkin lattes at Starbucks, to pumpkin muffins and donuts at every donut shop.
Part of the allure is the smell of pumpkin spices (cinnamon, nutmeg, cloves, ginger), so fill up your kitchen with these wonderful smells by trying a few of these delights:
Cook the Downton Way:  A pumpkin yields a lot of flesh, and while canned pumpkin is convenient, you can easily make your own pumpkin purée (see below).
Downton Dish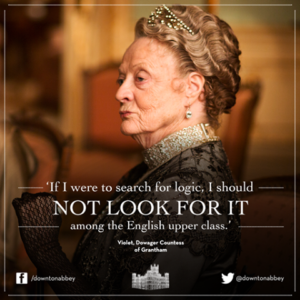 UK fans are now at the mid point of Season 4, sharing both laughter and grief with our favorite characters.  In the US and Canada, PBS launches in January (see the countdown clock above).  Each week I share Downton news, but if you haven't seen all seasons (1-4) beware of spoilers below.
What I will Say about Season 4
Since Downton fans span the globe I am watching along with the UK fans, but promise not to divulge major spoilers before January.  I did keep quiet last year (although it was really hard) so I think I can be trusted, mostly.
There are a few things I will say about Season 4E4:
You can't have the roaring 20s without jazz, so we see the younger Crawleys plan a visit to a jazz club.
The kitchen staff are still in love with the wrong people as this story line plays out while poor Mrs. Patmore can only stand back and watch.
While eligible bachelors begin to swam Lady Mary, she is still very much in mourning and has taken a more active interest in the running of the estate.
When You Just Have to Be There: Downton Tours
There is just something about Downton that makes us yearn to travel back in time. And if you can't travel back in time you can still visit the place where the fictional characters lived.  And there are fans that help make that dream happen.
Suzzanne Lacey of Sterling Silver Tours and I have kept in touch over the past year as she shared plans for trips to the UK, tailored for Downton fans.  Check out their blog account from last month's trip.  The tour even included time with Jessica Fellowes, who wrote two great Downton Abbey books (The World of Downton Abbey and The Chronicles of Downton Abbey: A New Era).
The 2014 tour package for July is already put together.  She and I have been talking about a culinary tour for next Fall, stay tuned.
PBS S4 Launch Party Evening Inspired by Downton: Jan. 4/5
If you can't travel to the UK, the next best thing is to celebrate with other fans in the USA. Vermont Public Television is hosting their second Downton inspired culinary weekend January 4th/5th. This event will launch Season 4 at the renowned Essex Resort, in Burlington Vermont.
I am honored to be asked once again to play a part in the proceedings.  Lord D and I look forward to this wonderful event of fabulous Downton food and festivity. Be among the first in the US to see Episode 1 in a theatre setting. Last year everyone had so much fun dressing up for Day 1, that they chose to wear their finery on Day 2.  Check out a clip from last year (yes, the Pamela is me).
Tickets are now on sale for this great event in support of public television, the network which brings Downton to the US.
Abbey Cooks Entertain: Only $7.95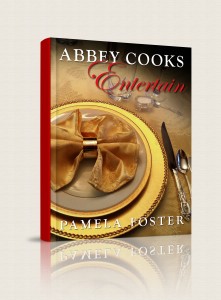 With 220 traditional Downton era recipes with a modern twist, this is a great book to have on hand when planning a Downton cocktail party or hearty downstairs meal with family and friends.
This 432 page ebook sells for only $7.95. Book sales help offset my costs in food, equipment and time to keep bringing you new dishes each week.
While the book is available on Amazon, you can only get a signed copy here on my site. If you don't have an eReader I would suggest the PDF version which allows you to print recipes as you go, if you wish.
Low Fat Pumpkin Bread
I found this old recipe in my thick binder of old recipes.  While I have worked so hard to digitize my collection, I can't seem to part with my old notes and newspaper clippings.  Judging from my handwriting I have had this recipe since grade school.  I have lightened it up by reducing the amount of sugar and replacing applesauce for the oil which it originally called for.  The smell and taste brought back memories childhood on the family estate raking and then jumping into piles of leaves.  Food is like that…it stimulates multiple senses.
Makes 1 large loaf, 2 small or 12 muffins
Ingredients
4 eggs (or 2 eggs and 2 egg whites)
1 1/2 cups of sugar (or sugar subsitute)
1 cup unsweetened applesauce
2/3 cup cold water
2 cups pumpkin purée
3 1/2 cups of whole wheat flour
2 tsp. baking soda
1 tsp. cinnamon
1 tsp. nutmeg
1 tsp. cloves
1 tsp. kosher salt
1 cup raisins (optional)
1 cup chopped walnuts or pecans (optional)
Method
Preheat oven to 350F.  Prepare (grease) your preferred baking tin(s).
In a large bowl, beat eggs, then add the sugar and applesauce mixing well.  Add the pumpkin and water.
In a medium sized bowl, mix the four, baking soda and spices.  Add the dry ingredients into the wet, mixing only until combined.  Add more water if the batter seems too thick.
Add the raisins and nuts (Lord D also loves mini chocolate chips in his quick breads) if desired.
Bake for approximately 20  minutes if making muffins, 45 minutes for the small loaves, 1 hour for the large loaf pan. Use a toothpick to test.  If it comes out clean it is done.
Pumpkin Puree
You can select baking pumpkins for the best texture, but not necessary. Take a sharp knife and cut the pumpkin in half from stem to stern. Scoop out the seeds and pulp, and reserve to clean, toast for a healthy pumpkin seed snack. Place the pumpkin on a cookie sheet, skin side up in a 350 degree F oven for about an hour. Scoop out the flesh and mash. Depending on the size of the pumpkin you will yield a few quarts of puree which you can freeze.
Yields a few quarts of purée depending on the size of your pumpkin.
Ingredients
Method
Preheat oven to 325°F.
Cut the pumpkin in half through the stem. Remove seeds and pulp. Save the seeds. Bake, skin side up for one hour or until the flesh is tender.
Scrape pumpkin meat and place in a large bowl.
Mash with a potato masher you can use an immersion blender which will help break down any stringy pieces if you aren't using a baking pumpkin.