Tags
2014 Downton Abbey Calendar, Abbey Cooks Entertain, Countdown to Downton Abbey Season 4, Downton Abbey, Downton Abbey casting news, Downton Abbey Cookbook, Downton Abbey entertaining, Downton Abbey recipes, Edwardian recipes, food history, low fat pumpkin pie, low fat pumpkin recipes, Vermont Public Television, VPT Evening Inspired by Downton Abbey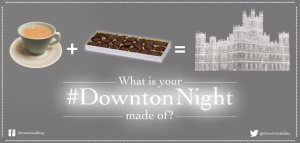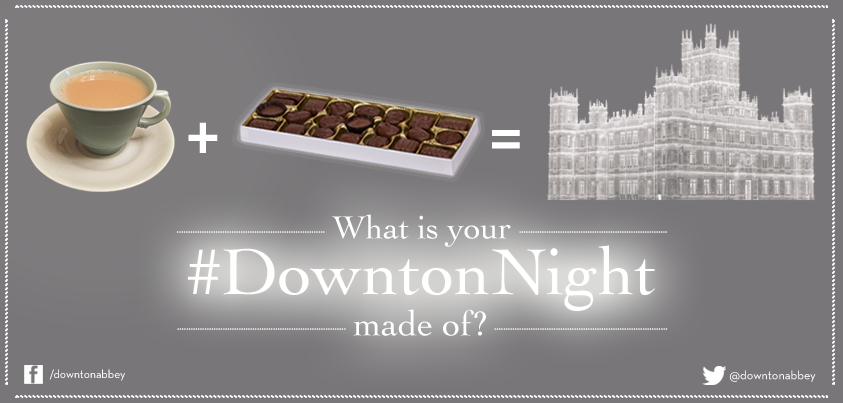 You don't have to be watching the latest episodes of Downton Abbey to enjoy a special night with fellow fans.  Granted the UK is currently dining on Season 4, but with fans in over 220 countries, and so many ways to watch from TV to Tablet, it is likely someone is savouring an episode right now with a cuppa.  Lucky us.
Big news in our family is that after the tireless efforts of cousin Lady L (her lovely place setting graces the cover of my book) tracing Lord D's family back 32 generations, we have completed the paperwork to claim him as an Empire Loyalist.  United Empire Loyalists stayed loyal to British Crown during the American Revolution, moving north to settle into free land in British North America (Canada) King George III awarded his loyal subjects.  A certification ceremony will be held in a few weeks and Lord D is so proud that he will be sharing this moment with his Uncle J. who will also be certified. Stay tuned.
Today's treat is low fat pumpkin pie.  Autumn is in the air and so are those lovely fragrant pumpkin spices.  With US Thanksgiving on the horizon, there is still some time to get in some practice to help you perfect your holiday pie.
Part of the allure is the smell of pumpkin spices (cinnamon, nutmeg, cloves, ginger), so fill up your kitchen with these wonderful smells by trying a few of these delights:
Cook the Downton Way:  A pumpkin yields a lot of flesh, and while canned pumpkin is convenient, you can easily make your own pumpkin purée.
Downton Dish
ITV is currently broadcasting the latest Season 4 in the UK.   In the US and Canada, PBS launches in January (see the countdown clock above).  Each week I share Downton news, but if you haven't seen all seasons (1-4) beware of spoilers below.
What I will Say about Season 4
Since Downton fans span the globe I am watching along with the UK fans, but promise not to divulge major spoilers before January.  I did keep quiet last year (although it was really hard) so I think I can be trusted, mostly.
There are a few things I will say about Season 4E5:
Someone at Downton visits the Ritz to test their cooking skills in the 1920s version of Master Chef.
Mrs. Patmore flinches at the prospect of another new fangled appliance.
An old courtier from Season 1 pays a visit to the Crawleys.
PBS S4 Launch Party Evening Inspired by Downton: Jan. 4/5
If you can't travel to the UK to visit Highclere, the next best thing is to celebrate with other fans in the USA. Vermont Public Television is hosting their second Downton inspired culinary weekend January 4th/5th. This event will launch Season 4 at the renowned Essex Resort, in Burlington Vermont.
I am honored to be asked once again to play a part in the proceedings.  Lord D and I look forward to this wonderful event of fabulous Downton food and festivity. Be among the first in the US to see Episode 1 in a theatre setting. Last year everyone had so much fun dressing up for Day 1, that they chose to wear their finery on Day two.  Check out a clip from last year (yes, the Pamela is me).
Tickets are now on sale for this great event in support of public television, the network which brings Downton to the US.
Abbey Cooks Entertain: Only $7.95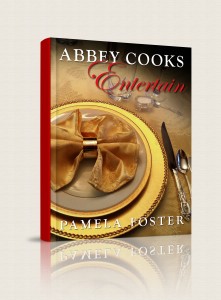 With 220 traditional Downton era recipes with a modern twist, this is a great book to have on hand when planning a Downton cocktail party, a romantic dinner, or hearty downstairs meal with family and friends.
This 432 page ebook sells for only $7.95. Book sales help offset my costs in food, equipment and time to keep bringing you new dishes each week.
While the book is available on Amazon, you can only get a signed copy here on my site. If you don't have an eReader I would suggest the PDF version which allows you to print recipes as you go, if you wish.
Low Fat Pumpkin Pie
While we associate pumpkin pie with American cuisine, recipes for pumpkin pie appeared as early as the 17th century. Originally they were called "pompion", the French word for "pumpkin", which suggests that the French created the first pumpkin pie recipes.
Non fat evaporated milk is the key to lowering the fat, but not comprising flavour.  I enjoy the history of the ingredient which originated in the Dowager's time, before refrigerators.  In 1899, EA Stuart, founder of Carnation, came up with a new process for canned, sterilized, evaporated milk.  Long term storage of evaporated and condensed milk came in handy in times of war and the impoverished.
Makes 1 pie
Pie Pastry for a single 9 inch pie
2 cups homemade Pumpkin Purée or canned
3 eggs, beaten
1 ½ cups non fat evaporated milk
½ cup brown sugar
Pinch salt
1 tbsp. unbleached all-purpose flour
2 tsp. cinnamon
1 tsp. ground ginger
½ tsp. ground cloves
½ tsp. ground allspice
½ tsp. grated nutmeg
2 to 3 tsp. rum or brandy (optional)
Method
Note:  You can prepare the crust and filling ahead of time and finish the next day.
Roll out pie dough and place into your pie plate. Flute the edges for a nice finish, then brush the bottom of the shell with beaten egg, and refrigerate. This will help seal the crust.
Combine the dry ingredients in a large bowl, then make a well and stir in the beaten eggs. Add the pumpkin and evaporated milk and mix to combine. Chill well to allow the flavours to blend.
Preheat your oven to 450°F.
If you are using brandy or rum add it now to your filling and pour into the pie shell. Custard pies tend to crack so you may wish to take the extra step of baking in a water bath (see note below). You might also blind bake your crust if you are worried about a soggy bottom.
If you do get cracks, whipped topping is your best friend, or try heating a metal offset spatula and spread across the top of your chilled pie.
Bake for 10 minutes at 450°F, then lower to 400°F for 10 minutes, then finally 350°F for a final 30 minutes. It is done when the edges are done, but the centre still has a little wiggle to it.
Cool on a wire rack and serve with whipped topping or ice cream. Non fat Strained Yoghurt, flavored with honey, is your low fat topping friend.
Perfecting your Pumpkin Pie Tips
Avoid using disposable foil pans, since they are too shallow for your pie and more prone to burn. They are also harder to handle, and if you are klutz like me, the kitchen cat might end up with your dessert on the floor.
Chilling the custard ingredients for a few hours or overnight allows the spices to blend. So you can prepare your crust and filling ahead of time and then pull it quickly together the day of your event.
Pumpkin (and other custard) pies can crack as the edges finish cooking before the centre has set and when the pie cools, it contracts and forms the cracks. Two options:

Beginner cover up: if you already have cracks, you can easily fix that heating a offset spatula and smoothing out the crack on a chilled pie (VIDEO), or by covering with decorative pieces of pie crust, spoon on that topping to disguise the blemishes, or cut the pie before serving.
Abbey Cook Water Bath: bake the pie in a water bath by placing the pie in a large roasting pan, and place in the oven. Pour boiling water into the pan until way way up the sides of the pie plate.
Holiday Shopping
Gift ideas for your Downton fan. Click on the icons to take you to Amazon to order in time for the holidays.