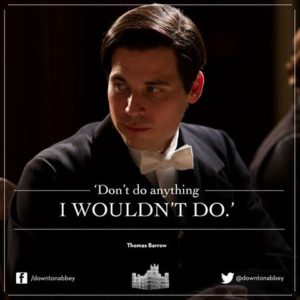 The US will soon will be alive with the sights and smells of Thanksgiving cooking.  No time to dwell on Downton Abbey this week as shopping lists are being prepared from time honored recipes passed down from mother to daughter.  If you think cooking for your extended family a few times a year is tough, imagine Mrs. Patmore, Daisy, Ivy and the kitchen staff preparing  multi course meals every night. I really don't know how they did it.
The Dowager should have every reason to ask "What is Black Friday?" since this is an American invention dating back to the 19th century.  Perhaps we can bridge the cultural gap with the introduction of today's Downton dish: Drop Scones.  They are not like American drop biscuits, but rather delicious mini (pocket) pancakes.  Imagine tucking a few of them into your pockets as a snack during your Black Friday shopping marathon.
Downton Dish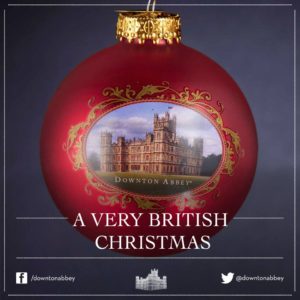 We are finally seeing that the end is near. Only a month left before the PBS launch in January (see the countdown clock above). Each week I share Downton news, but if you haven't seen all seasons (1-4) beware of spoilers below:
Upcoming Downton Events
Jan. 4/5: PBS S4 Launch Party Inspired by Downton in Burlington, VT

Vermont Public Television is hosting their second Downton inspired culinary weekend January 4th/5th. This event will launch Season 4 at the renowned culinary mecca, the Essex Resort, in Burlington Vermont. I am honored to be asked once again to play a part in the proceedings.  Lord D and I look forward to this wonderful event of fabulous Downton food and festivity. Be among the first in the US to see Episode 1 in a theatre setting. Last year everyone had so much fun dressing up for Day 1, that they chose to wear their finery on Day two. Tickets are now on sale for this great event in support of public television, the network which brings Downton to the US and Canada.
Jan. 17-19: A Downton Abbey Chauffeur-Turned-Gentleman: Sea Island, GA
Downton Abbey is hopping the pond this January. From the 17th – 19th, meet Allen Leech, otherwise known as "Tom Branson" former family chauffeur and widower of Lady Sybil and Jessica Fellowes, author of 2 great Downton books. For more information about this event.
win a copy of the 2014 Calendar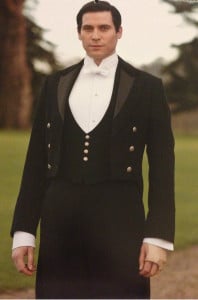 This is your week to win a copy of [easyazon-link asin="0789326361″ locale="us"]Downton Abbey 2014 Wall Calendar[/easyazon-link].  This year we are going to focus on Thomas who is featured in the calendar for the month of October.
Your skill testing question: Thomas wears a special glove.  What happened to his hand?
Send your guess to info@abbeycooks.com.  I will pick from the correct answers and announce the winners next week. Please note that unfortunately this contest is open only to residents of the United States.
Gift the Gift of Downton Entertaining: Only $7.95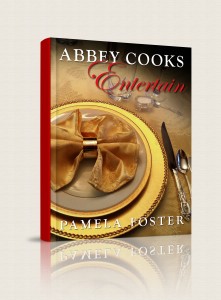 With 220 traditional Downton era recipes with a modern twist, this is a great book to to give for fellow fans planning a Downton cocktail party, a romantic dinner, or hearty downstairs meal with family and friends. This 432 page ebook sells for only $7.95. Book sales help offset my costs in food, equipment and time to keep bringing you new dishes each week. While the book is available on Amazon, you can only get a signed copy here on my site. If you don't have an eReader I would suggest the PDF version which allows you to print recipes as you go, if you wish. Buy one for yourself, gift to another.  All you have to do is email the download link.
Drop Scones
from Abbey Cooks Entertain
A few weeks ago we made flapjacks which are granola bars, not pancakes.  Today we are making drop scones which are not drop biscuits but little pancakes.  The Queen apparently loved drop scones and everyone's favorite recipe is likely traced back to her version with cream of tartar which has been replaced here with baking powder.  Like regular pancakes you can add different spices and flavoring or use as a  canopy base.  Me, I love wrapping a couple into a napkin and stuffing them into my pocket to have as a snack on my commute to the office.
Serves 4
Ingredients
3 cups unbleached all-purpose flour
5 tsp. baking powder
2 tsp. baking soda
¼ tsp. salt
2 eggs
¼ cup of sugar (or sugar substitute)
1 ½ cups milk
Method
In a large bowl mix together the flour, baking powder, baking soda, and salt in a large bowl. In a separate medium-sized bowl, whisk together the eggs and sugar, and add most of the milk.
Make a well in the dry ingredients which help you blend in the wet. Pour in the milk egg mixture. Whisk until smooth, adding more milk until the mixture is thin enough to pour, but won't run.
Prepare a griddle or cast iron pan with a little oil or butter, spread with a paper towel. Heat to medium high.
Drop scones are meant to be smaller than pancakes. Use a tablespoon to drop heaping spoonfuls of batter on the griddle to form pancakes.
When bubbles start to appear on the surface (after 2 to 3 minutes), use a spatula to flip the pancakes over. Cook for another minute, until lightly browned.
Remove to a plate and cover with a clean tea towel to keep warm while you cook the rest of the drop scones.
Serve with butter, jam, or golden syrup.
Start your holiday gift lists
Gift ideas for your Downton fan. Click on the icons to take you to Amazon to order in time for the holidays.