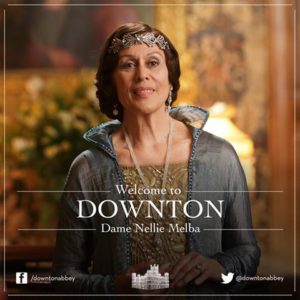 The closer we get to Spring on the calendar, the farther away it seems in some parts of the country.  It is my dad's birthday today, (see my past tribute) and in his part of the country kids are walking outside in their shorts, while in Toronto we are weathering yet another winter storm.  Such is life in Canada's largest city.  On the plus side, Downton Abbey fans are happy to have a bit of Downton here for a visit.
Since I only publish one dish a week, today's dish is a catch up recipe from Season 4.  Peach Melba is a classic and simple dessert made of poached peaches, raspberry puree, and served on vanilla ice cream.  On the other end of the scale, Melba toast is also named in her honor.  Dieters are familiar with the thin baked toast, created for the opera singer to help when she gained weight later in her career.
Downton Dish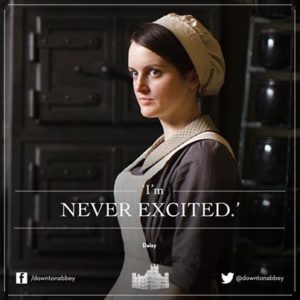 We will have to get used to Downton Downtime.  We do know that Season 5 is coming eventually (Sept on ITV,  Jan on PBS), so we will see press about new casting, and perhaps a plot spoiler or two in the next 8 months.  However, the popularity of the show does provide us with ways to connect with the show in other ways:
Downton Costumes Come To Toronto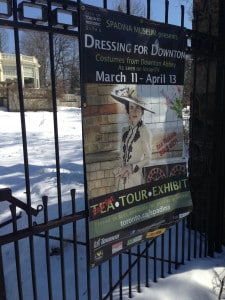 With the bleary weather we have been experiencing this winter in Toronto, the opening of the special Downton Abbey costume exhibit is a breath of fresh air. The show runs in Toronto from March 11 – April 13 at the Spadina House.  This is a century old home, perfect to house the twenty costumes that will be the only stop in Canada.
I was privileged to have been invited to the  advanced press briefing to be one of the first to see the costumes up close, and to explore the grand rooms of the Spadina House. And for those of you follow the antics of our infamous mayor, Rob Ford, yes, he was there.  Black shirt, red tie, and cowboy boots.  The Dowager would have been so proud.
Before we went in, a journalist asked about my expectations.  My first thought was panic that I wouldn't be able to recognize the costumes from the episodes, but all the costumes are very memorable pieces.  My favorite Cora costume from the Flower Show was the first I noticed.  Another, Mary's striking red dress with black choker, was also on display.
Once you have seen the lovely pieces, you get a better appreciation for just how diminutive the actors are.  I don't think I could ever fit into any of the lovely dresses (well maybe Dowager and Martha).  As one reporter quipped, "I could fit this costume as far as my arm!"  The same goes for the men as well.  Lord D posed next to his favorite Robert outfit from the Garden Party at the end of Season 1, as well as a classic Matthew ensemble.  I always said actors have to be small to fit into those small screens!
When we finished viewing the exhibit,  Lord D and I found our way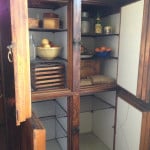 down to the kitchens in the Spadina House.  My guess is that they might have had a Mrs. Patmore running their kitchen as they continued to use their huge icebox until the 1940's after ice delivery was no longer a viable business.
All in all, I give this a two Carson eyebrows up for Downton fans.  Perhaps not the same as a day by the beach, but worth the travel back in history.  The exhibit will not be available anywhere else in Canada, and only one other spot in the US, so you shouldn't miss this opportunity.
Abbey Cooks Entertain: Only $7.95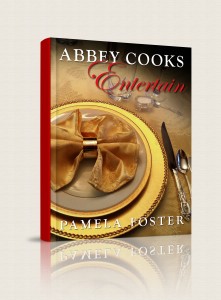 Just because S4 is over, that doesn't mean you can't continue to share the love of this period of history in food with family and friends.  With 220 traditional Downton era recipes with a modern twist, this is a great book to create some simple or complex dishes for your Mary or Anna.   This 432 page ebook sells for $7.95. Book sales help offset my costs in food, equipment and time to keep bringing you new dishes each week. While the book is available on Amazon, you can only get a signed copy here on my site.
If you don't have an eReader I would suggest the PDF version which allows you to print recipes as you go, if you wish. Buy one for yourself, gift to another.  All you have to do is email the download link to your loved ones.
Peach Melba
We all remember Nellie Melba from this season of Downton.  Peach Melba was created by chef Auguste Escoffier (1846 – 1935), also connected to Downton (Alfred apprenticed at his cooking school).   She dined in the best restaurants in Europe so of course was acquainted with Escoffier, who was with the Savoy at the time.  She sent him a pair of tickets to come see her in the Wagner opera Lohengrin.  In the opera, there was an impressive swan boat.
The next night after dinner at the Savoy, Escoffier served Melba a dessert of poached peaches served on ice cream in a dish set on a swan carved out of ice. At the time, he called it "Pecheau Cygne" (Peach Swan.)  A few years later, when Escoffier and César Ritz opened the Ritz-Carlton Hotel, he added a sauce of puréed raspberries to the dish, and renamed it to Pêche Melba.
Escoffier's recipe for Pêche Melba (Melba Peaches) in The Escoffier Cookbook and Guide to the Fine Art of Cookery, was quite simple:  "Poach the peaches in vanilla-flavored syrup.  Put them in a timbale upon a layer of vanilla ice-cream, and coat them with a raspberry puree."
If you need a little more direction, here is a more exact version of Escoffier's recipe from his culinary school, courtesy of Learn to Cook.com
Serves 6
Ingredients
6 peaches
1 cup white wine
2 cups water
¾ cup sugar
1 vanilla bean
3 pints raspberries
1 tbsp. sugar
1 tbsp. lemon juice
Fresh mint
2 pints vanilla ice cream (or frozen yoghurt)
Method
Combine in a pot the wine, water, sugar, and vanilla bean and bring to a slow simmer.
Cut peaches in half and mark an X on the bottom of each peach.
Add peaches to simmering liquid and poach for 2-3 minutes until soft, the time will depend on the ripeness of the peach.
Remove from the liquid with a slotted spoon and set aside.
Prepare the raspberry sauce. In a blender puree 2 pints of raspberries, 1 Tablespoon sugar, lemon juice and ½ cup of the poaching liquid, sieve to remove the seeds.
Scoop vanilla ice cream in a bowl add one peach ½ and drizzle with raspberry sauce and garnish with raspberries and fresh mint.
Your Downton Downtime Survival Guide
Click on the icons to take you to Amazon to order.