Mother's Day is tomorrow in the US and Canada.  Are you ready?  My mom lives across the country so I have my card in the post, with  a gift card for her favorite local restaurant, and a promise to Skype tomorrow.
For those of you blessed to have your Mother living within driving distance, it can be a struggle to decide how to celebrate the day with her.  If you missed out on brunch reservations, might I suggest that you try a tea party.  Your heritage might be linked to the British Empire, but I think I am safe in saying that Moms generally appreciate any meal they don't have to cook, particularly if sweets are involved.  If you have siblings with little girls, you can gather the whole troop together, and let the kids experience a fun version of tea.
Today we recap tea ideas and continue our series on rhubarb with rhubarb ginger jam, a lovely mix of flavours.
Tea Time Ritual Recap
The British may not have the best reputation for cuisine, but they do excel in the tea ritual
What to Serve at Tea
The following are the types of items you will find at tea which might inspire you for Mother's Day.
Anatomy of a Tea Party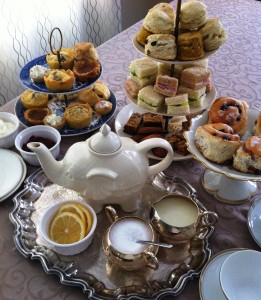 You don't have to invest a great deal of money or effort in putting together a memorable tea for Mom.  Sadly, if you have not already made a reservation at a tea house, you aren't likely to get one. But they can be busy, rushed and not at all relaxing.  I think the secret to Mother's Day is to remember that moms generally  just want to spend some time with you and the family.
Cream Tea
Tea for Mum can be as simple as cream tea which is simply scones, served with clotted cream and tea.  A nice table cloth, mismatched tea cups, plates and a nice pot of tea.  My Abbey Cooks Scone recipe will have fresh scones on the table in 30 minutes, and the recipe can be adapted in a number of ways.
Afternoon Tea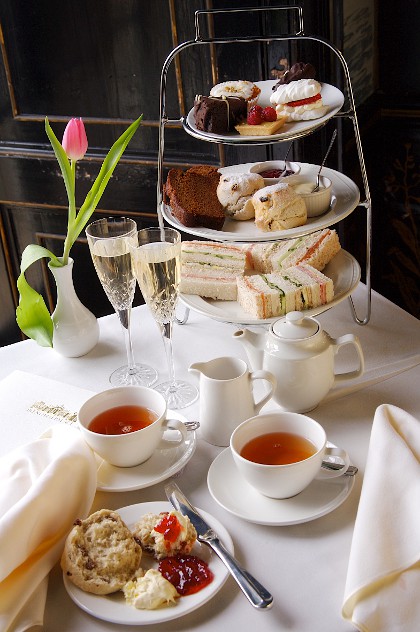 If you think you would like to attempt an afternoon tea, start with the scones, and try adding a few other recipes to build a tea tray.  You can serve the tea meal on separate plates, but the tradition of the stacked tray still remains.  The stacked tea tray is a trilogy of savouries, scones and sweets, and is generally organized in this manner:
Top Level: The smaller top level holds the Scones.
Middle level should hold the sweets and fruits.
Bottom level holds the savouries and finger sandwiches
The order in which you eat from the tray is the order in which you normally eat your meal: savouries first, scones next and sweets last…UNLESS there are hot scones, and then the order changes to scones, savouries, then sweets.
You can likely manage the sandwiches easily enough, and if pressed can fill in the sweets level of the tea tray with your mom's favorite sweets from your local bakery.  The key is to ensure  bite sized pieces.
Mother and Daughter Tea Party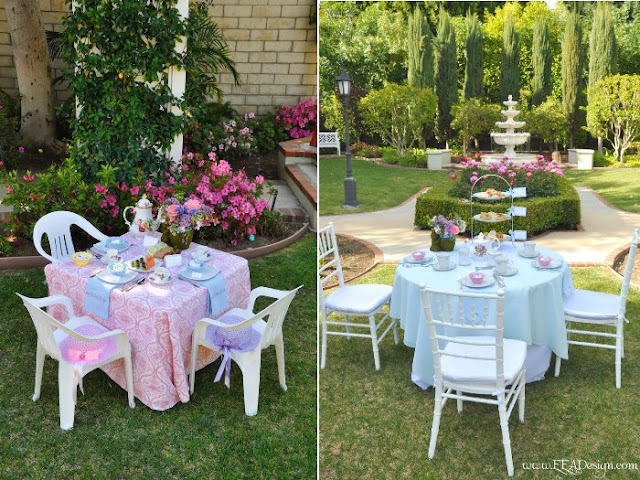 Girls of all ages love tea parties, so why not combine the two. Bird's Party shared Enchanted Events and Design's great ideas for a Mother's Day Mother and daughter tea party.  This will allow you to include three generations into the mix and perhaps your daughters will treat you to the same when they grow up.
Where to Find Tea Supplies
I seem to have accumulated a hodge podge of tea cups, little plates and tea pots over the years, but if you have been inspired by the idea of tea for Mom, but don't have the necessary cups or plates, don't despair, help could be as close as your local Goodwill or other charity store.  Great bargains and you are helping a great cause.  Check out this clip.
How to Make Tea
Don't get too stressed about making tea, particularly since tea is now conveniently sold in tea bags. To distinguish yourself as a tea aficionado, just follow the time-honoured tradition of first warming the tea pot. Add a bit of boiling water to the pot, give it a swirl and pour it out before adding your tea. Then add the boiling water, and steep tea for 3 or 4 minutes and don't let the tea steep too long or it will become bitter.
If you go with loose tea, the general guideline is to allow for 1 tsp per person, 1 tsp for the pot, and allow 10 ounces per person. Use a tea strainer and pour into cups. You may wish to fill your tea pot with tap water, pour into a measuring cup to determine how many cups your pot will hold.
Abbey Cooks Entertain: Only $7.95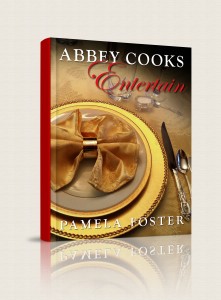 Tea was serious business at Downton, and we all the know that the Dowager spent a great deal of time huddled over tea pots and scones plotting and scheming.
While I have shared a number of recipes for tea on this blog I have a whole chapter of my digital entertaining cookbook dedicated to afternoon tea recipes. I also have another chapter on garden parties, essentially "tea outside".
With 220 traditional Downton era recipes with a modern twist, this is a great book to create some simple or complex dishes for your Mary or Anna.   This 432 page ebook sells for $7.95. Book sales help offset my costs in food, equipment and time to keep bringing you new dishes each week.
While the book is available on Amazon, you can only get a signed copy here on my site.
If you don't have an eReader I would suggest the PDF version which allows you to print recipes as you go, if you wish. Buy one for yourself, gift to another.  All you have to do is email the download link to your loved ones.
Rhubarb Ginger Jam
As promised, a continuation of our series on rhubarb. Ginger adds an interesting flavour and I keep a jar on hand, not only to spice up my scones, but to use on cocktail crackers, paired with smoked white fish…a lovely taste experience.
Makes six 8 ounces jars
Ingredients
3 pounds of trimmed rhubarb stalks, cut into ½ inch pieces
3 cups sugar
¼ cup crystallized ginger, finely chopped
¼ cup grated fresh ginger
Ingredients
Combine the rhubarb, two types of ginger, and sugar in a large saucepan. Stir over medium-high heat until the sugar dissolves and the mixture begins to bubble. Once boiling, reduce the heat to medium and simmer, stirring frequently, until the jam thickens. Adjust heat accordingly to maintain a steady simmer and stir often during the thickening process to prevent scorching. Cook for about 20 to 25 minutes, skimming and discarding the foam that collects on the top of the mixture.
After 20 minutes, test for doneness. Turn off the heat under the jam and take the temperature of the fruit mixture using a candy/jelly thermometer. The thermometer should read about 220 degrees when the jam is done.
Ladle into clean, warm sterilized jars and process in one of the three methods below.
Tips on Making Preserves
Once you start looking at jam recipes you will be shocked at the amount of sugar. Pectin needs sugar to help it set. If sugar is a particular issue in your family, look for no sugar-low–methoxyl-pectin which requires little or no sugar to work its magic. Don't use sugar substitute as it likely won't work well with pectin.
There are three basics you can use to preserve your jam:
The water bath is the traditional approach Appert invented which ensures long term storage. If you have not tried this before, I would strongly recommend you research and familiarize yourself with the process before you start, to ensure you produce a safe product.
A wax seal method involves melting food grade paraffin wax on top of the jam/ jelly. This is a good method for short term storage and pretty easy to do.
Freezer method: while this was not a viable option for the Edwardian country house cooks, you can simply put your jams in plastic containers and freeze without much regret.
How to test if your jam is ready:  before you start cooking, put a couple of small plates in your freezer. When you think the jam is done, take out a plate, and drop a spoonful of jam in the center. Let the jam sit for a few moments, then gently run your finger through it. If it seems to be thickening as it cools, it is done. If it is still runny, you will need to keep cooking the jam for a few more minutes and test again until you get the result. Sometimes the jam just won't set, but don't despair, but you will still have a tasty syrup to use on your pancakes.
Other Jam Recipes to Try