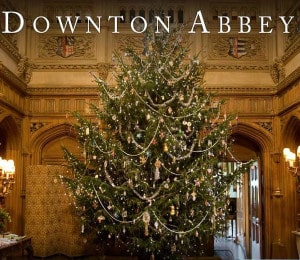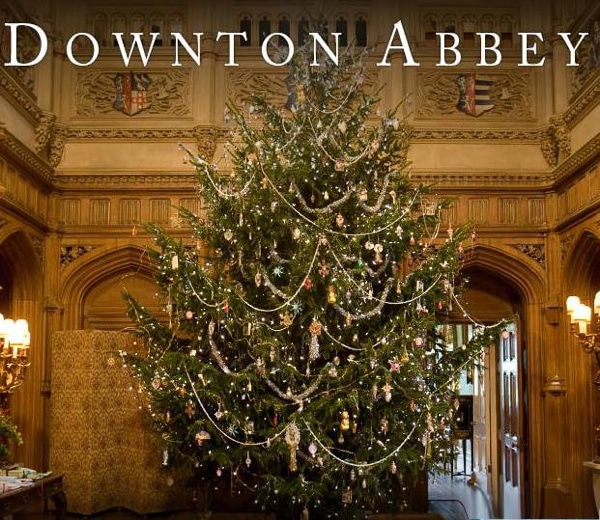 December means Christmas in the UK, and in many other countries around the world. Many of the traditions we enjoy were today were introduced by Victorians.   Jessica Fellowes goes into some detail in her new book [easyazon-link asin="1250065380″ locale="us"]A Year in the Life of Downton Abbey: Seasonal Celebrations, Traditions, and Recipes[/easyazon-link]. "It's Christmas at Downton Abbey: the mistletoe hangs quietly, hoping to witness a kiss beneath in white berries, pine and holly are laid on every surface, a yule log crackles in the fireplace and stockings are hung on the mantlepiece."
Many holiday traditions include food. Today we review my favorite traditional holiday recipes, and one of my own traditions. Also known as fenberries in the UK, cranberries not only find themselves on our Christmas tree, but in Cranberry Torte,  a crowd pleasure which is quick and simple to make. And once the holidays are done, you can use my online guide to start planning your Season 5 parties.
Downton Dish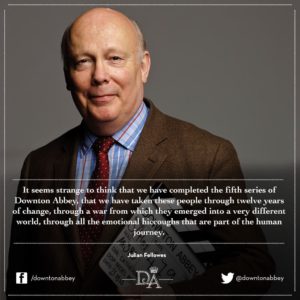 UK fans have now finished Season 5 on ITV, capped off with a healthy helping of Christmas episode to end the year.
Finally, we are now less than a month away for the new release on PBS on January 4. Stay tuned for my week by week updates of each new episode.  In the meantime, here are a few tidbits
Here are some holiday gifts to put on your list this year.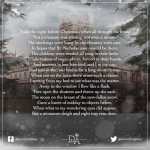 Downton music for Christmas:  Did you order your [easyazon-link asin="B00OHDVUX2″ locale="us"]Christmas At Downton Abbey [+digital booklet][/easyazon-link]  Carson reads the Night Before Christmas!
Carry Downton with you 24/7: Downtonism App is available on Android and iOS.
New year means a new calendar:  [easyazon-link asin="0789328275″ locale="us"]Downton Abbey 2015 Wall Calendar[/easyazon-link]
Downton tees in time for the holidays:  Which one is for you?
Abbey Cooks Entertain: 2nd Edition is Here
Another great gift for Downton fans who cheer Mrs. Patmore and Daisy.  Time to start planning your Downton Viewing and holiday parties.  With 220 traditional Downton era recipes with a modern twist, this is a great book to create some simple or complex dishes for your Mary or Anna.
This 448 page ebook sells for $14.95. Book sales help offset my costs in food, equipment and time to keep bringing you new dishes each week.
UK Fans will be happy to note that the 2nd Edition will list both imperial and metric conversions.
While the book is available on Amazon, you can only get a signed copy here on my site.
If you don't have an eReader I would suggest the PDF version which allows you to print recipes as you go, if you wish. Buy one for yourself, gift to another.  All you have to do is email the download link to your loved ones.
Coming Soon: 2nd Edition will be Available in Print 
For those lamenting for a printed copy, it  should be available to purchase online through Amazon with the famous Downton recipes from Seasons 1-5.
Christmas Traditions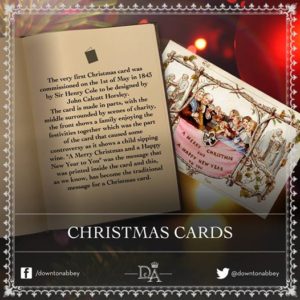 Christmas in the Edwardian era when we first catch up with the characters of Downton Abbey was becoming a commercial celebration, even though its roots date back to feudal society.
The Victorians started the trend: Charles Dickens helped popularize Christmas, and Prince Albert was a big fan of the holiday.
By 1910 Father Christmas was universally recognized in Europe, and exchanging
Christmas cards was a well-established custom.
While the aristocracy lived in London during The Season when parliament was
in session, everyone retreated to their country estates for the holiday. Christmas was an elaborate affair with many courses.
If you are planning a traditional Christmas dinner, you would not go wrong selecting any of the dishes in the "Dining with the Crawleys" section of the Recipe Index. The star of the show however is the roast which should be either goose or turkey. And for dessert, the traditional plum pudding.
Recipes for a Very Downton Christmas
Baking
Dinner
Cranberry Torte
While we often think cranberries are unique to North America, they do grow in the UK, where they are more commonly known as fenberries. They were even served on Titanic alongside the roast turkey.
This is my go dessert dish to  bring to a potluck holiday party.  I have been making it for over 20 years. At first I didn't have a food processor which required a lot of chopping to make the crust. But everyone loves the tart taste and thin slices stretches the dessert for a larger crowd.
Serves 12
Ingredients
Crust
2 cups (500 ml) finely chopped walnuts, almonds or pecans
2 tbsp. (30 ml) unsalted butter, melted
2 tbsp. (30 ml) white sugar
Filling
1 cup (250 ml) white sugar (or sugar substitute)
3/4 cup (180 ml) unbleached all-purpose flour
1/2 cup (125 ml) unsalted butter, melted
1 1/2 tsp. (7 ml) pure almond extract
2 large eggs
2 1/2 cups (625 ml) fresh or frozen whole fenberries (cranberries)
1/2 cup (125 ml) coarsely chopped walnuts, almonds or pecans
sifted icing sugar
Method
Preheat oven to 350F/180C/Gas Mark 4
Prepare the crust:  combine the nuts, butter and sugar in a food processor, pulsing a few times until well combined and the mixture comes away from the sides.  Press evenly over the bottom and up the sides of a 10 inch spingform pan.
Prepare the filling:  mix the sugar and flour in a bowl.  In another bowl, beat the butter, almond extract and eggs together then add to the sugar flour mixture. Fold in the cranberries and nuts and carefully scoop the mixture evenly into the prepared crust.
Bake for at least one hour or until all the cranberries have popped.  Cool in the pan.  Remove the sides of the pan when ready to serve and dust with icing sugar.
Downton Gift Giving
Marvelous additions to your Downton Collection. Two books and a new CD of Holiday music
[easyazon-image align="left" asin="1250065380″ locale="us" height="160″ src="http://ecx.images-amazon.com/images/I/61tCGj-ua8L._SL160_.jpg" width="124″]
[easyazon-image align="left" asin="B00AR63HKC" locale="us" height="160″ src="http://ecx.images-amazon.com/images/I/51hhlTFsmZL._SL160_.jpg" width="124″]
[easyazon-image align="left" asin="B00OHDVUX2″ locale="us" height="160″ src="http://ecx.images-amazon.com/images/I/611TzbuX8DL._SL160_.jpg" width="160″]
[easyazon-image align="none" asin="0789328275″ locale="us" height="75″ src="http://ecx.images-amazon.com/images/I/61XY9xY7yUL._SL75_.jpg" width="75″]