Downton Days are here again on PBS. A brand new year with a brand new glorious commercial free season of Downton, just the way we like it. I was particularly thrilled that the great chefs at PBS didn't mess with the UK version or  feed us extra portions; in past years they would edit the shows and serve E1 and E2 together, which is ever so delicious, but makes the season so much shorter. Season 5 promises to be a great season, full of secrets and love in the most unexpected places. Lord D particularly enjoyed the  Manners of Downton Abbey special which followed Episode 1.
Over the past few weeks, many fans approached me for food pairing ideas to celebrate the launch of Season 5.  My Online Guide to Hosting a Downton Abbey Party has plenty of ideas. When pressed for a specific dish for this episode, I suggested a flambé (but not disclosing Edith's bedroom fire), since any time you set fire to food, it is a special occasion.  I chose Cherries Jubilee for its simplicity, grand effect, and the connection of its creator, Auguste Escoffier, to Downton Abbey.
Downton Dish
Season 5 of Downton Abbey has finally arrived in North America, broadcast on PBS, Sunday nights at 9 PM. Some appetizing articles to whet your appetite.
What happened in S5E1-2
While I love watching Downton on PBS without commercial interruption, I really enjoyed the controversial Amazon Downton commercials on ITV; I am back to my dream of appearing as an extra on the show. I may settle for a tour of Highclere in the new year. Stay tuned.
In any event, here are the highlights from our first look at Downton's Season 5:
One secret is revealed. Baxter steals Thomas' thunder by telling Cora about the theft.  But is there more to the story?  Moseley seems to think so.
Poor Edith pines for her child and lost love, and in the process nearly burns the house down, giving Thomas the perfect opportunity to save his hide once again.
Mary seems to have chosen Tony, but wants to be sure ;o)
Jimmy's past catches up with him and is caught in a compromising position when the house goes up in flames. Good bye boy toy.
Lord Merton is in hot pursuit of Isobel, which does not sit well with Violet.
Historically, Britain elects a labour Prime Minister, Ramsay MacDonald, and the downstairs staff talk about how things will change
Sarah Bunting is invited to dinner as Tom's friend but does not turn out to be Lord Granthan's idea of a good guest.
Daisy grows up a little more.  She takes Ivy's departure in stride and decides to better herself.  She sends away for Math for Dummies, but doesn't seem to help.  Stay tuned.  She is smarter than she thinks.
Best quote:
Violet: "There's nothing simpler than avoiding people you don't like. Avoiding one's friends, that's the real test."
Abbey Cooks Entertain: To Help Plan Your Viewing Parties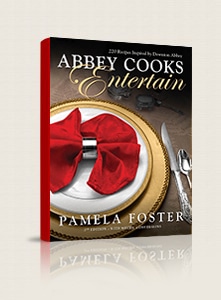 A new season means viewing parties. Whether you are hosting 2 or 20, this book has lots of ideas. Containing 220+ traditional Downton era recipes with a modern twist, this is a great book to create some simple or complex dishes for your Mary or Anna.
This 448 page ebook sells for $14.95 and has been updated to include both metric and imperial measurements and now includes famous Downton dishes from Season 1-5.  Book sales help offset my costs in food, equipment and time to provide you new recipes on a regular basis.
While the book is available on Amazon, you can only get a signed copy here on my site.
If you don't have an eReader I would suggest the PDF version which allows you to print recipes as you go, if you wish. Buy one for yourself, gift to another.  All you have to do is email the download link to your loved ones.
Coming Soon: 2nd Edition will be Available in Print.  
For those lamenting for a printed copy, it  should be available shortly. The full book is 450 pages and will contain famous Downton recipes from Seasons 1-5.  
Cherries Jubilee

You might think that Cherries Jubilee date back to the 60s when waiters would entertain diners with flaming cherries  at your (parent's) table. But the delightful dish dates back to the 1800s. The dish was created Chef Auguste Escoffier in honor of Queen Victoria's Jubilee celebration.  Alfred was accepted into Escoffier's prestigious cooking school last season.
Cherries was Queen Victoria's favorite fruit so it was a good choice for dessert. The original version was not served over ice cream, but it is really far too sweet on its own.  It is very simple to make and a crowd pleaser. Just make sure you serve it immediately.
Serves 4
Ingredients
quality vanilla ice cream or frozen yoghurt
1 lb. (.5 kg) fresh cherries
1/2 cup (10 g)sugar (or sugar substitute)
1 lemon
1/3 cup (100 ml) Kirsch (or brandy)
Method
To help keep the ice cream from melting too quickly:  scoop ice cream into 4 decorative dishes and keep in the freezer in advance.
Wash and pit the cherries*.
Place the cherries and sugar in a large skillet.  Peel 2 large strips of zest from the lemon, add to the skillet, and then squeeze the lemon into the the skillet.
Cover the skillet and cook over medium heat for 5 minutes until the sugar dissolves. Remove the cover and raise the heat and cook for another five minutes to release the juices from the cherries.
To flambe, heat the Kirsch in a small pot on the stove.  It will only take a couple of minutes.  Ignite with a long match and carefully pour over the cherries, swirling until the flames subside.
Bring our the serving dishes and spoon the cherries and syrup over top the ice cream.
Serve immediately as the ice cream will melt.
*Don't have a Cherry Pitter?
Before the creation of the cherry pitter, there were other ways to pit cherries which still work.
Twist:  the idea is to dig into the cherry and pull the pit out.  Use a toothpick, un-bent paper clip into the stem-end of the cherry. You should feel it hit the pit. Twist around the pit and pop it out. It will take you a few cherries to get the feel of it.
Poke: this method, like the cherry pitter, pushes the pit through the other side of the cherry. Place the cherry, stem side down on top of an empty glass soda bottle.  Use a  chopstick to force the pit through into the bottle.
Downton Gift Giving
Marvelous additions to your Downton Collection.
[easyazon-image align="none" asin="B008FWD4HQ" locale="us" height="160″ src="http://ecx.images-amazon.com/images/I/310dEW7uzML._SL160_.jpg" width="160″][easyazon-image align="none" asin="B00421ATMC" locale="us" height="106″ src="http://ecx.images-amazon.com/images/I/411QWi6LUqL._SL160_.jpg" width="160″]
[easyazon-image align="left" asin="1250065380″ locale="us" height="160″ src="http://ecx.images-amazon.com/images/I/61tCGj-ua8L._SL160_.jpg" width="124″]
[easyazon-image align="left" asin="B00AR63HKC" locale="us" height="160″ src="http://ecx.images-amazon.com/images/I/51hhlTFsmZL._SL160_.jpg" width="124″]
[easyazon-image align="none" asin="B00MO21WAY" locale="us" height="160″ src="http://ecx.images-amazon.com/images/I/51EkbwPCIhL._SL160_.jpg" width="160″]