Not a Downton fan was stirring across the PBS network Sunday night as all eyes were riveted to the Return To Downton special.  Susan Sarandon hosted the look back across the three seasons and more importantly a peak at Season 4. Will Mary survive Matthew's Death, will Downton survive the 1920′s, will Anna and Bates live happily ever after, will Lady Rose stay out of trouble?  So many questions that will be revealed come the launch of Season 4.
In the meantime the holiday season is upon us and a good time to celebrate in true Downton style by serving traditional British holiday sweets.  Stock up on your dried fruits as this week we recap on traditional favorites to add to your holiday trays and a new recipe for healthy easy mince oatmeal squares. 
Downton Dish
The launch of Season 4 is inching closer in the US.  January 5th is when PBS will be broadcasting the event across the US and Canada.  Each week I share Downton news, but if you haven't seen all seasons (1-4) beware of spoilers below:
Upcoming Downton Events
Jan. 4/5: PBS S4 Launch Party Inspired by Downton in Burlington, VT

Vermont Public Television is hosting their second Downton inspired culinary weekend January 4th/5th. This event will launch Season 4 at the renowned culinary mecca, the Essex Resort, in Burlington Vermont. Look forward to this wonderful event of fabulous Downton food and festivity, and be among the first in the US to see Episode 1 in a theatre setting. Last year Lord D and I had so much fun dressing up for Day 1, that they chose to wear their finery on Day two. Tickets are now on sale for this great event in support of public television, the network which brings Downton to the US and Canada.
Jan. 17-19: A Downton Abbey Chauffeur-Turned-Gentleman: Sea Island, GA Downton Abbey is hopping the pond this January. From the 17th – 19th, meet Allen Leech, otherwise known as "Tom Branson" former family chauffeur and widower of Lady Sybil and Jessica Fellowes, author of 2 great Downton books. For more information about this event.
win a copy of the 2014 Calendar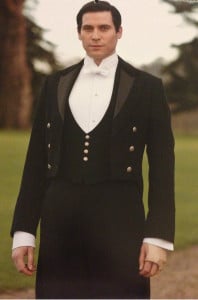 Last week we asked a question of Downton fans to win a Downton Abbey 2014 Wall Calendar.  Thomas is featured in the calendar for the month of October and the question was  "Thomas wears a special glove.  What happened to his hand?"  You are all very clever, there wasn't a wrong answer submitted, but in life not everyone can claim the top prize, so songratulations to the winners:
Shirley Sutherland
Diana Wille
Downton Holiday Entertaining: Only $7.95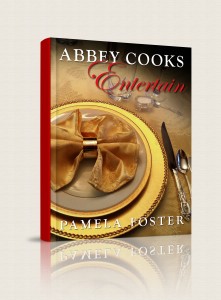 With 220 traditional Downton era recipes with a modern twist, this is a great book to to give for fellow fans planning holiday treats and meals.  This 432 page ebook sells for only $7.95. Book sales help offset my costs in food, equipment and time to keep bringing you new dishes each week. While the book is available on Amazon, you can only get a signed copy here on my site. If you don't have an eReader I would suggest the PDF version which allows you to print recipes as you go, if you wish. Buy one for yourself, gift to another.  All you have to do is email the download link.
Downton Holiday Baking
Last year we prepared a number of traditional holiday treats. Here are links to the posts with the recipes. Scroll down to location the recipe, or you can purchase my book and you will have these and other recipes on hand.
Easy Mince Oatmeal Squares
Nothing says British Christmas like mincemeat.  Originally mincemeat was made with ground meat, offals, eggs and whatever else was on hand. The first mince pies were prepared by the Crusaders in the 11th century.  Spices (cinnamon, nutmeg) brought back from the Holy Land were added to the mince and baked into oblong cradled shaped pies, representing the gifts of the Magi and the birth of Christ.
By the Victorian era, savvy cooks like Mrs. Beeton were starting to make mince without meat, but the tradition of suet remains. You can substitute shortening to get a similar result. My local butcher gives it to me free so you may wish to give it a try.
Mince is best prepared in late November so it will be well-fortified for your holiday baking.  Once you have prepared your mincemeat you can make lots of wonderful treats like these oatmeal squares.
Makes 24 squares
Ingredients
2 cups whole wheat flour
1 cup sugar (or sugar substitute)
1 tsp. baking powder
¾ tsp. salt
¾ cup medium rolled oats
2/3 cup unsalted butter, softened
1 egg, beaten
1 cup icing sugar, shifted
¼ tsp. ground ginger
2–3 tbsp. milk
Method
Preheat oven to 350°F. Prepare a 9 inch square pan by lightly greasing.
Mix together the flour, sugar, baking powder, salt and rolled oats. Cut in the butter until it is thoroughly mixed in, then add the egg and mix thoroughly.
Press half of the oat mixture into the pan. Spoon the mincemeat on top of the crumble. Crumble the remaining oat mixture on top of the mincemeat.
Bake for 30 to 35 minutes.
While cooling mix the icing sugar and ginger, adding enough milk to thin to drizzling consistency. Drizzle over the warm pan. Cool and cut into bars.
Your downton Holiday Gift Giving
Gift ideas for your Downton fan. Click on the icons to take you to Amazon to order in time for the holidays.