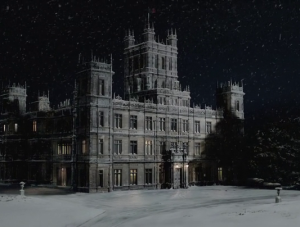 Well, the final episode aired last night and what a way to end the series. Yes, there are no more episodes of Downton Abbey. The Carnavrons have reclaimed Highclere Castle from film crews, and the production sets used for the downstairs scenes have been packed away. We must be resolved to gracefully let these beloved characters live out their lives without us watching.
This will be my final recipe to share as my love letter to the Downton kitchen staff and to those fans who love the food on the show. We first met the Crawley family over breakfast as they learn about the sinking of the Titanic; Mrs. Patmore's dish that morning was kedgeree, so I thought it fitting to return to the beginning to feature another breakfast fish dish. The recipe is Omelette Arnold Bennett, invented at the famous Savoy which uses finnan haddie, smoked haddock. It is a fabulous morning after dish to soothe the broken heart of any Downton Abbey fan.
Don't despair, I have share 100s of recipes so you can easily find them through the Recipe Index.  And I will still be active on Twitter, Facebook and Instagram.
Continue reading Downton Abbey Series Finale – And They Were All Happy Enough