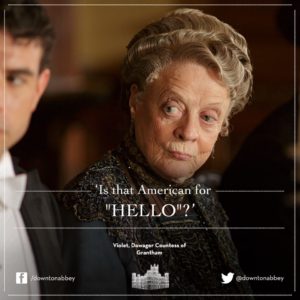 Alas another season of Downton Abbey has come to an end. The timing of the finale was the perfect ending of a great weekend for Canadians who beamed with national pride as we beat the Swedes for Gold in men's hockey.  Like the Dowager we took some pleasure poking fun at the Americans.  Luckily, there always seems to be a Martha Levinson around to defend the American honor.
I don't particularly mind that the season is over, because now I am free to go back prepare other dishes from Season 4 and explore other culinary delights that Downton inspires.  Let Downton Downtime begin!
In celebration of the finale, I chose Crown Roast of Lamb as this week's dish.  We see Mrs. Patmore preparing this simple, but elegant dish.  It is fitting since the Crawley family finds themselves at Buckingham Palace.  It is simple and elegant, the perfect dish to have in your repertoire to serve on special occasions.
Continue reading Downton Season S4 Finale Deserves Crowning Roast of Lamb