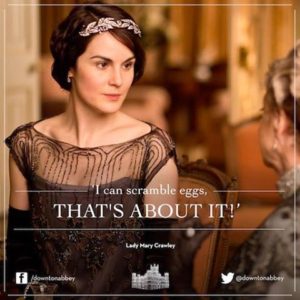 Love is in the air this week as the clock counts down to Valentine's Day.  This is the day when many men make an Olympic sport of timing a visit to floral shops just before closing.  Thankfully, like John Bates, my Lord D showers me with romantic gestures throughout the year so the roses have already been hand selected and delivered with a cake from the baker who prepared our wedding cake.
This week on Downton Abbey (S4E6 or E7 by ITV count) a few of Cupid's arrows fly.  Ivy now sees Alfred in a new light, and Lady Mary attracts the attention of Charles Blake as she rolls up her sleeves to help water the dehydrated pigs.  As a horse woman, she would know her way around livestock, but cooking, that is a skill we haven't seen before.  However does she make it look so glamourous?
Since we have already made creamy scrambled eggs, this week's dish is eggs en cocotte,  in honor of Mary and Charles' late night with the pigs and early morning in the kitchen.  This is a simple baked egg dish; this version is made with every man's favorite food, bacon.
Continue reading Dating Downton With Ham and Eggs