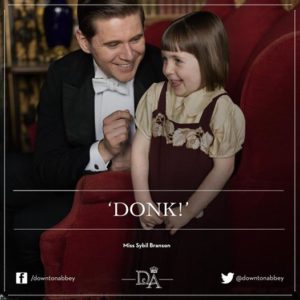 It is time to celebrate. Scotland is still part of the UK (apologies to those who wished to separate,  but we would have really missed you), and ITV has begun broadcasting Season 5 of Downton in the UK.  I won't comment on E1 other than to say that Season 5 starts off like a wonderful stew set on simmer, which is key to blending flavors, and that "donk" is my new favorite word.
It is also my 200th post here. I still wonder about where my passion for this show and its food comes from. So many stories, glimpses into food history, and  wonderful Downton inspired dishes. The dishes are catalogued in the Recipe Index.  Some of them and many others are perfectly packaged in my online cookbook Abbey Cooks Entertain, always at the ready on your smartphone or tablet.
I can't believe I haven't already shared this recipe from my cookbook, but I can't  think of any better recipe to celebrate than Lord D's Pork Roast.  
Continue reading Celebrating the UK Launch of Downton Season 5 And My 200th Post