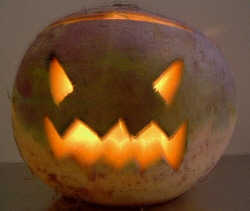 Summer is over and harvest celebrations are coming to a close.  Winter is not far behind. I love tracing traditions, and the foods that are an important part of the celebrations.
Did you know that Halloween has ancient origins in Ireland? It was originally called Samhain, and the day marked the end of the harvest season for Celtic farmers. As immigrants brought their traditions to America and adapted to their new surroundings. Originally, turnips served as Jack o Lanterns, but pumpkins are so much easier to carve.
Halloween also has religious connections.  The root word of Halloween – "hallow" – means "holy." The suffix "een" is an abbreviation of "evening." It refers to the Eve of All Hallows, the night before the Christian holy day that honors saintly people of the past.All Saints' Day on Nov. 1, which is followed by All Souls' day on Nov. 2.   "Souling" was the original trick-or-treat activity held around the same time.
This week's dish are Soul Cakes, the original "treat" traditionally made for All Soul's Day, celebrated on Nov. 2nd.
Continue reading Soul Cakes, the Original Halloween Treat