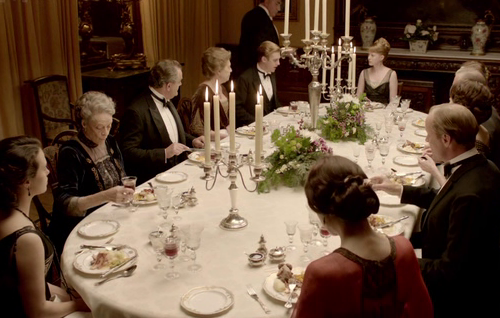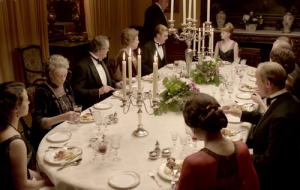 Downton Abbey fans love to share the show with their friends and family.  The fabulous food lends itself to themed parties.  In this post, I include a few specific ideas for planning a Downton party.  Whether you are serving 2 or 200 there are plenty of recipe ideas to make in your own Abbey.
In 200 posts over three years, I have posted over 250 recipes for foods which would have been served upstairs and down at Downton Abbey and other great English country houses from the Edwardian era through to the early 1920s. All for the love of Downton and those who love the show.  For a full list of dishes by meal or occasion, check out my Recipe Index.

Entertaining is Much Simpler in Season 5
We are now in the 1920s and if you are planning to host a Downton Dinner, you will be relieved to know that family dinners during this period are now only 3 courses…unless of course you are entertaining your fellow aristocrats.  And the cocktail party finally comes to Downton. Carson finally gets with the times!
Check my Press Clippings
Don't just take my word for It:  I have given a number of interviews in the national press,and my recipes have been posted in papers around the world.  I even prepared Afternoon Tea for national TV. Check out my Press Page.
Why not buy the Book?
Want it all and more in a pretty package?  My ebook, Abbey Cooks Entertain, is available for download here (click on the image in the right column), or you can order from Amazon. I also include a cocktail section with authentic cocktails from the era. My 2nd Edition is now available with recipes from Season 1 – 5 with both imperial and metric measurements.
I hope to provide inspiration for fans of all cooking ability who want to take a Downton twist on casual or formal gatherings.  It is pretty rare to get rich selling books, but every penny helps offset my food costs so I can continue to share new recipes with you throughout the year.
Continue reading Your Online Guide to Hosting A Downton Abbey Themed Party