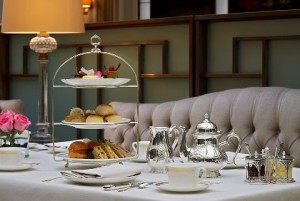 Welcome Downton Abbey fans. Across the UK, there is a faint smell of smoke in the air as people struggleto get the smell out of their hair and clothes from last night's Bonfire Night.  It is a big day for Americans as they go to the polls today.  It is a surprisingly close race; the world will be watching for what will be sure be be a long night. Perhaps you might stock up with scones, tea and a celebratory dessert like today's treat.   Regardless of your political views, the important thing is to get out and cast your vote.
Join me each Tuesday as I dish on Downton Abbey and other topical issues one might discuss at tea, served up with a recipe with history. You may find my Online Guide to Afternoon Tea helpful in understanding traditions and recipes to serve at your own tea party.
Today's treat is Strawberry Charlotte Russe. I chose this dish for a couple of reasons.  First, the dish makes the occasional cameo appearance on Downton, and secondly, a little birdy tells me it is a featured dessert at the Vermont Public Television gala event (see below).
Continue reading Tea Tuesday is a Good Day for a Lovely Charlotte Russe