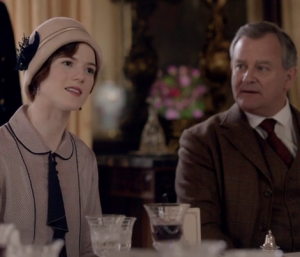 Fellow Downton fans across America and Canada have now settled in nicely with Season 6 to keep them warm these cold winter Sunday nights. There are still 6 more episodes to go before the end of this glorious series, and I for one am savoring every last bite of this sumptuous feast.
A wee dram of scotch will help keep Scots warm round the world today as they pipe in the haggis to celebrate Robert Burns Day. A history and less intimidating food choices are listed below.
In keeping with tradition, I will continue to share one recipe mentioned on each episode as my love letter to the Downton kitchen staff and to those fans who love the food on the show.  This week we see Daisy taking out her frustrations out on the mashed potatoes, and pudding served as dessert, but it is the chicken liver pâté she was making for Gwen's luncheon that we will be making today.
Continue reading Downton S6E4 Served at Luncheon with Chicken Liver Pâté