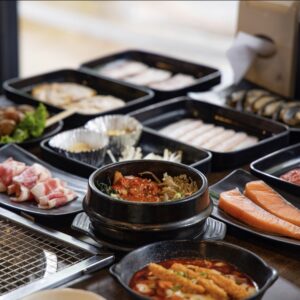 Have you explored the world of Korean BBQ? It's a culinary journey that tantalizes the taste buds and offers a rich social dining experience. This interactive and culturally rich gastronomic feat has become a worldwide sensation. Imagine the sizzle of fresh meat, the colorful array of side dishes, and the harmony of flavors in one meal. 
What's not to love? Stepping into a Korean restaurant is a unique experience transforming dining into a lively social gathering. Here, you don't merely consume a meal; you become an active participant in its preparation. The interaction with food, the mix of flavors, and the cultural richness make the grilling experience more than just a culinary choice. It's a sensory feast that celebrates culinary art. Now, let's investigate why Korean BBQ is a must-try and why it might be the perfect meal for your next outing. 
Unleash A World Of Flavors With The Menu 
Korean BBQ lets you explore a rich palette of flavors to suit all tastes. From interactive preparation to sweet, savory, and spicy notes, each bite is unforgettable. Here's how it offers a delectable feast: 
Interactive Dining Experience

: A

Korean BBQ restaurant

turns dining into a social escapade. It engages not only the palate but the eyes in a feast of flavors. 

Flavor Profile

: With marinated meats like beef bulgogi, spicy sauces, and distinct herbs and spices, each bite is a discovery. Explore savory, sweet, and spicy tastes that awaken your taste buds. These flavors are not confined to meats but extend to a wide variety of seafood and other options, ensuring something for everyone. 

Diverse Meat And Seafood Selection

: Variety is the spice of life, and Korean grilling embraces it fully. The options vary, from tender pork belly and chicken to succulent shrimp and flavorful fish; there's something for every palate. And if you think this wide variety doesn't cater to health-conscious individuals, you'll be pleasantly surprised by the customizable options. 

Healthy And Customizable Options

: Are you health-conscious? Korean BBQ doesn't leave you behind. Alongside the meat, you'll discover an abundance of vegetables, salads, and traditional side dishes known as banchan. Customize your meal with a choice of

lean meats

, vegetable sides, and lighter sauces to fit your dietary preferences. It's a feast that fits your lifestyle. Your choices aren't just about the food; they're part of a broader social and communal experience that connects you to Korean culture. 
This culinary adventure unlocks the door to a new world of flavours, bridging the gap to the cultural essence of Korean cuisine. 
2.      Connect With Cultural And Social Delights
Korean BBQ isn't just a meal; it's a gateway to understanding Korean culture and social practices. With a focus on communal dining and traditional customs, it offers an authentic cultural immersion:
Social And Communal Aspects

: Eating at a Korean BBQ is not only about nourishment. It's a communal experience that offers a glimpse of Korean culture. Sharing and bonding over food become the evening's highlight. This connection to culture is not superficial; it offers a glimpse into Korean culinary traditions, from shared eating practices to the use of specific ingredients.

Cultural Immersion

: Embrace a slice of Korean culture without leaving your city. Korean BBQ offers an educational and enjoyable cultural experience, from food preparation to traditional drinks like soju. It's not just a meal; it's an immersive experience into Korean culinary heritage which is accessible to everyone, regardless of your budget. 
This section of the culinary journey satisfies your hunger and enriches your cultural knowledge, seamlessly leading to an affordable luxury experience. 
3.      Discover Affordable Luxury In Dining 
With Korean BBQ, luxury doesn't have to break the bank. The accessibility and versatility of the dining experience allow everyone to explore the gastronomic delights, irrespective of budget constraints: 
Affordable And Accessible Dining

: Whether on a budget or splurging, Korean BBQ has options for everyone. Affordable all-you-can-eat selections let you explore different dishes affordably. With its growing popularity in many major cities, it's becoming more accessible and convenient. Accessibility doesn't come at the cost of quality; each meal is a unique sensory journey. 

Sensory Appeal

: The sizzle, aroma, and vibrant colors make Korean BBQ suitable for various occasions. 

Versatility For Various Occasions

: Whether it's a date night, family gathering, or festive celebration with friends, Korean BBQ suits all occasions. The endless flavor combinations ensure that every meal is a new adventure. 

Varied Flavor Combinations

: Korean BBQ offers fresh flavors and experiences. You can create various combinations of meats, marinades, sauces, and side dishes. Each visit offers fresh flavors and new experiences. And the adventure doesn't end with the main course; delightful desserts await to round off the experience perfectly. 
This exploration of affordable luxury paves the way to indulgence, setting the stage for the sweet finale. 
4.      Indulge In Delectable Dessert Delights 
After a savoury feast of Korean BBQ, a sweet symphony awaits to complete the meal. Desserts like bingsu and traditional rice cakes provide a delightful finish to the dining experience: 
Dessert Options

: The menu includes treats like bingsu and traditional rice cakes bingsu (shaved ice) to traditional rice cakes. 

End With Dessert

: Finish your savory feast with indulgent delights, making every meal unique and enjoyable. 
These delectable desserts provide the perfect conclusion to a unique culinary journey, encapsulating why Korean BBQ is an unmissable experience. 
Conclusion: Embrace The Culinary Charm Of Korean BBQ 
Korean BBQ combines art, culture, social engagement, and diverse flavors in a unique culinary excursion. From the interactive dining experience to the diverse selection and customization, there are reasons to embrace this delectable culinary adventure. Whether you're a seasoned food explorer or new to Korean cuisine, this is one journey worth embarking on.