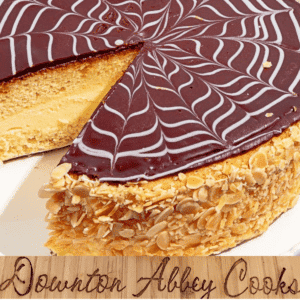 The Boston Cream Pie is a timeless, culinary creation dating back to 1856,  invented by Monsieur Sanzian, a French pastry chef hired in 1855 by the former Parker House (now the Omni Parker House).
Executive chef Joseph Ribas, who has been with the hotel for 27 years, says Sanzian invented it "because he was topping an English cream cake with chocolate. He started to play around with the recipe, put almonds around the outside, and the guests loved it.
Despite the name, it's not a pie at all. Filled with a rich and velvety pastry cream, what truly makes this two-layer golden cake so special is the rich chocolate icing.
Back in the 1800s, chocolate was mainly consumed at home as a beverage or in puddings. With this inventive use of chocolate, the dessert was originally named "Chocolate Cream Pie." Over time, the name changed.
An alternative to making your own, you can always plan a trip to the Omni Parker House where you can order a mini version of your own to enjoy.
Print
The Original Boston Cream Pie Recipe
Boston Cream pie was created by Boston's Parker House Hotel (now Omni Park House) in 1856.
Ingredients
Sponge Cake
7

large

eggs

separated

8

oz.

sugar

1

cup

flour

1

oz.

melted butter
Pastry Cream
1

tbsp.

butter

2

cups

milk

2

cups

light cream

½

cup

sugar

3 ½

tbsp.

cornstarch

6

large

eggs

1

tsp.

dark rum
Traditional Fondant Icing
5

oz.

fondant for white icing

6

oz.

fondant for chocolate icing

3

oz.

semi-sweet chocolate

melted

Substitution for Fondant Icing:
Chocolate Icing
6

oz

semi-sweet chocolate

melted

2

oz.

warm water
White Icing
1

cup

sugar

confectioner's sugar recommended

1

tsp.

corn syrup

1

tsp.

water
Instructions
For the cake
Separate egg yolks and whites into two separate bowls.

Add ½ of the sugar to each bowl. Beat both until peaked. When stiff, fold the whites into the yolk mixture.

Gradually add flour, mixing with a wooden spatula. Mix in the butter. Pour this mixture into a 10-inch greased cake pan.

Bake at 350 degrees for about 20 minutes, or until spongy and golden. Remove from the oven and allow to cool fully.
For the Pastry Cream
Bring to a boil in a saucepan the butter, milk and light cream. While this mixture is cooking, combine the sugar, cornstarch and eggs in a bowl and whip until ribbons form.

When the cream, milk, and butter mixture reaches the boiling point, whisk in the egg mixture and cook to boiling.

Boil for one minute. Pour into a bowl and cover the surface with plastic wrap. Chill overnight if possible.

When chilled, whisk to smooth out and flavor with 1 tsp. dark rum.
Assemble the Cake
Level the sponge cake off at the top using a slicing knife. Cut the cake into two layers.

Spread the flavored pastry cream over one layer. Top with the second cake layer. Reserve a small amount of the pastry cream to spread on the sides to adhere to the almonds.
For the Icing
For the chocolate fondant: Warm 6 oz. of white fondant over boiling water to approximately 105 degrees. Add melted chocolate. Thin to a spreading consistency with water.

For the white fondant: Warm 5 oz. of white fondant over boiling water to approximately 105 degrees. Thin with water if necessary. Place in a piping bag with a 1/8-inch tip.

If you aren't using Fondant

Melt the dark chocolate. Combine with warm water. Combine ingredients and warm to approximately 105 degrees. Adjust the consistency with water. It should flow freely from the pastry bag.

For the white icing mix the ingredients and place in a separate icing bag with a 1/8-inch tip.

Spread a thin layer of chocolate icing on the top of the cake.

Follow immediately with spiral lines starting from the center of the cake, using the white icing in the pastry bag.

Score the white lines with the point of a paring knife, starting at the center and pulling outward to the edge.

Spread sides of cake with a thin coating of the reserved pastry cream. Press on toasted almonds.

Admire your work, slice and serve. Keep the cake chilled