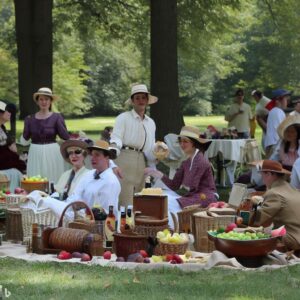 Labor Day first became a federal holiday in 1894, established to honor the contributions and achievements of American workers. The late 19th century was a time of growth for labor unions and called for better working conditions. The first Labor Day parade took place that year in New York City. Becoming an official federal holiday in June 1894 through legislation passed unanimously by Congress and signed into law by President Grover Cleveland.
Today, Labor Day weekend is often seen as the unofficial end of summer in the United States and Canada. It's a time for soaking up the last bits of sunshine, spending time with family and friends, and indulging in classic American barbeque and picnic foods. Let's explore some of the tasty food traditions associated with this holiday weekend.
During the Gilded Age of the late 1800s, upper-class families liked to host lavish multi-course meals for Labor Day. Some dishes that may have been featured include Lobster Newburg, Oysters Rockefeller, Beef Wellington, and elaborately moulded gelatins. While extravagant by today's standards, these meals demonstrated the wealth and sophistication of the hosts.
One thing's for sure – Labor Day is synonymous with grilling! Backyard barbeques are a staple activity, with burgers, hot dogs, steaks, and chicken being popular choices. The smoky aromas of grilled meat and vegetables are definitively summer. Don't forget classic barbeque sides like potato salad, coleslaw, baked beans, corn on the cob, and watermelon. Cool beverages like lemonade, iced tea, and beer complement the fiery flavors from the grill.
Some great traditional Labor Day recipes include BBQ Ribs, Grilled Corn with Spicy Lime Butter, and Patriotic Fruit Salad. Slow-cooked BBQ ribs are always a hit, with tender meat glazed in a smoky sweet sauce. Grilled corn gets kicked up a notch with spicy lime butter melting over the charred kernels. And a patriotic fruit salad in red, white and blue makes for a festive side dish.
Picnics are another Labor Day weekend tradition, often held at public parks, lakes, or beaches. Picnic foods are portable finger foods and dishes that don't require utensils. Think sandwiches, wraps, chips, fruit salad, pasta salad, deviled eggs, fresh vegetables and dip. Individual pies, cookies, brownies, and other portable desserts are perfect picnic treats.
Classic picnic options include Fried Chicken, Potato Salad, and Apple Pie. Or try picnic-friendly dishes like BBQ Pulled Pork Sandwiches, BLT Pasta Salad, and No-Bake Cheesecake. The pulled pork is already pre-shredded making it easy for sandwiches. Pasta salad loaded with bacon, lettuce and tomatoes makes a hearty side. And no-bake cheesecake is a breeze to transport.
Labor Day also coincides with the peak of fresh produce like corn, tomatoes, zucchini, and berries. Incorporating these seasonal ingredients into your holiday meals supports local agriculture. Some popular recipes this time of year include corn fritters, zucchini bread, BLT sandwiches made with ripe tomatoes, and berry tarts.
Since Labor Day pays tribute to the American worker, food from classic diners is another fun theme. Celebrate with juicy burgers, crispy fries, thick milkshakes, cherry pie, and other diner favorites. You can even host a potluck BBQ or picnic and ask everyone to bring a favorite dish inspired by diner cuisine.
Above all, Labor Day weekend is about taking a break from the daily grind and enjoying quality time with loved ones. Keep the food casual, fresh, and flavorful, and the focus on making memories with family and friends. Fire up the grill, lay out a hearty picnic spread, and savor these last moments of summer before autumn arrives. Happy Labor Day, everyone!
Try my Delicious Labor Day Recipes