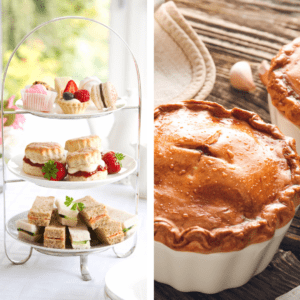 Many people use the terms "afternoon tea" and "high tea" interchangeably, but they actually refer to two distinct tea-drinking traditions in Britain. Let's go through the history behind each one and discuss how they differ.
Afternoon Tea
Afternoon tea originated in the early 19th century as a light meal typically served between 3 and 5pm. It was initially associated with the upper class and served as a social ritual among ladies. The most traditional afternoon tea includes dainty finger sandwiches, scones, clotted cream, preserves, and bite-sized pastries, all served with, of course, tea. The sandwiches tend to use thin slices of bread with light fillings like cucumber, egg salad, smoked salmon, or chicken. Scones are served warm alongside clotted cream and jams. And the pastries add something sweet, like tiny cakes or macarons.
Afternoon tea was intended as a tide-me-over between lunch and dinner. Some trace its origins to Anna, the 7th Duchess of Bedford, in the 1800s. She grew hungry between meals and requested small snacks of bread, butter, and other light fare be brought to her in the late afternoon. This practice soon became quite fashionable among the upper class. Grand hotels, like The Ritz London, institutionalized afternoon tea with elaborate tea services and upscale dining rooms. Afternoon tea remains a cherished British tradition and popular leisure activity for travelers today. The setting is usually less formal than a high tea.
If you're looking to master the art of Afternoon Tea, my book Relaxing over Afternoon Tea offers recipes and tips for hosting your own elegant tea party.
High Tea
In contrast to the upper class ritual of afternoon tea, high tea originated as a working class tradition in 19th century England. Also called "meat tea" or "dinner tea," it took place later in the day around 5 or 6pm and served as a substitution for dinner. High tea featured heartier fare like potted meats, baked beans, fish, cold meats, cheese, bread, butter, and preserves. Of course, tea was served as well. For many working families in Victorian England, high tea was the only hot meal of the day.
High tea was generally eaten at a high dining table rather than the lower coffee tables used for afternoon tea. The high tea tradition lives on today in British hotels and restaurants that serve an early evening meal of tea and hearty dishes like shepherd's pie or fish and chips. While afternoon tea is dainty and refined, high tea is rich, robust, and filling.
Stop Calling it "High Tea"! Why People Misuse the Term
It's a pet peeve of mine when the term High Tea is erroneously interchanged with Afternoon Tea.
There are a few reasons why people sometimes use the term "high tea" when they are actually referring to the tradition of afternoon tea:
Marketing:  Marketing is the main culprit behind the misuse of "high tea." Many tea purveyors intentionally use the term "high tea" in advertising when they actually serve afternoon tea, because they believe "high tea" sounds more elegant and exclusive.  I cannot in good conscience frequent a tea shop that mislabels "high tea" and "afternoon tea." I offer feedback to help them use proper tea terminology.
Unfamiliarity with the terminology – Many people are simply unfamiliar with the distinct meanings of "afternoon tea" vs "high tea" and use the terms interchangeably.
Perceived fanciness – "High tea" sounds fancier and more elegant to some. Afternoon tea has connotations of upper class Victorian ladies, so some mistakenly believe "high tea" sounds more refined.
Lack of exposure – People unfamiliar with English tea traditions have simply never learned the distinct meanings of each term from exposure or education.
So in summary, the misuse comes down to unfamiliarity with the terms, regional dialect differences, and mistaken perceptions about class and fanciness. But the terms have very distinct historical origins!
The Best of Both Worlds
Afternoon tea and high tea both represent delightful British food traditions, each with its own distinct history and style. Afternoon tea is light, sweet, and delicate, while high tea is hearty and substantial. While the terms are not interchangeable, we think the two pair beautifully together for a little taste of England. Why not try an afternoon tea service featuring finger sandwiches, scones, and dessert paired with a hot pot pie or sausage roll? Enjoy the best of both traditions in one meal!