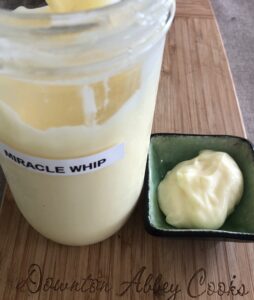 Jump to Recipe
Miracle Whip, the tangy and creamy dressing beloved by many, has a rich history spanning over a century. From its creation in the early 1900s to its status as a classic condiment today, this iconic spread has earned a place in countless kitchens worldwide. In this blog post, we'll dive into the intriguing story behind Miracle Whip and explore the magic of recreating this flavorful dressing in your own kitchen.
The Origins of a Classic Condiment
The birth of Miracle Whip traces back to 1933 when Kraft Foods introduced it as a unique alternative to mayonnaise. Its inception came during the Great Depression, a time when people were seeking affordable and versatile food options to stretch their grocery budgets.
Kraft aimed to develop a creamy dressing that was both economical and flavorful. After months of experimentation, their team formulated an emulsified dressing made with less expensive ingredients compared to traditional homemade mayonnaise.
They dubbed their creation "Miracle Whip" as a way to convey the miraculous versatility it offered. Kraft advertised it as "the new dressing sensation" that could be used on salads, vegetables, fruits, sandwiches and more. It provided home cooks an inexpensive way to liven up bland dishes during lean times.
What Sets Miracle Whip Apart
While Miracle Whip resembles mayonnaise, its distinctive tangy-sweet flavor profile sets it apart. The blend of ingredients gives Miracle Whip its signature zesty taste that so many have come to love.
In addition to oil and eggs, Miracle Whip contains sugar and vinegar, which provide sweetness and acidity to balance the rich creaminess. Spices like paprika and garlic powder add subtle heat and aroma. Mustard seeds interject a zingy, mustard-like essence.
These components work together to create a dressing with more spike and complexity compared to milder mayonnaise. The unique fusion of flavors made Miracle Whip stand out from the start. Kraft knew they had whipped up something special, and consumers agreed.
Rise to Popularity as a Pantry Stable
After its launch during the Depression era, Miracle Whip gradually gained widespread popularity over the ensuring decades. Soldiers grew accustomed to the tangy dressing when it was served with meals during World War II. In the 1950s, Miracle Whip became a staple at family picnics and barbecues.
Kraft expanded its marketing efforts in the 1960s and 70s, running clever TV ads highlighting Miracle Whip's versatility. By the 1980s it had secured its status as a refrigerated staple, found in most household refrigerators across America.
Today Miracle Whip remains one of the country's leading condiment brands. Its legacy as an economical substitute has evolved into a dressing loved for its unique flavor. Aficionados now enjoy Miracle Whip in everything from egg salad to tuna salad, or slathered on burgers and sandwiches.
The Joy of Homemade
While original Miracle Whip offers convenience, there is something special about crafting your own version using wholesome ingredients. Making it at home allows you to control the flavor profile and customize it to your tastes.
Start with a basic homemade mayonnaise recipe using fresh eggs, lemon juice, and oil. Then build in those signature Miracle Whip traits. A blend of mustard powder, paprika, garlic, and onion infuses zest and spike. A touch of sugar balances out the acidity. Experiment with spices and zests until you achieve that distinctive tangy-sweet creaminess.
Part of the nostalgic charm of Miracle Whip lies in its familiar flavors. But the fun is putting your own spin on it. Add a hint of heat with cayenne and black pepper. Use apple cider vinegar for a fruitier base. Kick up the herbs with oregano or basil.
The options are endless when you make it yourself. Tailor each batch to your changing tastes or the dish you plan to use it on. Bring the spirit of innovation that birthed Miracle Whip into your own kitchen.
A Do-It-Yourself Take on a Classic
Whipping up your own Miracle Whip allows you to reinvent this timeless condiment using wholesome ingredients. Take a page from Kraft's book and get creative with spices, herbs, zests, or other flavor additions to put your own stamp on this legendary dressing.
From its humble Depression-era roots to its longtime presence in modern refrigerators, Miracle Whip has secured its place in culinary history. Now you can channel its signature tangy creaminess in your very own kitchen.
Print
Mastering the Art of Homemade Miracle Whip
Discover the secret to creating a delectable homemade Miracle Whip dressing in minutes that adds a tangy and creamy twist to your favorite dishes.
Ingredients
2

large

egg yolks

3

tbsp.

white vinegar

2 1/2

Tbsp.

granulated sugar

1/2

tsp.

salt

1/2

tsp.

lemon juice

2

cups

canola oil

1/2

tsp.

dry mustard

1

pinch

paprika

1

Pinch

garlic powder
Instructions
Place the yolks in a glass jar. I like using a 3 cup mason jar. Use your immersion blender to whisk the yolks.

In a separate jar small measuring cup, combine the vinegar, sugar, salt, and lemon juice. Mix until the salt and sugar are dissolved. Add half of this solution to the egg yolk and whisk for another 15 seconds.

Slowly drizzle the oil into the yolk mixture while processing with your blender to emulsive the mixture. It will get thick rather quickly. When you are halfway, add the remaining vinegar solution and the remaining spices. Add the remaining oil in a steady stream while whisking until all of the oil has been added.

Keep up to 7 to 10 days in your refrigerator.
Notes
If you don't have an immersion blender you can make the dressing in a large bowl with a whisk.
Nutrition
Serving:
1
tbsp
|
Calories:
136
kcal
|
Carbohydrates:
19
g
|
Protein:
3
g
|
Fat:
5
g
|
Saturated Fat:
2
g
|
Polyunsaturated Fat:
1
g
|
Monounsaturated Fat:
2
g
|
Cholesterol:
184
mg
|
Sodium:
487
mg
|
Potassium:
30
mg
|
Fiber:
0.2
g
|
Sugar:
19
g
|
Vitamin A:
270
IU
|
Vitamin C:
0.1
mg
|
Calcium:
27
mg
|
Iron:
1
mg