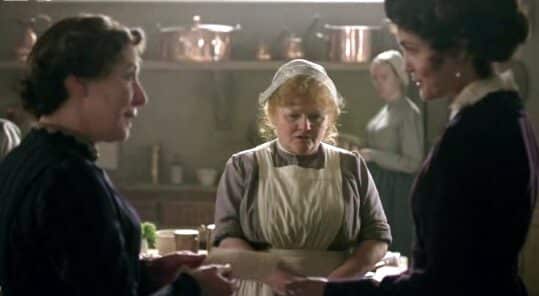 Downton Abbey has drawn adoring fans to a wonderful viewing experience, transporting us back to a time when formality was de rigueur.  Perhaps, much like Ascot, which will be banning those trendy fascinators from the Royal Enclosure this year, many of us long for the return of proper etiquette and more formal traditions.  Others, to see how new ideas were breaking through in a changing world.  For the foodies, we are fascinated by the cuisine. 
While the producers are quick to produce historical advisers who provide authenticity for the show, there has been vocal criticism from historians (sometimes dubbed hysterians) of how accurately life in a grand country house is being portrayed.  But, it is after all a fictional story, not a documentary.
Entertainment does play a key role in the life of the aristocracy so it was important to get a most reliable source.  As reported on the Today Show's "Bites" blog, "in an interview for the Daily Mail, creator Julian Fellowes said that for the show's dinner scenes, producers used recipes from the famed Victorian-era cookbook, 'Mrs. Beeton's Book of Household Management' (BOHM) "
Mrs. Beeton's Book of Household Management (BOHM)
As a guide to running a Victorian household, The Book of Household Management (BOHM) quickly became the most famous English book on domestic management, selling 60,000 copies its year of publication and almost 2 million by 1868.  The book was still widely used at the turn of the century, and amazingly still in print today.
If you do have some time to take a glance through the book you are immediately struck by exceptional detail.  I grew up on a farm so I know how to dispatch, gut, pluck and then roast a chicken.  For other DIY fans, this is the book for you! BOHM could very well have given  instruction to not only Mrs. Patmore on cookery, but to Mrs. Hughes on how to manage the house, and Lady Cora on how to serve as mistress of the household.
About Mrs. Beeton
Isabella Beeton (née Mayson) was born in London in 1836, married her publisher husband in 1856, and quickly began writing articles on cooking and domestic management for the magazines he published. In 1861, those supplements were amassed into one volume with a title nearly as large as this door-stopper of a book itself: The Book of Household Management Comprising information for the Mistress, Housekeeper, Cook, Kitchen-Maid, Butler, Footman, Coachman, Valet, Upper and Under House-Maids, Lady's-Maid, Maid-of-all-Work, Laundry-Maid, Nurse and Nurse-Maid, Monthly Wet and Sick Nurses, etc. etc.—also Sanitary, Medical, & Legal Memoranda: With a History of the Origin, Properties, and Uses of all Things Connected with Home Life and Comfort, edited by Mrs. Isabella Beeton.
This book still has an influence on chefs today which have been adapted and passed down through the generations.
Not a reader?  Check out the PBS Special about Mrs. Beeton's short yet productive life.
Check out the recipes which originated with Mrs. Beeton.
Print
Mrs. Beeton's French-style Green Beans
Mrs. Beeton, the Original Domestic Goddess wrote her Book of Household Management back in 1861. Her recipes are still in use today.
Ingredients
4

cups

green beans

trimmed

1

tbsp.

salt

plus more to taste

1

pinch

baking soda

3

ounces

unsalted butter

1

pinch

black pepper,

freshly ground

½

large

lemon

juiced
Instructions
Cut each bean into 4-6 pieces, according to size, cutting them lengthways in a slanting direction, and, as they are cut, put them into cold water, with a small quantity of salt dissolved in it.

Measure ½ gallon water into a saucepan, with salt and soda in the above proportion and bring to a boil over high heat.

Put in the beans, keep them boiling quickly, with the lid uncovered, and be careful that they do not get smoked.

When tender, which may be ascertained by their sinking to the bottom of the saucepan, take them up, throw them into a colander.

Once drained, put them into a stewpan, and shake over the fire, medium heat, to dry away the moisture from the beans.

When quite dry and hot, add the butter, salt, pepper, and lemon juice; keep moving the stewpan, without using a spoon, as that would break the beans. When the butter is melted, and all is thoroughly hot, serve.
Nutrition
Serving:
40
g
|
Calories:
190
kcal
|
Carbohydrates:
9
g
|
Protein:
2
g
|
Fat:
18
g
|
Saturated Fat:
11
g
|
Trans Fat:
1
g
|
Cholesterol:
46
mg
|
Sodium:
1510
mg
|
Potassium:
256
mg
|
Fiber:
3
g
|
Sugar:
4
g
|
Vitamin A:
1293
IU
|
Vitamin C:
21
mg
|
Calcium:
50
mg
|
Iron:
1
mg
Additional Resources
Add to your Downton Abbey Collection