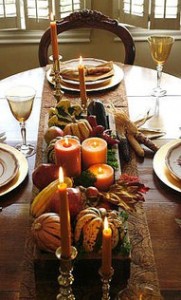 Across America, experienced cooks are finalizing their Thanksgiving dinner menus, and double checking their order for fresh turkey.  Less experienced cooks are summoning up the courage to take on their first big meal, excited about starting new family traditions of their own, but nervous about how it will all come together. The rest are finalizing their travel plans or still scrambling to find a spot at a dinner table somewhere.
Thanksgiving is a North American holiday so the Dowager may well ask "What is a Thanksgiving Dinner?" The British don't celebrate Thanksgiving in the same way.  Instead, harvest festivals are held across the UK during the month of October, but there is no big holiday meal.  In Canada our Thanksgiving holiday is held the second Monday in October, presumably since our growing season is shorter.  It has nothing on American Thanksgiving as I learned from living in the US.  As an outsider, it occurs to me that it has greater significance as a time to gather family and friends than Christmas.  For that, America, do give thanks this holiday weekend.
The Pressure of Deadlines
Deadlines have a wonderful way of either snapping you out of procrastination or pulling you deeper into denial.  First time hosts may find themselves in a bind when they discover that all the free range fresh turkeys were all ordered weeks ago, that they have no idea how to cook a turkey and that they really want to spend their time on is scouting out the deals for Black Friday, the shopping sales held the day after Thanksgiving.  If this is you, you might be in the market for today's ham recipe.
The end of November does mean that Christmas decorations are on display in stores counting down to Christmas.  Mrs. Patmore would already have been fussing about getting fruitcakes prepared and her mincemeat made, and we will touch on that tomorrow on Tea Tuesday.
As for me, my self-imposed deadline for finalizing my   Abbey Cooks Entertain cookbook is looming for a December release.  Aside from help with design and layout, I am working on this book on my own, so I am both slave and master (maybe I should have accepted a deal from the publishers, after all… naah!)  But I do count you on my team, though.  Your kind words and support have really helped spur me on, and Lord D has been so incredibly patient and accommodating, testing everything I put in front of him and waiting until I have taken pictures.  I really should be getting sponsorship from Apple as my photos were taken with my iPhone 4.  You really don't need an expensive camera to take a decent shot, although today's ham looks like it might need a reshoot.
Fortunately, I am producing this as an ebook, so in theory it should be up on Amazon in no time.  Also, in theory I will be able to have a download link from this site, and perhaps even be able to take pre-orders for Cyber Monday.
So I hope you will forgive me if my posts over the next few weeks are shorter as I do see the finish line in site and wish to have in on your iPhones, IPads, Kindles and computers before Christmas and definitely before the big Season 3 launch on January 6th.
Adding a Touch of Downton to your Holiday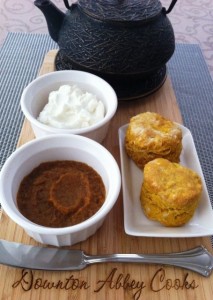 Downton Abbey fans looking to add a little bit of Downton to their holiday meal might wish to browse these suggestion to change things a bit, include new traditions, and make your holiday a little more healthy.
Breakfast/Brunch/Tea
Some great breakfast foods to fuel your Black Friday shopping, some you can cram in your pockets and eat in line:
Dinner:  Roast Beasts

Downton Side Dishes
Desserts
Tools of the Trade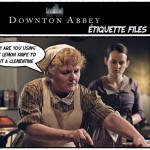 Having the proper tools to prepare your holiday meal is a great step in the right direction.  If you have run out of time for Thanksgiving, use what you have and make note for what you need for your Christmas dinner.  Many experienced cooks take years to assemble all the tools that they can rely upon so start slowly, and buy quality.
My favorite Roasting Pan:  This is my pride and joy roasting pan which I use for my  large roasts.  Non stick makes life easier, particularly since I make gravy right in the pan while the roast is resting. Mine came with large forks to help remove roast from the pan.
Covered Roasting Pan:  This is Lord D's favorite roasting pan as he prefers to cover his roasts to let steam help to the cooking. He also spices his pan, puts veggies in the pan, closes the lid and that shakes the whole pan to season everything.
Turkey Baster is good to have, and a brush to clean it, quite handy.
Gravy Separator:  You can't make great gravy without a gravy separator.  The spout is at the bottom so you can pour out the broth and leave the fat behind.
Carving Set
Some people love electric carving knives, and we bring out Mom's harvest gold set every Christmas.  Me, I am a traditionalist.  If Mrs. Patmore survived without one, so can I.
Servings

Prep Time

Cook Time

Passive Time

15-20

people

5

minutes

8

hours

20

minutes
Servings

Prep Time

15-20

people

5

minutes
Cook Time

Passive Time

8

hours

20

minutes
Preheat your oven to 275°F.

Put the ham in a roasting pan or a big cast-iron skillet and cover loosely with tin foil. Let it sit in the oven for 7.5 - 8 hours
When our family entertains over the holidays, many guests have come from other family meals so a ham is often a nice change of pace from endless turkey dinners. The leftovers are great and I save the bone to make a hearty ham soup like my ham & potato soup