Raspberry Meringue pudding is one of the most famous Downton Abbey desserts.  Mrs. Patmore's failing eyesight results in dessert dining disaster as she accidentally adds salt instead of sugar to finish the meringue.

Servings

Cook Time

8-10

people

30 – 40

minutes
Preheat the oven to 310F/160C/Gas 2.

For the pudding base, pour the milk into a pan and add the split vanilla pod. Bring slowly to the boil over a medium heat.

Separate the eggs, and reserve the whites to make the meringues.

Place the sugar into a large bowl with the egg yolks and whisk until the mixture is light and creamy.

Slowly pour the egg mixture into the hot milk, whisking all the time, then add the breadcrumbs and lemon zest.

Half-fill a roasting tin with boiling water to make a bain-marie (water bath). Pour the pudding mixture into individual ramekins, or one large oven-proof baking dish and place them into the bain-marie. Mrs. Patmore made one large one.

Place the bain-marie in the centre of the oven and bake for 10-15 minutes for the individual molds, 30 – 40 minutes for the larger version, or until the pudding or puddings are almost set, but still slightly wobbly in the centre.

Place the jam into a small pan over a low heat and gently melt. Spread the jam over the top of the pudding when it has finished baking and cooled.

To serve, gently remove the pudding from the molds, and transfer to a serving platter(s), garnish with raspberries and meringues, and sprinkle with some extra caster sugar…not salt.
*you can easily make your own caster sugar but pulsing granulated sugar in a food processor.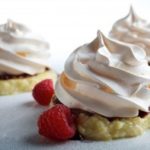 Try making individual portions that The Washington Post adapted from my recipe.