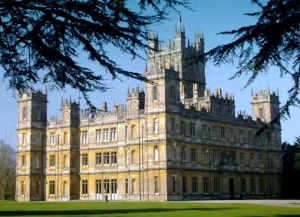 I often wonder whether my degree in History has any practical application in life, particularly since I ended up not pursuing law (sorry, Cousin Matthew) and became a corporate marketer.  I do think though, that studying history has impacted the way I view the world; I tend not to take things at face value and strive to understand how things came into being.
So when Mrs. Patmore places that first wonderful silver dish into the hands of the footmen to take upstairs, I had to learn more about what was in that pot and where it came from.   The Brits love the dish, that they now serve as a weekend brunch item.  It is simple to make, uses up leftovers and tastes amazing.  Mrs. Patmore was very clever indeed. 
My understanding is that the dish originated in India, based on khishri, and  brought back to the UK by the British Colonials, introducing it as a breakfast dish in the Victorian era.  The Brits do love their indian cuisine, I can attest to that.  If you wish to delve deeper, you can read more at the British Food Trust site, an authority on all foods British.  Rather.
It is a practical dish which, before refrigeration, allowed cooks to use leftovers from the night before to make into hearty and appealing breakfast dishes.  Essentially the ingredients are boiled rice, chopped hard-boiled egg, cold minced fish, fried in one pan and flavored with your favorite herbs. I should think this will be great for us to have on hand up at the cottage.
Updated Versions
Here are other versions you might want to try. It is a British dish so call upon your favorite Brit celeb chef to help fuel your imagination. My family and I go fishing for Pacific Salmon each year so often have lots of wild salmon on hand to use:
Servings

Prep Time

Cook Time

4

people

5

minutes

15

minutes
Servings

Prep Time

4

people

5

minutes
Using a large frying pan, melt the butter, then sweat the onions on mid/low heat.

Add the rice and heat up. You don't want to brown it as it will dry out your dish. You may wish to add some chicken stock if your rice has dried out in the fridge.

In the meantime, poach the fish in hot milk for five minutes and drain just before adding to the frying pan.

When the rice is ready, stir in the flaked fish, chopped eggs, curry powder, nutmeg and pepper, using a fork to stir the flaked fish (to prevent the rice from breaking up).

Kedgeree is often served with softly scrambled eggs but you may prefer mashed potatoes.
Kedgeree is often served with softly scrambled eggs but you may prefer mashed potatoes.