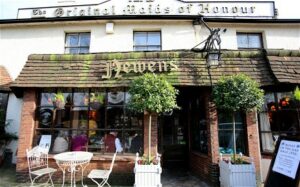 It is generally believed that Henry VIII was the first to use the name of this famous tart after he saw Ann Boleyn and other "maids of honour" eating these tarts. He locked away the recipe in the Richmond Palace and declared that it was for royal consumption only. By the 18th century, the recipe was given to a local bakery in Richmond which in turn was provided to Newens Tea Rooms and Bakery which has served the tarts ever since. Their recipe is still a secret, updated over the centuries, but still contains a little bit of baked potato just like the original.

Servings

Prep Time

Cook Time

16

tarts

20

minutes

35

minutes
Servings

Prep Time

16

tarts

20

minutes
Preheat oven to 350°, Grease 16 muffin tins.

On a lightly floured board, roll out pastry to a ⅛-inch thickness. Using a 3-inch cookie cutter, cut 16 rounds from pastry. Line the tins with the pastry rounds.

In a mixing bowl, combine cottage cheese and butter. Beat well with a mixer at medium speed. Add eggs, brandy, and sugar. Beat once again.

In another mixing bowl, combine potato, almonds, nutmeg, and lemon zest and juice. Beat well. Gradually add cottage cheese mixture, beating thoroughly. Divide the filling among the prepared patty tins.

Bake until filling is set, 25 to 35 minutes. Remove from oven, and let cool in the tins for 10 minutes before carefully lifting onto a wire rack to finish cooling.