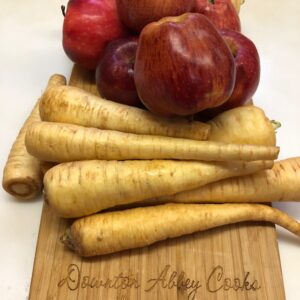 Before produce became available to us year-round, cooks used ingredients as they were harvested and those which could be stored in cool rooms or root cellars.
This is a great creamy and warming soup for the cooler seasons, this soup combines parsnips and apples, but no cream. I adapted the recipe from The National Trust.  

Servings

Prep Time

Cook Time

6

servings

15

minutes

1

hour
Servings

Prep Time

6

servings

15

minutes
Heat the oil in a dutch oven, then add the onion, garlic and nutmeg and sauté for 5-10 minutes until softened.

Add the parsnips and apples and sauté for 5-10 minutes. Add the stock, bring to a boil. Add water if needed to ensure the vegetables are covered. Simmer gently for 20 minutes or until the parsnips and apples are softened.

Remove the pan from the heat and leave to cool slightly. Using a hand blender or blender, blend until the mixture is perfectly smooth. Add enough water to achieve a smooth consistency and season with salt and pepper.

Serve hot or warm.
Finishing oil
Place the oil and sage in a saucepan over a medium heat and continue to warm through until the sage begins to sizzle.

Remove the saucepan from the heat and leave to cool. Drizzle the oil over the soup when you serve, using a spoon to swirl.
Tools of the Trade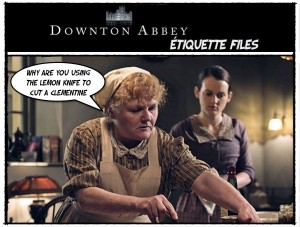 Having the proper tools to prepare your holiday meal is a great step in the right direction.  Many experienced cooks take years to assemble all the tools that they can rely upon so start slowly, and buy quality.  While I do enjoy discovering a great find in local stores whenever I travel, Amazon is so convenient.
Hand Blenders
My appliance I can't live without is my hand blender.  I even travel with it, but that might be going too far for some!