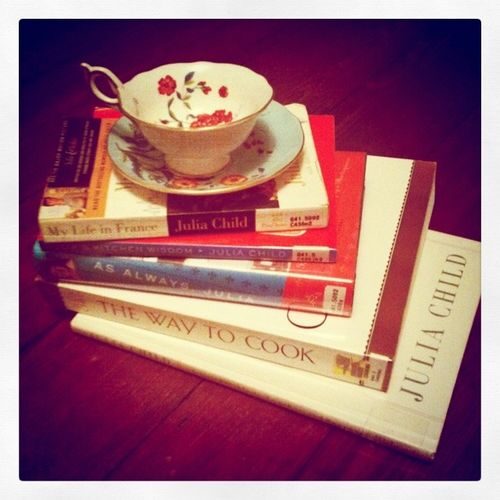 Welcome to Tea, a virtual tribute to the art of having tea. As Henry James once said: "There are few hours in life more agreeable than the hour dedicated to the ceremony known as afternoon tea.
I host the occasional virtual tea party to share tea rituals and recipes. British may have failed miserably in other culinary areas, but they excel in the tea ritual.
Today's recipe is Julia Child's ladyfingers.  A light biscuit which can be served on its own or
My Online Guide to the Tea Ritual
Many of you will have been to the UK for the Olympics and perhaps have lingered to looking for a chance to have "afternoon tea". To help avoid disappointment (there is a difference between afternoon and high tea), I have created a handy guide to help you enjoy the experience: Downton Abbey Cooks Online Guide to Afternoon Tea.
The guide includes:
The history of Tea in England
Tea Lingo
The difference between Afternoon and High Tea
Proper tea etiquette
The guide also includes tips and recipes to host your own tea party, perhaps to gather friends to watch your favourite Downton Abbey episode:
How to make a proper cup of tea
Sweet and Savoury tea recipes, including a great scone recipe you can adapt many ways.
How to build a tea service on a budget.
These and many more recipes are available in my book, Relaxing over Afternoon Tea, found in the Shop section.
Julia Child's LadyFingers (Biscuits a la cuiller)
Julia Child would have been 100 years ago tomorrow.  She died 2 days before her 92nd birthday back in 2004.  I wrote a lengthy tribute yesterday which you can link to from here, with more about her life and how she brought French cuisine to America on a grand scale.   Her recipe for Clafouti is included which would be great to serve at tea.  Lord D loves ladyfingers with his tea, and they are a great base ingredient to have on hand to make a number of desserts, including trifle.  Store-bought ladyfingers just aren't the same.
From Mastering the Art of French Cooking, by Julia Child, Louisette Bertholle, and Simone Beck
Print
Julia Child's Ladyfingers
Equipment
rubber spatula

flour sifter
Ingredients
1 1/2

cups

powdered sugar in a sieve or shaker

1/2

cup

granulated sugar

3

large

egg yolks

1

tsp.

vanilla extract

3

large

egg whites

1

pinch

salt

1

tbsp.

granulated sugar

1/2

cup

all-purpose flour

scooped and leveled, turned into a flour sifter
Instructions
Preheat oven to 300 F. Prepare the baking sheets: butter lightly, dust with flour, and knock off excess flour. Assemble the pastry bag. Prepare the powdered sugar. Measure out all the rest of the ingredients listed in the recipe.
Make the Ladyfinger Batter
Gradually beat the sugar into the egg yolks, add the vanilla, and continue beating for several minutes until the mixture is thick, pale yellow, and forms a ribbon.

Beat the egg whites and salt together in a separate bowl until soft peaks are formed. Sprinkle on the sugar and beat until stiff peaks are formed.

Scoop one-fourth of the egg whites over the top of the egg yolks and sugar mixture with your spatula.

Sift on one fourth of the flour, and delicately fold in until partially blended. Then add one third of the remaining egg whites, sift on one third of the remaining flour, fold until partially blended, and repeat with half of each, then the last of each.

Do not attempt to blend the mixture too thoroughly or you will deflate the batter; it must remain light and puffy.
Form the Ladyfingers
Scoop the batter into the pastry bag. Squeeze out even lines onto the prepared baking sheets, making finger shapes 4 inches long and 1 1/2 inches wide, spaced 1 inch apart.

Sprinkle with a 1/16-inch layer of powdered sugar. To dislodge some of the excess sugar, hold baking sheet upside down and tap the back of it gently; the ladyfingers will not budge unless you are rough with them.
Bake the Ladyfingers
Bake in the middle and upper third levels of preheated oven for about 20 minutes. The ladyfingers are done when they are a very pale brown underneath their sugar coating. They should be slightly crusty outside, and tender but dry inside.

If they are not baked enough, they will become soggy when they cool; over-baking makes them dry.

As soon as they are done, remove them from the baking sheets with a spatula and cool on wire racks.
To Serve
Ladyfingers may be served as they are, with tea or fruit desserts, like charlotte russe. Or you may make double ladyfingers by sticking the two flat sides together with apricot glaze or with butter cream.
Nutrition
Serving:
10
g
|
Calories:
30
kcal
|
Carbohydrates:
6
g
|
Protein:
1
g
|
Fat:
1
g
|
Saturated Fat:
1
g
|
Polyunsaturated Fat:
1
g
|
Monounsaturated Fat:
1
g
|
Cholesterol:
18
mg
|
Sodium:
8
mg
|
Potassium:
10
mg
|
Fiber:
1
g
|
Sugar:
4
g
|
Vitamin A:
25
IU
|
Calcium:
3
mg
|
Iron:
1
mg
Own Your Own Copy