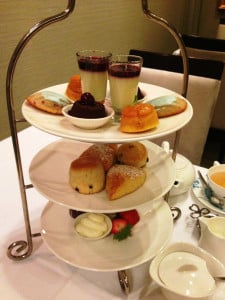 English fever has spread around the globe as news of the birth of Prince George has dominated media channels.  Many sheepishly admit to watching the first footage of baby George with his proud parents emerging from the hospital more than just a few times.  As for myself, I invited a good friend and former colleague for a celebratory tea at the historic King Edward Hotel, in Toronto.  Once I have a recipe from the chef to share, I will do a more formal review, but it was delightful. The madeleines sported blue icing in honor of the Prince.  Always looking for new ways to network, many business types are looking to afternoon tea as a way to relax over business.
I love hosting virtual tea parties, celebrating the era of "Downton Abbey", the popular TV show, featuring a "Downton" era recipe.
Refer to my Online Guide to Afternoon Tea, helpful in understanding the traditions and dishes served at tea.
Today's dish is Pain au Chocolat.  Hard working execs have limited access to their kitchens, but this elegant breakfast and tea treat can be prepared quickly using prepared puff pastry.
Discussing Business Over Afternoon Tea:  A Growing Trend
We are social animals and sharing a meal or a drink helps build bonds.  We grow closer as families when we share meals, and in business we gain trust and build connections when we break bread together.  Coffee shops, lunch spots and drinking establishments flourish in areas where "suits" work as they gather in small groups to build alliances, negotiate deals and celebrate victories.
Not surprisingly, the popularity of Downton Abbey and the heightened profile of the English monarchy has resulted in a growing appetite for networking over tea and scones.  As the activities of the Dowager countess often demonstrate, afternoon tea provides an perfect opportunity to tuck away in quiet corners and discuss confidential matters.  This UK news report discusses the growing trend in the UK.
10 Reasons to Do Business Over Tea
Afternoon tea is no longer a daily ritual for most of us, but it does have a certain appeal as an opportunity to make connections for those who have tired of lunches and cocktails. I encourage those of you involved in networking to consider reasons why you should explore the local tea houses in your city.    You really don't have to love tea to enjoy sharing a small meal in quiet surroundings.  I would love to hear your stories.
Impress your clients/prospects: afternoon tea has a certain caché that lunch or drinks lack.  Plus your competitors likely haven't thought of it… yet.
Late afternoon nosh: offered from 2:30 – 5:00, the time of

day

when often need to take a break.
Sharing has its benefits:  sharing off a common tray breaks down barriers, builds bonds.
Pre-set menu:  not much decision-making required in ordering, and dietary concerns can be arranged in advance.
Portion control: a tea menu is filling, but allows you little tastes of sweets which you might not otherwise indulge in.
Tea lovers rejoice: enjoy special blends of teas which you might not otherwise have a chance to enjoy.
Cheers: champagne and sherry is often available for those who wish to celebrate beyond or instead of tea.
Privacy and Relaxation:  it can be a challenge to find a lunch place to meet where you can hear the other party talking, let alone discuss confidences while scanning the room for competitors.  Tea rooms are set aside in areas which are more quiet and certainly more relaxing.
Pricey, but not out of line:  your expense account won't suffer too much as the cost is about the same as buying a lunch in a nice restaurant.
High tea options for men: for men who wish more than sandwiches, scones and sweets, many establishments will provide a "high tea", such as a ploughman's lunch, which otherwise would be offered later in the

day

.
Downton Dish
Now that summer has arrived there is much to do to keep you distracted and Downton cravings at bay. If you haven't seen all seasons (1-3) beware of spoilers below.
Print
Decadent Pain au Chocolat
Pain au Chocolat is a lovely french pastry which translates into "chocolate bread" and often graces breakfast plates in France. This easy version uses frozen puff pastry.
Ingredients
2

sheets

frozen puff pastry,

thawed

1

large

egg

beaten

1/4

tsp.

vanilla extract

2

large

quality imported chocolate bars:

bittersweet or dark chocolate

sugar and additional chocolate,

melted (optional).
Instructions
Preheat oven to 400°F. Line a baking sheet with silicon sheet or parchment paper.

Place the pastry on parchment paper or lightly floured cutting board. Using a sharp knife, divide the dough in half, rotate 90 degrees and half again, repeating until you have 16 squares. If you prefer you can make 8 squares for larger pastries.

Mix the egg and vanilla, adding a little water to thin.

Lightly brush the squares with the egg wash.

Place a square at the edge of a square and roll up, placing the seam side down. If you are using a thin chocolate bar you may want to stack 2 squares.

Place the roll on the prepared baking sheet and brush the tops with the remaining glaze.

Sprinkle with sugar (optional).

Bake the rolls until golden brown which should take 15 minutes.

Serve warm, or cool and drizzle with melted chocolate if you like.
Notes
*A lesser quality chocolate will melt and drip out of the pastry.
For Downton Fans