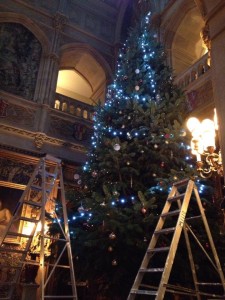 It started in the last half of November.  The songs which I detest at other times of the year were finally getting a listen on my iPhone on my commute to the office.  "Christmas Time is Here!" slowly started to get me into the spirit of the Season.  This past week I created a new playlist of all my favorite holiday songs to send me into overdrive.  I was also organizing our company annual Winter Wonderland event so it really got me into the spirit of things and now the Season is in full gear. Holiday decorations in the stores which were annoying right after Halloween are now really pretty.  At home, my baking has increased, the fruitcakes are getting a shot of rum every week, all leading up to our annual family gathering is coming up this weekend.  Lord C has been kind enough to host the last few family celebrations, but a very British Christmas is Lord D and mine to host this year.
This week's holiday dish is a good one for those who love ginger but don't have the time or patience to roll out and cut and decorate gingerbread cookies.  Gingernuts, the English version of ginger snaps is a traditional favorite cookie, this and any other time of year.
Downton Dish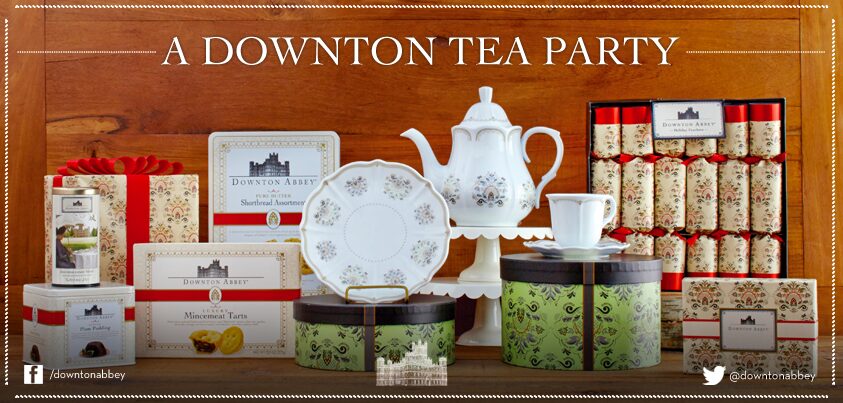 The launch of Season 4 is inching closer in the US.  January 5th is when PBS will be broadcasting the event across the US and Canada.  UK fans can look forward to the 2 hour special (final episode of S4 on Christmas Day.  I regularly share Downton news, but if you haven't seen all seasons (1-4) beware of spoilers below:
Downton Followup
   A Very Downton Evening in Newbury, UK
A very special and "very Downton" themed event that took place in November and which was hosted by the Countess of Carnavron raised $4500 for Naomi House and Jacksplace hospices.  The organizers said my free copies of my cookbook went over really well with guests and Lady Carnavron thought my book wonderful.
I received a lovely note from one of our calendar winners who was really delighted with her prize.  It helped to brighten a sad Christmas as all of her family were not able to be together this Christmas.  The Crawleys year round is not a bad substitute.
Pudding Matters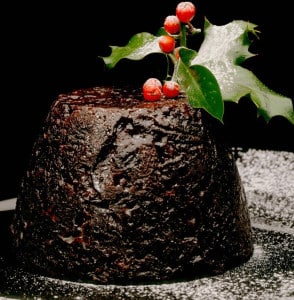 I met Michelle Chandler, a lovely lady at a Downton Abbey event this past Mothers Day and she told me about growing a pudding business.  Fast forward to this week and we finally had a chance to reconnect to talk puddings.  I was thrilled to hear her company has made some progress penetrating the Canadian and US Retailer market where fine foods are sold.
Since I am short of time to cook my own puddings we will be enjoying her puddings at our table, lighting them very much like Granny did in the Downton Christmas Special.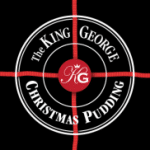 Puddings Matter have a website with a history of puddings, how to ignite the pudding without burning down your house and sauces to serve alongside.
Amazing English Gingernuts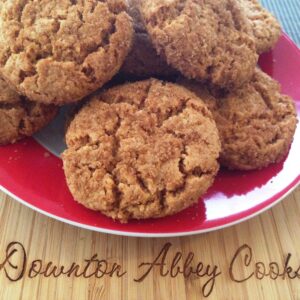 Amazing English Gingernuts
Gingernuts are a great English tradition, producing a great cookie, perfect for dunking.
Ingredients
1/2

cup

softened unsalted butter

1/2

cup

caster sugar

1

tbsp.

dark treacle or molasses

1/2

cup

golden syrup

2

tsp.

tsp. ground ginger

1/2

tsp.

allspice

1/2

tsp.

ground coriander

2

tsp.

baking powder

3/4

tsp.

baking soda

2

cups

unbleached all purpose flour

3/4

cup

demerara (brown) sugar
Instructions
Preheat oven to 350 F.  Line a large baking sheet with parchment paper.  Place the brown sugar in a shallow bowl.

Cream the butter and sugar until light and fluffy.  Add the treacle/molasses and syrup and continue beating until well incorporated.

In a second bowl sift the remaining dry ingredients and then add to the butter mixture.

Use your hands to mix together into a thick dough.

If you have a small cookie dough scoop, use to scoop out into nice round balls about the size of a walnut.

Roll the balls in the brown sugar and then place on the cookie sheet about 2 inches apart to allow for spreading.  Press down gently to flatten slightly.

Bake for 5 minutes at 350F, the reduce the heat to 325F to bake for another 10-15 minutes.

The cookies are done when they have cracked, are slightly firm to the touch and golden brown all over.  Cool on the sheet for few minutes before transferring to a wire rack to cool completely.

Store in an air tight container. They freeze well so you can prepare ahead of the holidays.
Notes
*caster sugar is superfine sugar. You can make your own by pulsing granulated sugar in your food processor for a 10 seconds or so.
Your Downton Holiday Gift Giving Guide
Gift ideas for your Downton fan. Click on the icons to take you to Amazon to order in time for the holidays.