When it comes to cooking peas Chef Auguste Escoffier said it best: "Whatever the treatment to which peas are to be subjected, always take them very green and freshly gathered, and shell them only at the last minute.  Peas are one of the vegetables most pone to lose their quality through want of care. If prepared with care, the delicacy of their flavor is incomparable; but the slightest neglect on the part of the cook makes them savorless and commonplace."
Béchamel is one of the classic mother sauces.  There is some debate about who created this lovely creamy sauce, which contains milk and not cream. Most likely, it was the invention of by Chef Francois Pierre de la Varenne (1615-1678), court chef during King Louis XIV's (1643-1715) who dedicated it to Louis de Bechameil as a compliment.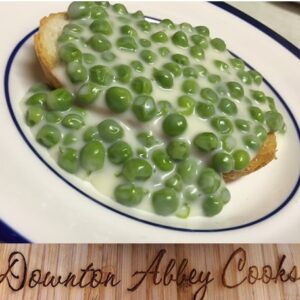 Bountiful Peas in Classic Béchamel Sauce
My favourite dish growing up was peas in bechamel, which was known as "creamed peas on toast", poor man's comfort food.
Ingredients
4

tbsp.

unsalted butter

4

tbsp.

Flour

2

cup

milk

heated close to scalding

salt and freshly ground pepper to taste

4

cups

peas

fresh or frozen, rinsed and drained

1

pinch

black pepper,

freshly ground
Instructions
Melt the butter in a heavy-bottomed saucepan. Stir in the flour to make a roux, stirring constantly, until the paste cooks and bubbles a bit, but is not brown, about 2 minutes.

Add the hot milk, continuing to stir as the sauce thickens. Bring it to a boil. Add salt and pepper to taste, lower the heat, and cook, stirring for 2–3 minutes more.

Add the peas and cover to let the peas cook for about 5-10 minutes. You know they are done-but not over done-when you see dimples.

Serve on top of toasted french or other bread you have on hand, or serve alongside the roast beast of your choice.