If you love the flavour of Earl Grey, you will love this version of Créme Anglaise for a dessert sauce.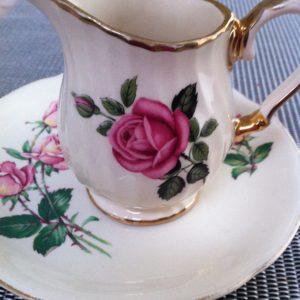 Delicate Earl Grey Créme Anglaise
If you love Earl Grey you will love this delicately flavored dessert sauce for your favorite desserts.
Ingredients
3/4

cup

milk

2

large

egg yolks

1/4

cup

sugar

1

tsp.

vanilla extract

or 1 vanilla bean pod
Instructions
Bring the milk and vanilla to a simmer in a saucepan. Put the tea bags into the milk, and let steep for ten minutes. Then remove the teabags from the milk, making sure to squeeze out all of the liquid.

Meanwhile, whisk the egg yolks and sugar thoroughly until the mixture becomes pale yellow.

Pour about half of the milk into the eggs, mixing continuously. Pour the egg/milk mixture back into the saucepan with the remaining milk, and cook for a short time over medium heat, stirring constantly. Do not let the mixture boil, and test for readiness by dipping a spatula into it and running your finger over the coated spatula. The créme is done when it is thick enough that the trail wiped away by your finger remains.

Remove the saucepan from heat and stir it continuously for another two minutes. To complete cooling quickly, place the bowl in a larger bowl of ice and stir the créme until cool.