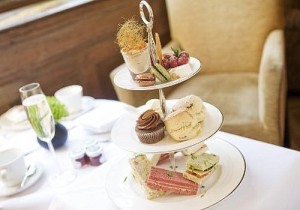 It has been an interesting few days in the online world of Downton Abbey.  There is another  plot twist afoot in Season 4, so if you don't want to know anything about Season 4 before January's launch, I would strongly advise you stay away from social media for the next three months.
For all fans of Downton I thought you might enjoy travel back to episodes we have all seen and take a cooking lesson in memory of dear Lady Sybil.  Today we learn how to make creamy scambled eggs, fit for the Downton upstairs breakfast room, but easily made in your own Abbey.  Save your milk.  Properly made scrambled eggs are a simple mixture of eggs with a little butter, prepared in a saucepan, not a skillet.
Downton Dish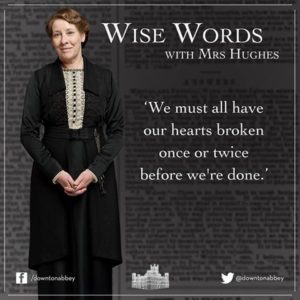 UK fans are now almost half way through Season 4, sharing both laughter and grief with our favorite characters.  In the US and Canada, we are now 89 days until PBS launches in January (see the countdown clock above).  Each week I share Downton news, but if you haven't seen all seasons (1-4) beware of spoilers below.
What I will Say about Season 4
Since Downton fans span the globe I am watching along with the UK fans, but promise not to divulge major spoilers before January.  I did keep quiet last year (although it was really hard) so I think I can be trusted, mostly.
There are a few things I will say about Season 4E3:
Downton holds a grand house party and Alfred is provided with an opportunity to lend a hand in the kitchen.
Great Quotes:

"If I were to search for logic, I should not look for it among the English upper class."
"Not everyone can be Oscar Wilde." "That's a relief."

This episode ended on a dark note, revealing a darker side of life in service, causing quite the stir amongst UK media as I warned above.
Abbey Cooks Entertain: Order Now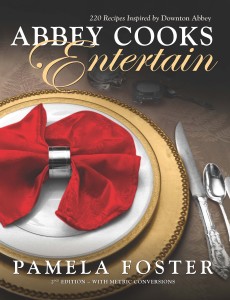 With 220 traditional Downton era recipes with a modern twist, this is a great book to have on hand when planning a Downton cocktail party with fellow fans. Book sales from the 432 page ebook help offset my costs in food, equipment and time to keep bringing you new dishes.
While the book is available on Amazon, you can only get a signed copy here on my site. If you don't have an eReader I would suggest the PDF version which allows you to print recipes as you go, if you wish.
The Creamiest Scrambled Eggs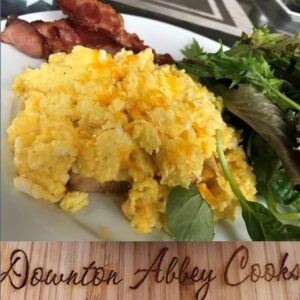 The Creamiest Scrambled Eggs
Once you learn to make them like a professional chef, you will truly impress everyone with your cooking talents. Save your milk.  Properly made scrambled eggs are a simple mixture of eggs with a little butter, prepared in a saucepan, not a skillet.
Ingredients
6

large

eggs

3

tbsp

unsalted butter cubed

1

pinch

salt and pepper
Instructions
In a medium sauce pan, melt the butter over medium heat. Crack the eggs and stir with a wooden paddle quick regularly to ensure the eggs don't stick to the bottom of the pot.

Pull off the heat if the egg mixture gets to hot. Continue stir until the eggs start to curdle and resemble soft scrambled eggs.

Season and add optional cheese, herbs to your taste.
Notes
Variations: use your imagination and whatever your ingredients you have on hand to create your own masterpiece:
Fresh Herbs: add 1 tbsp. each of herbs such as parsley, chives, chervil, tarragon.
Cheese: add 2 tbsp. each of grated gruyère and parmesan cheese to the eggs just after you first add the eggs to the saucepan and they have been beaten slightly.
Mushrooms: add 3 tbsp. cooked mushrooms at the end of the cooking.
For special occasions: place the finished eggs in individual dariole moulds (small metal cups) layering with other ingredients, such as cooked chopped mushrooms, shrimps, asparagus tips.