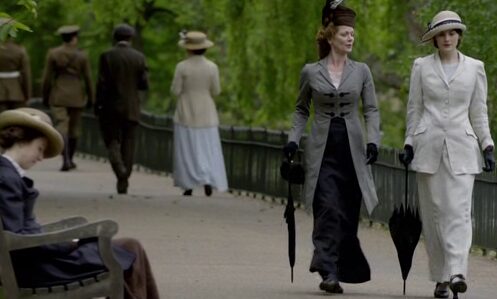 With longer days of sunlight, improving weather conditions in northern climes, Memorial Day and June drawing nearer, our minds are becoming more focused on play time.
We all have our favorite activities to enjoy outside in warm weather. Walking along a body of water, hiking trails, gardening, playing sports. I grew up as a hybrid, with access to both the city and city, and I enjoyed playing softball in the park with my friends in the city, and riding horses on our family acreage which was a 15 minute drive away. Best of both worlds.
Lord D loves to play tennis, and is very patient with me, since I have trouble judging distances, and am not as good as I could be; my natural talent lies in golf where the ball stays put until I send it into flight. We had our first outdoor tennis outing of the season at our outdoor club this past weekend. I was not surprised that the four elderly ladies on the court next to us spoke with those lovely British accents. Tennis has always been a sport loved by the English, and many are able to play well into their golden years. What did surprise me was the topic of conversation for these ladies was;">50 Shades of Grey.
Book Review: The Victorians and Edwardians at Play
Yes, when summer comes, our minds and bodies want a vacation to recharge the batteries for the next busy season, and when the next season of Downton Abbey is broadcast. My understanding that in the UK that will take place in September, in the US in February.
During my Downton Downtime, I wonder about the types of activities we may see our beloved characters partake in Season 3. I suppose part of my day dreams involve writing, but secretly it is more about cooking on the show. To be a nameless kitchen maid on set, chopping vegetables, now that is an item on my bucket list which will keep me going for a few more months!
If you don't know much about turn of the 20th century, but are a fan of Downton Abbey, you will have taken note of some of the recreational activities which have been incorporated into the script:
Riding: Mary loved to ride.
Walking: lots of walking about on this show, for recreation and to the village.
Cycling: Although bicycles were a cheap form of transportation we only see Edith, Matthew (well he was walking alongside it), the newspaper boy and the postman riding bikes.
Driving in the Countryside: No sooner than the car was invented that people wer driving about for pleasure. Edith joined Anthony Strallan for a drive in his sports car, as you may recall.
Hunting: Mary joined the men for the fox hunt.
Local Fair: Everyone enjoyed the air, up and down stairs.
Shooting: Matthew and Richard joined the shooting party
For those who want to learn more about recreational activities of the rich, you might be interested in the book,;" target="_blank">Victorians and Edwardians at Play, written by John Hannavy. And if you are like me and love books with pictures, you will not be disappointed. In fact, John's book is a tribute to the pictures he has spent most of his life collecting put into context. Many of the photos are in color, a rarity for this period. He writes:
"Colour is the great thing in so many of these pictures – we are so used to seeing the past through monochrome or sepia photographs, that to experience the Victorian and Edwardian world brought to life in many of these remarkable tinted images, seems somehow to bring us a little closer to that world.
With this fun book in hand we have a better sense of what other activities the Crawleys might have enjoyed, even into the 1920s, and imagine new scenes that the writers might be incorporating as backdrop to all that drama:
A Day at the Races: What if the family buys a race horse and they all congregate to watch it run.
Tennis: Perhaps Edith and Mary can take their sibling rivalry to the court and get some exercise in the process.
Picnics: Edwardians loved picnics and it would be a lovely activity for Matthew and Mary to enjoy together.
Roller Skating: Can you imagine Mary and Matthew at the roller rink? My friend Evangeline Holland, who blogs at Edwardian Promenade, just penned a quick synopsis of the craze: When The World Took to Wheels
Fishing:How about Lord Grantham bonding with his new son-in-law Branson on a fishing trip.

Fishing Tuck's famous series of British Sports, postcard of salmon fishers landing a 20-pounder.

With my own family fishing trip coming up next month I would remiss if I didn't think about this particular past time which Edwardians enjoyed. It was considered a sport of gentlemen.
Bacon Stuffed Grilled Wild Salmon
A requirement for our fishing trip to the West Coast is bringing along all the food we plan to eat for three days when we board the boat in Prince Rupert, as as we dock overnight at a sheltered cove off Dundas Island to be close to the best fishing. It is our tradition that we eat fresh catch after a full day of fishing, typically a smaller salmon which we weren't able to release in time. The ingredients are simple, the bacon is the crowd pleaser if you are feeding men. Since the BBQ at the fish camp is communal so wrapping in foil is a great way to keep things neat and tidy and end up with a moist product. It is also a great dish to take with you to the cottage or outdoor family gathering. Of course part of the allure is that it is wild salmon we caught ourselves. It has become a tradition for me to send a stuffed salmon with Lord D for his annual men's fellowship weekend.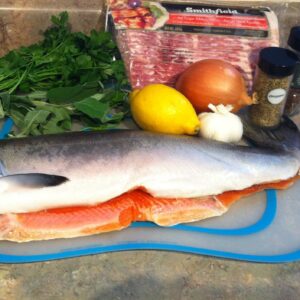 Yummy Bacon Stuffed Grilled Wild Salmon
Enjoy the fruits of your fishing labour by preparing this easy dish at your campsite.  Or, add to your normal reportoire of burgers, ribs and dogs for those who don't eat meat.  The ingredients are simple and bacon is always a crowd pleaser. 
Ingredients
1

whole

Salmon

about 4 pounds, deboned for stuffing and scaled*

3

slices

bacon

1

large

onion

diced

4

cloves

garlic

minced

2

tbsp.

fresh parsley

finely chopped

10

leaves

fresh sage,

chopped

1

tsp.

oregano

dried

1/2

tsp.

Fennel seed

1/4

tsp.

black pepper,

freshly ground

1/4

tsp.

salt

1/2

tsp.

Sea Salt

1/4

tsp.

freshly ground Black Pepper

6

slices

fresh lemon

thinly sliced

2

tbsp.

Olive Oil for brushing Salmon
Instructions
Make the Stuffing:
Freeze Bacon; dice into very small pieces. In a skillet, cook Bacon over low heat until lightly browned, about 2 to 3 minutes.

Add onion and garlic; sauté 4 minutes. Remove from heat. Stir in remaining stuffing ingredients. Chill completely.
Stuff the Salmon
Lay three slices of lemon on a large sheet of heavy foil. Lay salmon on top and season the flesh with sea salt and Pepper.

Stuff the salmon and secure with tooth picks.

Brush the salmon with olive oil

Wrap in the heavy foil.
Grill the Salmon
Depending on the heat of your grill and what else you are grilling, it will take about 20 - 30 minutes. Turn once halfway. The fish will flake when it is done.

Remove Salmon from the BBQ and let stand 10 minutes before serving.
Notes
*if you buy your fish from the market it will likely be boned and scaled or you can request that your fish monger "butterfly" your salmon. t If your catch is straight from the lake you may need quick lesson on boning.