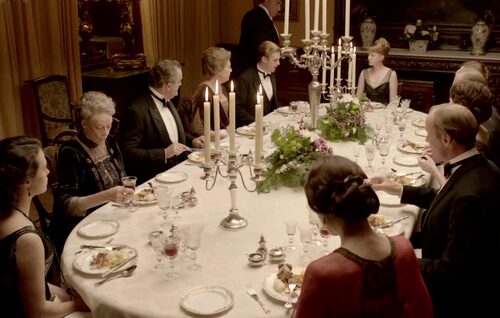 Formal entertaining is like cooking on steroids. It can be stressful enough planning an informal gathering, but we can thank the Edwardians for setting the bar pretty high for formal dining, when we work particularly hard to impress. We can see from the dining scenes on Downton Abbey, entertaining was serious business: a carefully calculated visual display of wealth and influence.
We entertained my husband's family yesterday in celebration of Master J's 21st birthday. Nothing fancy–Lord D suggested prime rib with fixings, which in our household means yorkshire pudding, roasted vegetables (green colored ones, optional). I married into a family of talented cooks, so I cook differently than I would for my own family. Lord D's family ran a successful restaurant for a number of years; Lord D himself launched a national food magazine in his day, his sister is a caterer, and her son cooks with the passion of Mario Batali. We enjoy amazing meals at each other's homes. While I could have served a simple meal for Master J, I couldn't resist the opportunity to test recipes on this group, so I expanded the menu to include other period dishes which have already appeared on this blog, and two others from the First Class menu on Titanic. Note to aspiring cooks: testing recipes on family helps you perfect techniques before you invite the boss over for dinner.
Master J's Edwardian Inspired 21st Birthday Menu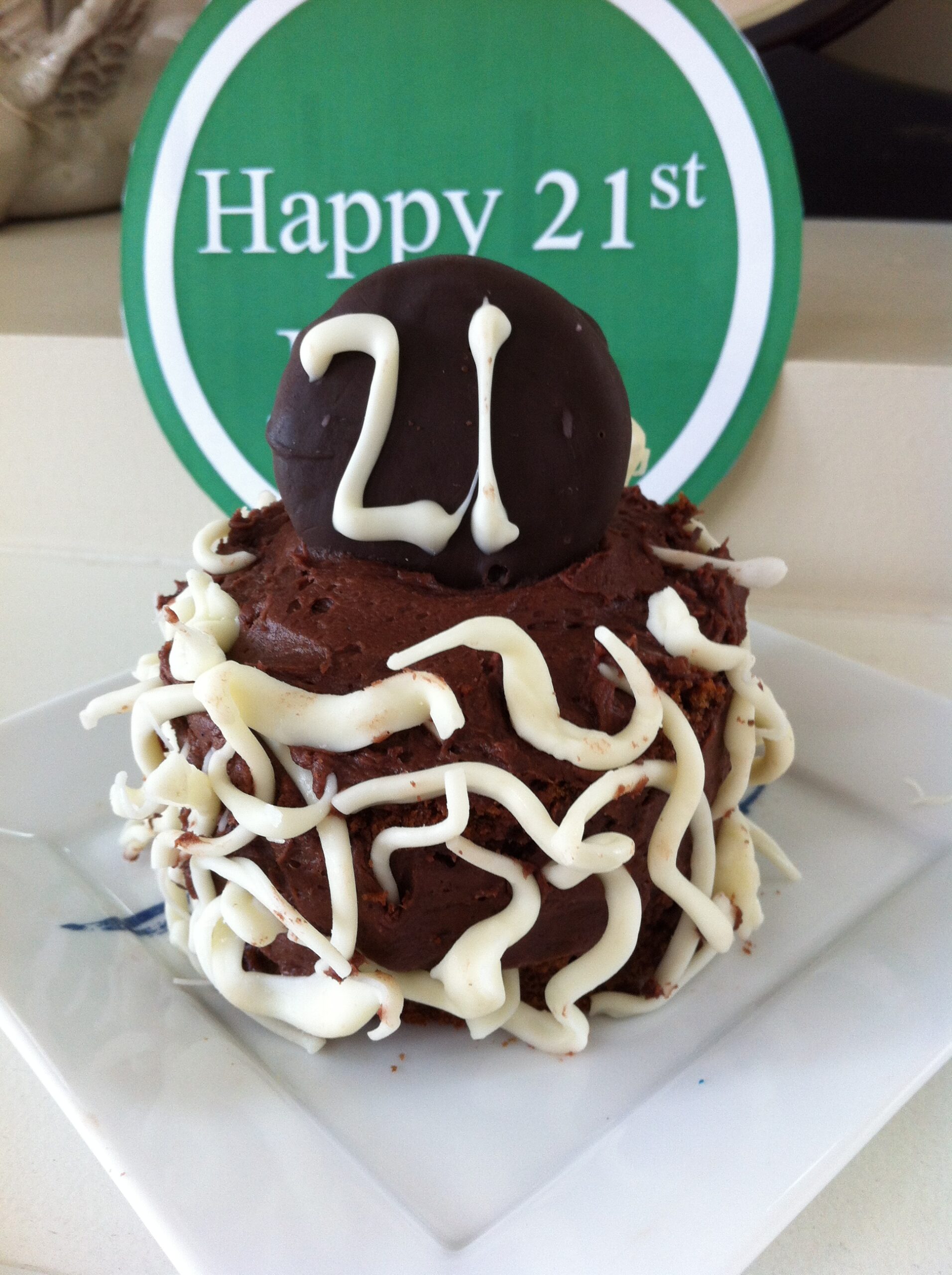 Hors D'Oeuvres
Main Course
Side Dishes

Vegetable Marrow Farci (recipe below)

Salad

Asparagus Salad with Champagne-Saffron Vinaigrette (recipe below)

Dessert
The Influence of Auguste Escoffier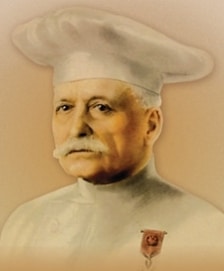 Back to history. I admit that I am tired from all the preparations. Cooking, with all of the modern conveniences we have today, is still a manual process. However, as I started to complain about aches and pains, I kept reminding myself about the high standards the Edwardians put on cooks with far less equipment. So if you are planning your own period dinner, a Titanic tribute for example, be prepared for what lays before you: many courses, exquisite presentation, flawless service. When in doubt, consult Escoffier.
King Edward VII, for whom the Edwardian era is named, reigned from 1901 until his death in 1910. His lavish lifestyle and appetite for fine dining influenced a trend towards lavish entertaining as a regular part of life. One of the most influential culinary figures to rise to the task was renowned french chef Auguste Escoffier (1846-1935).
Escoffier's legacy is still enjoyed by professional chefs, home cooks and foodies around the world. Some of his best-known works include Le Guide Culinaire (1903), Le Livre des Menus (1912) and Ma Cuisine (1934). He invented some 5,000 recipes, and culinary institutions around the world continue to teach his methods. He is famously connected to The Savoy and what evolved into the Ritz Carlton hotel chain, creating many signature dishes. Three of Escoffier's most noted career achievements:
Revolutionizing and modernizing the menu the art of cooking and the organization of the professional kitchen. For example, he focused on serving seasonal dishes with lighter sauces, and centralized the professional kitchen into one unit, reducing duplication of efforts
Escoffier simplified restaurant menus, writing the dishes down in the order in which they would be served (Service à la Russe).
He also developed the first à la Carte menu.
Vegetable Marrow Farci
From Last Dinner on the Titanic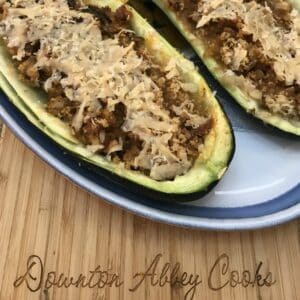 Titanic Stuffed Marrow Farci
Think of marrow as grown up Zucchini.  Native to England, marrows are bland green, oval summer squash that can grow to the size of a watermelon.  Zucchini and courgette are the same thing - zucchini Italian name and courgette French. Both mean baby marrow. You can also use egg plant for this dish. This dish was served in 1st class on the Titanic.
Ingredients
2

large

zucchini

or 1 vegetable marrow

2

tbsp.

olive oil

1

cup

red onion

finely chopped

3

cloves

garlic

minced

1/4

cup

Fresh basil

chopped

1

tsp.

oregano

dried

1

tsp.

tomato paste

1½

cups

button mushrooms

chopped

2

tbsp.

red wine vinegar

2/3

cup

cooked rice

omit if Keto

1/4

tsp.

each salt and pepper

1/4

cup

grated Parmesan cheese

1/4

cup

fresh bread crumbs

keto/gluten free, used crushed bacon rinds

2

tbsp.

butter

melted

2

tbsp.

Fresh basil

chopped
Instructions
Halve marrow lengthwise; scoop out flesh with spoon leaving ¼-inch shell. Discard large seeds.

Chop scooped flesh into small dice; reserve.

In skillet, heat oil over medium heat; add onion and garlic and cook, stirring often, for 7 to 8 minutes or until softened and lightly browned.

Stir in basil, oregano, reserved marrow, and tomato paste. Cook, stirring often, for 5 minutes.

Increase heat to high and add mushrooms.

Cook, stirring, for 3 minutes or until vegetables are well browned; stir in vinegar.

Remove from heat and cool slightly.

Stir in rice, salt, pepper, and 3 tbsp. of the cheese.

Spoon into hollowed vegetables, packing lightly with back of spoon.

Sprinkle evenly with bread crumbs and remaining cheese; drizzle with butter.

Place in greased baking dish in 350°F/180°C, Gas Mark 4 oven for 30 to 40 minutes or until marrow is fork tender and topping is well browned.

To serve, slice marrow diagonally in 3-inch slices. Garnish with fresh basil.
Asparagus Salad with Champagne-Saffron Vinaigrette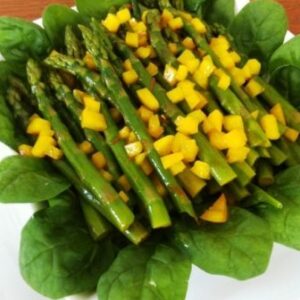 Asparagus Salad with Champagne-Saffron Vinaigrette
This lovely salad has a great history.  It was served as the eighth course in First class on the Titanic.
Ingredients
1 1/2

lbs.

asparagus

(select thin over thick stalks)

1/4

tsp.

saffron threads

1 1/2

tbsp.

champagne vinegar

or white wine vinegar

1/2

tsp.

Dijon-style mustard

1

pinch

sugar

stevia for keto

3

tbsp.

extra virgin olive oil

Salt and pepper to taste

1/2

sweet red or yellow pepper, diced

Greens for garnish
Instructions
Holding the asparagus halfway up the stalk, snap off the woody ends at a natural breaking point and discard.

In a wide, deep skillet or large pot of boiling salted water, cook the asparagus spears 3-5 minutes or until they are tender but not limp.

Drain and run spears under cold water until completely cooled. Drain well and set aside.

In a large bowl, stir the saffron into the teaspoon of boiling water. Let it stand for 2 minutes or until it is softened.

Stir in the champagne vinegar, mustard and sugar. Whisk in the olive oil. Season the mixture with salt and pepper to taste.

Add the asparagus and diced pepper; toss gently to coat with the vinaigrette.

Line a platter with salad greens and arrange the asparagus mixture on top.