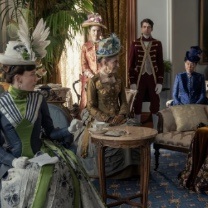 The lavish world of The Gilded Age is set to return in October 29 on HBO for a second season of wealth, scandals, and sumptuous excess among New York's elite. Beyond the stunning costumes and ornate mansions, one aspect fans are eager to see more of is the grand dining experiences of the era.
Opulent Dinner Parties
The formal dinners showcased in Season 1 provided glimpses into high society living. The menu, table settings, and multiple courses were over the top. With an even bigger budget for Season 2, expect decadent, multi-course formal dinners with dazzling tablescapes.
Elaborate Luncheons
Daytime dining provided opportunities to gossip and show off one's best linens and china. The ladies especially used luncheons as social showcases. More scenes of flowery centerpieces, polished silver, and exquisite bite-sized dishes would delight.
Afternoon Tea Service
The upper crust routine included afternoon tea service, a chance to take a break for scones, finger sandwiches, and cake stands layered with treats. Scenes among the china cups and tiered servers would give fans a tasty immersion.
Food as Status Symbol
As with fashion, rare and expensive foods signified one's status. New exotic ingredients like citrus fruits and caviar represented wealth. Showcasing outrageously luxurious ingredients and cuisines would highlight the period's excess.
Service Staff Perspectives
While the wealthy dined, servants worked tirelessly behind the scenes. More scenes showing cooks preparing ornate meals and servers navigating formal service would provide insider views.
Gilded Age fine dining was an exercise in over-the-top creativity and showmanship. Season 2 has an opportunity to fully immerse viewers in the sights, sounds, and tastes of how the other half ate. We hope to see the lavish New York socialite food experience continue on full display.
Check out the Trailer
Get ready for Battle with Gilded Age Dishes