French vanilla ice cream is a classic dessert for summer.
It was served on Titanic in 1st Class. Cooks on Titanic were lucky to have electric driven ice cream makers to make the freezing process less labour intensive. They also would have had freezer compartments to store ice cream.  Most homes in this period did not have refrigeration, so you had to make and eat the ice cream right away.
If you did not have servants, you would take turns at the crank, as after dinner conversation, until the ice cream set.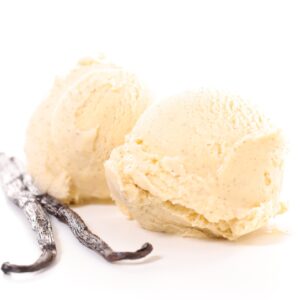 French Vanilla Ice Cream
Ingredients
6

large

egg yolks

3/4

cup

sugar

use stevia for keto

1 3/4

cups

heavy cream

1 1/4

cups

whole milk

use half and half cream for keto

1

pinch

salt
Instructions
Set a medium bowl in a large bowl of ice water. In another medium bowl, whisk the egg yolks with 1/2 cup of the sugar until pale, about 3 minutes.

In a medium saucepan, combine the cream, milk, salt and remaining 1/4 cup of sugar and bring to a simmer, whisking until the sugar is completely dissolved. Whisk the hot cream mixture into the beaten egg yolks in a thin stream.

Transfer the mixture to the saucepan and cook over moderately low heat, stirring constantly with a wooden spoon, until the custard is thick enough to lightly coat the back of the spoon, about 4 minutes; don't let it boil. Pour the custard through a fine-mesh strainer into the medium bowl in the ice water. Let cool completely, stirring frequently. Refrigerate the custard until very cold, at least 1 hour.

Pour the custard into an ice cream maker and freeze according to the manufacturer's instructions. Transfer the frozen custard to a plastic container, cover and freeze until firm, at least 3 hours.