Perhaps a little challenging to pronounce, this are simply cheese puffs, a savory version of cream puffs, which uses the same pâte à choux pastry. Originating in Burgundy, France, they provide a classic French and unique touch to your tea or appetizer tray.  They are not terribly difficult to make, and freeze beautifully.  Their hollow interior makes them perfect for stuffing, or split for filling with your favorite soft cheese.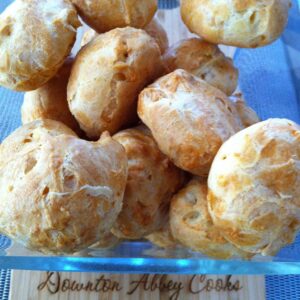 Gougères, the Cheese Cream Puff
These cheese puffs are a savory version of cream puffs, They provide a classic French and unique touch to your tea or appetizer tray and very easy to stuff.
Ingredients
½

cup

water

3

tbsp.

unsalted butter

cut into cubes

¼

tsp.

salt

½

tsp.

savoury spice

(i.e. cayenne or chili powder)

½

cup

Flour

2

large

eggs

¾

cup

grated cheese

(traditionally Gruyere)
Instructions
Preheat the oven to 425°F. Line a baking sheet with parchment paper or silicone baking mat.

Heat the water, butter, salt, and chile or pepper in a saucepan until the butter is melted.

Add the flour all at once and stir vigorously until the mixture pulls away from the sides into a smooth ball. Remove from heat and let rest two minutes.

Add the eggs, one at a time, stirring quickly. The batter may start off looking lumpy, but keep at it and it will smooth out. You can always time travel and use your food processor for this stage if you wish if you doubt your arm strength.

Add the ¾ of the grated cheese to the mixture and stir until well combined.

Wet a spoon and drop thumbnail-sized spoonfuls on a parchment lined cookie sheet about an inch apart.

Use your handy little scoop here if you have one. Top each puff with a bit of the remaining cheese, then pop the baking sheet in the oven.

Bake for 10 minutes, then turn the oven down to 375°F and bake for an additional 20 to 25 minutes, until they're completely golden brown.

For extra-crispy puffs, five minutes before they're done, poke the side of each puff with a sharp knife to release the steam, and return to the oven to finish baking. It you take them out too soon they will deflate.

The puffs are best served warm, so if you have made them in advance, simply pop on a cookie sheet and reheat in a low oven for a few minutes. You can serve them plain, fill or cut and spread with your favorite soft cheese.