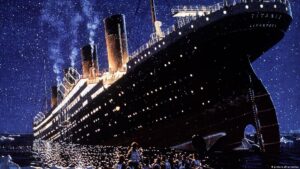 The Titanic was a British passenger liner that famously sank in the North Atlantic Ocean in the early hours of April 15, 1912, during its maiden voyage from Southampton to New York City. The ship collided with an iceberg late that evening and sank, resulting in the deaths of over 1,500 people, including passengers and crew.
The Titanic was considered one of the largest and most luxurious ships of its time, and its sinking was a tragedy that shocked the world. The disaster led to significant changes in maritime safety regulations, such as the requirement for ships to carry enough lifeboats for all passengers and crew and the establishment of the International Ice Patrol to monitor icebergs in the North Atlantic.
The story of the Titanic has been the subject of numerous books, films, and documentaries, and its legacy continues to be felt more than a century after the disaster.
How to Remember Titanic
here are several ways to remember the lives lost on the Titanic, a tragic event that claimed the lives of more than 1,500 people. Here are some suggestions:
Watch the movie: James Cameron's blockbuster movie "Titanic" is the most famous of film and documentary about Titanic, celebrating its 25th anniversary this year.  You can watch on Prime. Watching one of these can be a way to learn more about the events and remember those who lost their lives.
Watch Downton Abbey Season 1: The series starts with the sinking of Titanic and the ramifications of the loss of 2 heirs to the estate. View on Prime.
Read survivor accounts: Reading firsthand accounts from survivors of the Titanic can help you gain a deeper understanding of the tragedy and its impact on those who were there. There are many books available that feature survivor accounts.

Many of the victims were buried in the Titanic Cemeteries in Halifax, NS

Visit a memorial: There are several memorials around the world dedicated to the victims of the Titanic, such as the Titanic Memorial in Washington D.C., the Titanic Belfast Museum in Belfast,  the Titanic Memorial Lighthouse  in New York City, or the Titanic Cemetaries in Halifax, N.S. Visiting one of these memorials can be a way to pay your respects and remember the lives lost.

Prepare A Meal with a Titanic Dish: Menu cards from all classes of service were found tucked into jacket pockets. While dedicated "Titanoracs" host annual lavish dinners featuring the 1st Class menu you can still honor lives lost by cooking a dish or two from any of the three classes.